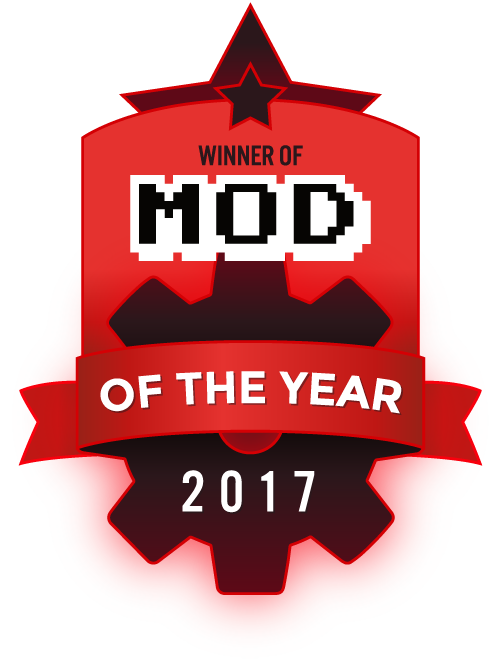 BEST RELEASED
Welcome to the 2017 Mod of the Year results! With top 100 voting having taken place over the last 20 days, the results have now been tallied and we are ready to announce the winners! Below you will find the Top 10 Mods of 2017.
While you're at it, you can also check out the Top 10 Indie Games of 2017, or join the site in anticipation for next year's awards to register a mod of your own or vote for those you think deserve recognition in 2018.
Honourable Mentions
With so many fantastic mods posting major updates and leveraging their passionate communities, we'd like to direct your praise and attention to these honourable mentions. A honorable mention is given for polling strongly in the awards, but being ineligible due to placing higher in a previous year, or if a significant update was not released in 2017:
---
---

SWAT: Elite Force is a massive overhaul of SWAT 4: The Stetchkov Syndicate, making it into a more realistic tactical police simulator. Featuring new and more realistic equipment, merged campaigns, extra missions, permadeath, better AI, and bug fixes.
---

Welcome to the 19th century: The American colonies have revolted, gained their independence and they are now nations, the Natives have resisted colonization and struggle to keep their identities, the ancient Asian civilizations are now an active part of the world scenario and have to play their cards right to protect themselves, and in the Balkans, people fight for their independence from once powerful empires. There was one spot on Earth, however, that was ignored for a long time... We're at the modern era and all empires have focused their attention on this long forgotten, but now desirable, region.
---

Dawn of the Tiberium Age (DTA) is a stand-alone mod that combines Tiberian Dawn (C&C 95) and Red Alert. While classic mode gets as close to the original game-play and balance as possible, Enhanced mode provides improved game balance and a lot of fun new stuff. DTA features many customization options for Skirmish and multiplayer (where you can play as GDI, Nod, Allies and Soviet on over 100 maps), challenging original singleplayer missions, as well as co-op missions. Since this is a stand-alone mod, you don't require anything but the mod itself to be able to play: the original game is not required.
---

Explore the island of Vvardenfell as you never have before, with a world built anew to be both alien and familiar to the Morrowind you knew before. New adventures await, with new exciting areas to see and explore, and new artifacts just waiting to be discovered. This is a complete overhaul for Morrowind, adding countless new details, weapons, armors and much more for you to see and do.
---

Age of the Ring is a mod for Rise of the Witch-king. It's set during the final years of the Third Age of Middle-earth, and features content from both The Hobbit and Lord of the Rings film trilogies and J.R.R. Tolkien's novels. Our primary goal is to represent the cultures, warriors, and heroes of that era in a way that is accurate to the source material, engaging in terms of gameplay, and balanced around RotWK's 2.02 community patch.
---

The Empire at War Remake is a complete overhaul mod that aims to remake Empire at War.
It aims to keep everything you loved about Empire at War: the hardpoint system, capital class warships, unique faction units and playstyles, while providing everything you expect from a 2017 game: Game balance, design vision and great graphics.
---

Third Age: Reforged is a submod for Third Age 3.2 that aims to overhaul the multiplayer aspect of the mod by thoroughly rebalancing the units and factions while also implementing new units, custom scenarios and other features.
---

Twisted Insurrection is a standalone game based on a heavily modified Tiberian Sun engine. The game features a completely new in-depth storyline which puts you in an alternate timeline where the Brotherhood of Nod were victorious during the first Tiberian War rather than GDI. Do you have what it takes to drag the shattered Global Defense Initiative out of ruin? Or will you crush all who oppose the will of Kane and his Inner Circle? The choice is yours commander.
---

From the makers of Thrawn's Revenge: Imperial Civil War, Ascendancy is a Star Wars mod set after the Battle of Endor in the Star Wars Galaxy. Fight for galactic ascendancy as multiple factions from this period in Star Wars history. In the wake of the Empire's collapse, the fledgling New Republic is working to build an entirely new order out of the wreckage. Meanwhile, on the edges of the galaxy, the Empire of the Hand, set up by Thrawn during his exile in the unknown regions with the covert support of the Chiss Ascendancy and Emperor Palpatine, strives to unite the galaxy in preparation to face outside threats...
---

Brutal Doom has polled strongly in previous awards, but has never won. Tirelessly releasing major updates year after year that takes Doom into a whole new level, we couldn't be happier to crown Brutal Doom the 2017 champion. It makes the game much more violent than before. There's much more blood, plus it adds unique gibs, death animations, dismemberments, headshots, executions, fire and explosion particles, flares, shadows over all objects, and much more. Everything in Brutal Doom is extremely intense. Everything sounds louder, looks bigger, moves faster, and hits harder.
---
Congratulations to all the modders and community members who participated in the 2017 Mod of the Year awards! We wish you all the best for your continued modding efforts into the new year and beyond.