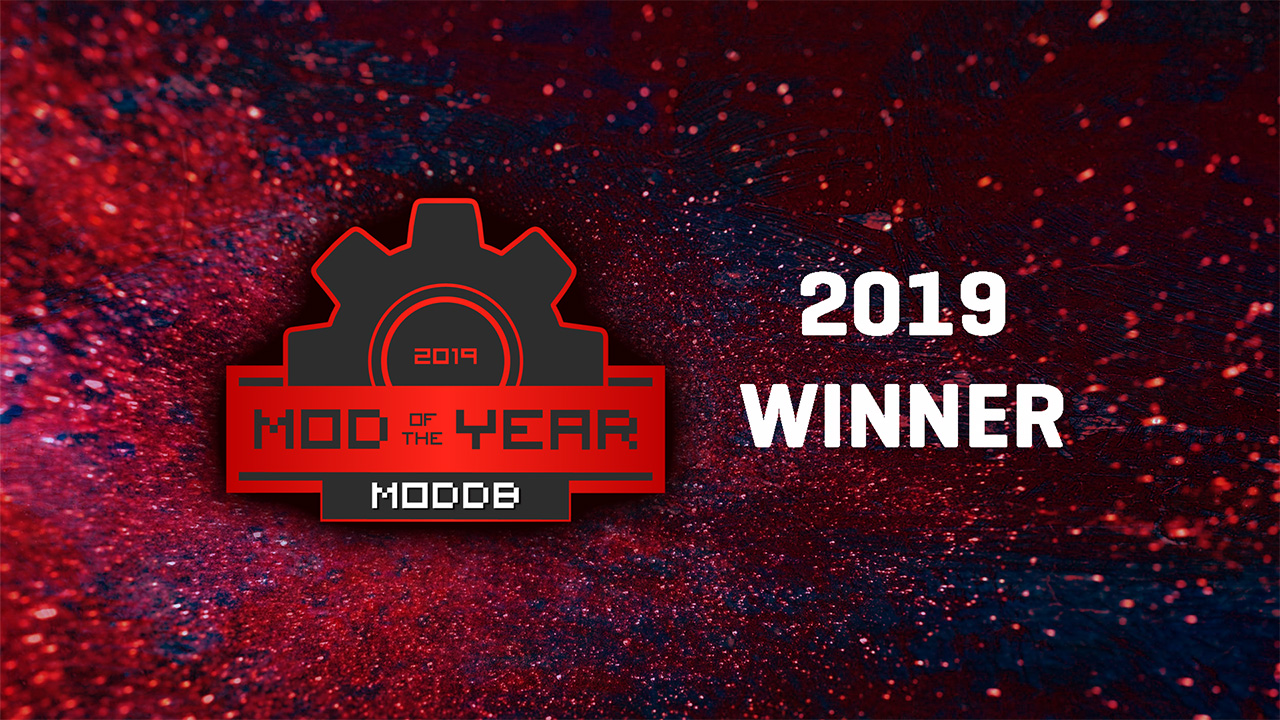 Welcome to the 2019 Mod of the Year results! With top 100 voting having taken place over the last 20 days, the results have now been tallied and we are ready to announce the winners! Below you will find the Top 10 Mods of 2019. While you're at it, you can also check out the Top 10 Indie Games of 2019, or join the site in anticipation for next year's awards to register a mod of your own or vote for those you think deserve recognition in 2020.
Honorable Mentions
With so many fantastic mods posting major updates and leveraging their passionate communities, we'd like to direct your praise and attention to these honorable mentions. A honorable mention is given for polling strongly in the awards, but being ineligible due to placing higher in a previous year, or if a significant update was not released in 2019:
---
---

The Empire has fallen and a New Republic is born out of the conflict. But in the ashes of civil war, yet another life stirs... A complete remake of Empire at War: Forces of Corruption, including new units, effects, audio, maps, shaders and much more. New mechanics make for more immersive experience and the totally new Mandalorian faction replaces the Zann Consortium in this mostly lore-friendly unofficial expansion mod.
---
9TH PLACE
For: C&C3: Tiberium Wars


Tiberium Essence offeres alternative gameplay to Tiberian Wars involving many Tiberian Sun units which many CnC fans miss in vanilla CNC3 and add even new my made units which you can't find anywhere else. Includes many visual, sound and balance changes and new sounds, new music, new effects (like blood and gore, new infantry deaths, new more realistic missile trails) and much more.
---

Wars of Liberty is a modification for Age of Empires III. WoL brings 24 new civilizations, dozens of new maps, natives, music, and more. Each civilization has its own unique gameplay that will turn Age of Empires III into an almost new RTS experience. Choose a Religion and gain access to new units, technologies, and the ability to gather and spend our unique faith resource. Spy on your enemies and destroy them without building a single military unit with the redone Espionage system. Break late game stalemates with the powerful Great War Age. And enjoy it all with more than 50 new Random Maps, new Natives for Latin America and Africa, new music, and much, much more.
---
7TH PLACE


Star Wars Battlefront II Remaster is an attempt to revamp one of the best Star Wars games ever released by making your game more realistic and HD, through adjusting color saturation, improving game lighting, sharpening the image, using a more subtle bloom. Enjoy better maps, units, vehicles, weapons and effects while keeping ONLINE COMPATIBILITY.
---

Republic at War is a total conversion modification for Star Wars Empire at War Forces of Corruption. The mod replaces the Empire with the Galactic Republic and the Rebel Alliance with the Confederacy. Republic at War focuses heavily on the theatrical films but also contains content from the Clone Wars cartoon series as well as the expanded universe. Players can re-enact various Clone War campaigns such as the Outer Rim Sieges. Players will have the choice to fight as either the CIS or the Republic and wage war for control of the galaxy. Realism is key and players will have unprecedented control over how and where they fight.
---
5TH PLACE


The goal of Half-Life 2 : MMod is to enhance and expand gunplay, combat mechanics and the immersion factor by giving the Player more options and combat opportunities as well as refine how the Player handles his arsenal. Half-Life 2 : MMod also offers minor AI enhancements, extended abilities for combine soldiers, multiple bug fixes, enhanced visuals, VFX re-design, sound redesign and much much more, while keeping nearly every new feature in the mod totally optional.
---
4TH PLACE
For: S.T.A.L.K.E.R.: Call of Pripyat

Anomaly is a standalone S.T.A.L.K.E.R. mod powered by an x64 version of the X-Ray engine. Starting with version 1.5.0 Anomaly uses a custom engine build called the XRay-Monolith engine. After almost one year of development of the Anomaly 1.5.0 update, the mod continues its way on expanding and adding new features while maintaining a high level of quality and replay value.
---

Thrawn's Revenge is a large-scale mod for Empire at War: Forces of Corruption. It includes the events of the Galactic Civil War after Palpatine's death at Endor, up until the signing of the Pellaeon-Gavrisom treaty.
---
2ND PLACE
For: Dawn of War


The Ultimate Apocalypse mod team proudly presents to the Dawn of War: Soulstorm players and fans, an eagerly awaited and packed with epic content game experience, the Ultimate Apocalypse mod! Imagine a mod featuring massive Warhammer 40,000 battles where all 9 races in Soulstorm (and more!) have a chance at epic victory. A mod where there's no shortage of all new units, buildings, abilities, and even titans! A mod where there's nearly no limits holding you back.
---
1ST PLACE
For: Star Wars: Empire at War: Forces of Corruption


The Star Wars: Empire at War: Forces of Corruption voters really showed up in 2019, with 9 mods making the top 100- but ultimately it was Empire At War Remake: Galactic Civil War that won in the end, a mod that wants to keep the original FoC experience, maintain the game's design philosophy, but with improved graphics and deeper gameplay. It features new models and textures for most units and also ramps up the difficulty for a real challenge! Massive congratulations, it's great to see this game have such an incredible and passionate modding community pushing it forward 13 years after release!
---
Congratulations to all the modders and community members who participated in the 2019 Mod of the Year awards! We wish you all the best for your continued modding efforts into the new year and beyond.