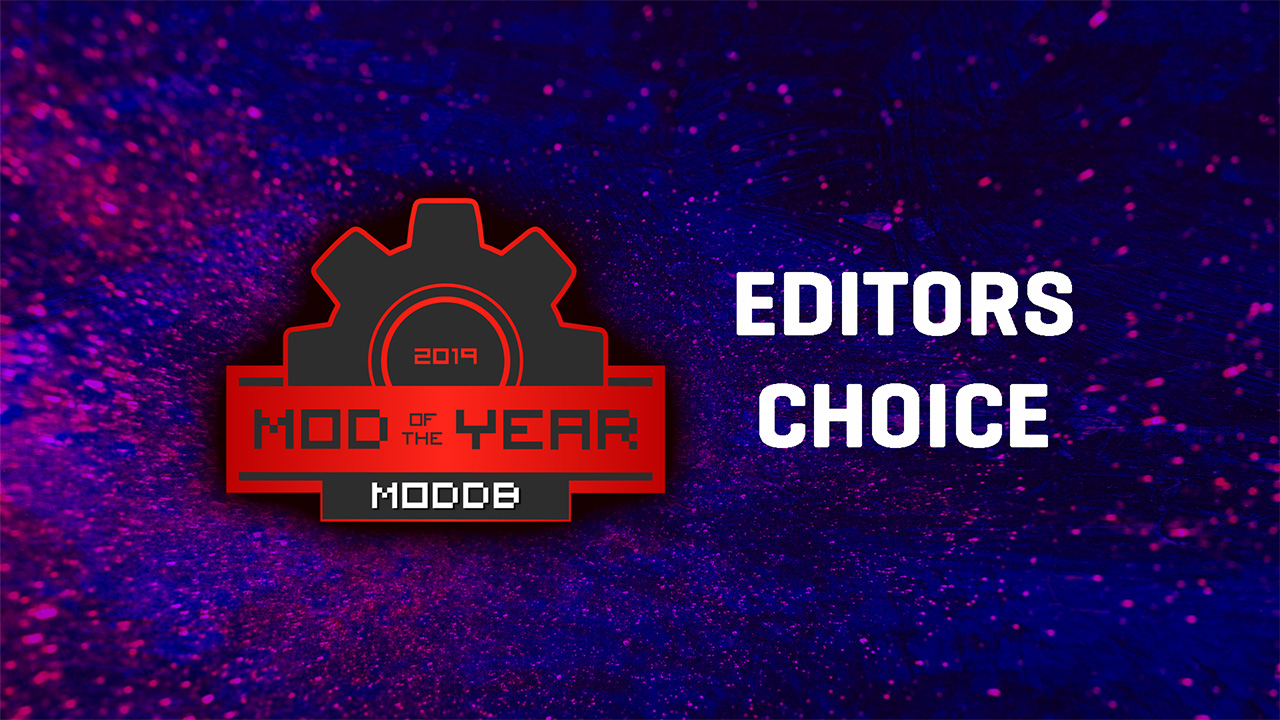 Welcome to the Editor's Choice awards for the 2019 Mod of the Year Awards, where we show recognition to the mods from the past year that we've found to be personally deserving of attention. We've chosen a series of award categories which range from best singleplayer mod, to multiplayer, to most anticipated and to several more unique and theme related categories.
---
Best Singleplayer
A mod which brings extra depth or significance to an engrossing singleplayer experience.
For: Halo: Combat Evolved
SPV3 is a total overhaul of the original Halo, adding new weapons, vehicles, enemies, features, graphics, extended levels, new levels, new story terminals and much much more. Featuring a total playtime of over 24 hours on Heroic and Legendary difficulties, SPV3 is the largest and most feature rich Halo campaign to date. And to top it off, it is built with gameplay as a focus first and foremost, meant to expand on yet capture what made Halo Combat Evolved one of the best first person shooters of all time.
---
Best Multiplayer
A mod which offers a new way to play with your friends.
For: Battlefield 2
Heat of Battle is a BF2 mod focused on delivering top-tier animation, sound, and lighting, as well as fast-paced, intense gameplay. Feel the impact of every bullet around you as enemies lay down suppressive fire on your position. Hear the death crescendo around you with the overhauled gunfire and explosion audio. Featuring 7 factions, each with their own selection of high quality, beautifully animated weapons.
---
Best Graphical Overhaul
A mod which focuses on beatifying an older game with technical and artistic upgrades.
For: Final Fantasy VII
The Remako HD Graphics Mod is a mod for Final Fantasy 7. It uses AI neural networks to enlarge and enhance the pre-rendered backgrounds, FMVs and other textures in the game. This makes them look much higher resolution than before, helping the game look good even in 2019.
---
Best Overhaul Mod
A mod which overhauls a game, enhancing or changing it to be a whole new experience.
For: Far Cry 2
Far Cry 2: Redux is a massive overhaul of Far Cry 2. This includes bug fixes, balancing, and lots of gameplay improvements. From new animations, improved physics and weapon ballistics, more dynamic AI, patrols and NPC clashes, infighting and much more.
---
Best Crossover
A mod which smashes two or more completely separate games together
to make something unique and special.
For: Doom II
Bloom is a mod based on ZBlood/ZBloodX which merges Blood and DooM game series together to create an incredible new hybrid of enemies and world. Including more than 30 kinds of original and 22 new hybrid monsters combined from Doom and Blood and a new episode featuring eight new maps.
---
Best Continued Support
A mod which has continued to receive major updates and support, years after its original release

A Clash of Kings is based on the series of books by author George R. R Martin, "A Song of Ice and Fire" and the modification is named after the second book in the series, during which time the modification takes place. Originally released several years ago, A Clash Of Kings has continued to receive major updates ever since and has continued to in 2019.
---
Expansion-worthy Award
This is a mod that we wouldn't be surprised to see as an official expansion,
or be worth paying money for.
For: Battlefront II

Realistic and movie accurate improved maps for the original Star Wars Battlefront 2 with HD textures, general re-design and optimized graphics. From rezzed maps that replace the original and adds HD textures and new FX, or realistic maps which add new props, models and effects to be more authentic to the movies.
---
Historical Accuracy Award
A mod that dives into a period of history rarely touched upon by other games,
and does so with great attention to detail
For: Napoleon: Total War

North & South is the definitive "American Civil War" mod for any Total War game. Extensively researched and meticulously constructed, features 65 battle maps, 38 historical scenarios for up to 6 players, over 4,300 unique historical regiments, artillery batteries and leaders. Fight against the AI or friends in custom battles or scenarios where you may find 20,000 or more men on the field in 200 total units.
Star Trek: Armada III begins with the first stirrings of the Dominion War and allows players to take command of five unique factions, the United Federation of Planets, the Klingon Empire, the Romulan Star Empire, the Cardassian Union/Dominion Alliance, and the Borg Collective. Explore strange new worlds, seek out new life and new civilizations, and boldly go where no one has gone before.
---
Continuing Legacy Award
A mod that takes a game from a franchise abandoned or ended by its original
developers and continues the series in a new and interesting direction
For: S.T.A.L.K.E.R.: Call of Pripyat

Anomaly is a standalone S.T.A.L.K.E.R. mod powered by an x64 version of the X-Ray engine. Starting with version 1.5.0 Anomaly uses a custom engine build called the XRay-Monolith engine. After almost one year of development of the Anomaly 1.5.0 update, the mod continues its way on expanding and adding new features while maintaining a high level of quality and replay value.
---
Dragon Age: Total War is a Dragon Age-themed total conversion for Medieval 2 Total War: Kingdoms. Featuring 23 distinct factions from BioWare's world of Thedas, each stocked with a unique, fascinating roster and gameplay, as well as familiar insights into characters from the Dragon Age world and more. The end goal of this mod is to create a refreshing new take on the intriguing world of Thedas, previously seen in renown RPGs such as Dragon Age: Origins, or Dragon Age Inquisition.
---

Sponsor Award
Special award presented by mod.io, for a game that has embraced modding,
is growing a great community and we look forward to seeing what's to come in 2020.
By: Giant Squid
From the developers of Action Henk, Descenders is a fast-paced extreme downhill biking game that's easy to pick up, but difficult to master. A Modern Take on an Extreme Sport Procedurally generated world: Take on different jumps, slopes and hillbombs every time you play.
---
Who would you have picked given the chance? Let us know in the comments and get ready for the next announcement in a few days, the most anticipated Indies and then the big one soon after that, the Top 10 Mods of 2019.