MechCommander Gold - Darkest Hours
Beginner's Guide
bbc_standard_quote wrote:

" There's no one way or right way to win each of the missions. Mech Commander is a game about real strategy and tactics, and the true experience of command."
Jordan Weisman, co-creator of the original BattleTech board game & Mech Commander



You will have a plan.

You will be right.

You will be wrong.

You will attempt the impossible.

You will pull it off.

You will hesitate.

You will panic.

You will love your troops.

You will curse their names.

You will respect your enemy.

You will pay the price.

You will be defeated.

You will face your fear.

You will ask for a second chance.

You will act on instinct.

You will be exalted.

You will know what it is to command!
— MechCommander 1
---

That was the way I remembered MC also for some reason, but now that I have it up and running I realize there's a crapload of strategy there. It was just overshadowed by great story telling. It's also kind of offset by the lack of interface options and yeah sometimes it becomes a jumbled clicker mess; but at the worse this only reminds me of Mike Tyson's one and only famous quote: "Everybody has a plan till they get punched in the nose!"
Some key strategic features of the original MechCommander:
1. Pick the right loadout for the mech
2. Pick the best pilot for the job
3. Meet the weight limit
4. Use the high ground lookoutpoint (better view and more accuracy)
5. Stay out of the enemy sensor range
6. Sneak up and use air strikes wisely
7. Burn a swath through the forest and avoid the thick enemy patrols
8. Capture the gun turrets and turn them against the enemy
9. Close quickly on support mechs with longer range weapons (they suck up close)
10. Lay down a minefield and hold your position
11. Use buildings and trees as cover
12. Channel the enemy into a narrow passage with a fast mech and have your heavies wait on the other side to gang. (The AI tends to pursue one target if you can sucker them in)

by Buddy Dee´s Ghost on BattleTech-steamboard
Ingame content
Campaigns

---
MCG - Darkest Hours Guide


---
Latest Version & Development


---
All downloadable existing
Mechcommander 1 content
---
Installation: No physical installation necessary (setup.exe...) - just download the pre-installed game folders and start Game.exe files from standalone folder you desire with MCGold.iso mounted or Original CD in your drive.
My MechCommander Gold game folder structure:
"C:\Games\MechCommander Gold Versions\foldername" is my basic path, here is the list of my folders:
C:\Games\MechCommander Gold Versions\MCG_Darkest_Hours_v4.1\...
C:\Games\MechCommander Gold Versions\MCG_Original_v1.8\...
C:\Games\MechCommander Gold Versions\MCG_Exodus_Turncoat\...
C:\Games\MechCommander Gold Versions\MCG_Xenocide_BengalLancers\...
C:\Games\MechCommander Gold Versions\MCG_X-Ray_DSCRaid\...
C:\Games\MechCommander Gold Versions\MCG_TheRepulse\...
All of those are independent working standalone game folders. Each with its gamefiles and Game.exe´s to start with. Some resolutions.exe files will be missing but can be pasted into that folders to make them run with it. When i like to play a certain content i choose the desired standalone folder and start game from there with chosen resolution.exe. Mixing content of those folders will lead any MC folder to crash unless you don´t know what you are doing.
This is why they are seperated standalones. The only mix / version with biggest content ever - is Darkest Hours - a merge of all other standalone versions.
---
---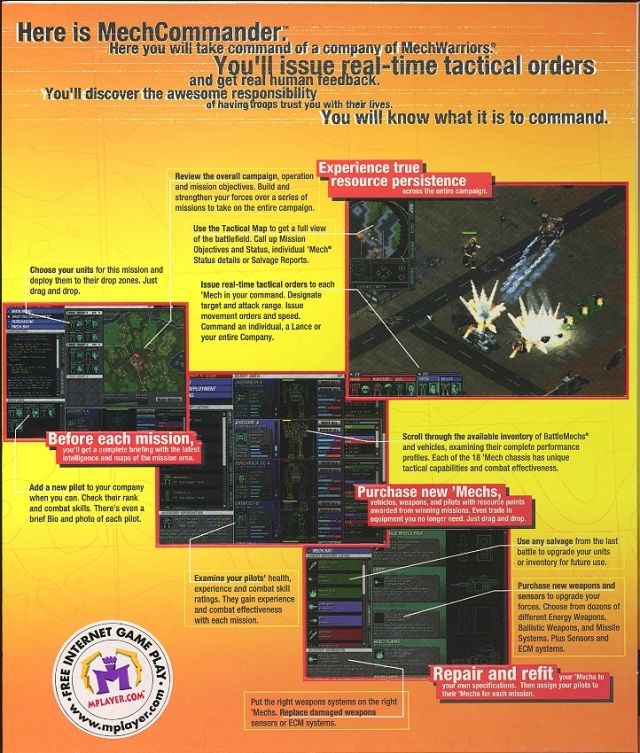 ---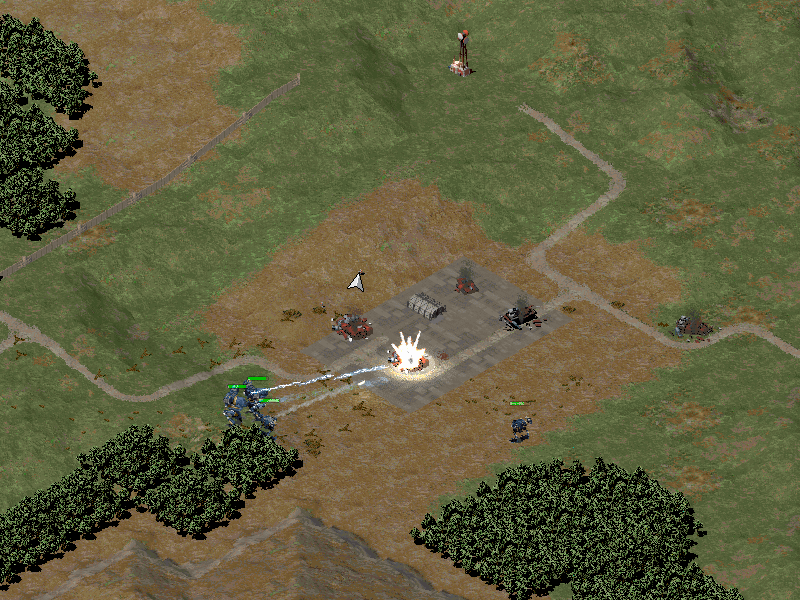 Terms of use

MCG Darkest Hours CONTENT
(c) by RizZen (2016 - 2020)


§1
Reproduction & translation ofmy work (as a whole or parts of it) in any mode without permission is strictly forbidden allowed.
I don´t claim owner rights of all informations and files i have created while modding and working on this game. Anyone is free to do with it what´s desired. I love to test new game improvements and evolving old retro games. What i have done on MechCommander is my tribute to one of the best Real-Time-Tactics games i´ve ever played. I don´t feel offended or betrayed when someone is using my Version - i would be honored.
§2
All names and marks are properties of respective owners (FASA Interactive / BattleTech / Micropose / Microsoft & Hasbro) - freeware since 2006 (Begin of active Modding: 02/2017).
§3
MCG Darkest Hours - Guide - you are here!
MCG Prometheus - Full Version (Clan Wolf Edition)
MCG Darkest Hours - Full Version (all versions)
MCG - Downloads on modDB

are all officially hosted by owners of everythingbattletech.com
Without this website & forum there won´t be a single version of mod or a full version standalone for MechCommander. Only after given a new home by it's owners all MechCommander content would be actually permanently offline. Therefore i dedicate MechCommander Gold - Darkest Hours - with all content to everythingbattletech.com, AceTimberwolf and his crew. If changes are desired i admit my help to make them. My only attempt on MechCommander is and was all-time = FUN! - So i call out my product is royalty free! Have fun using it!

---
RizZen Emergency report (April, 3rd, 2020): 75% of the missing content of files and information got restored. I beg for a little more patience. All guides will function proper soon. It maybe that some information is lost - but there are NO files lost. I have several backups and uploaded most of the content - actually 80% of all existing MechCommander files are already available here on modDB.
RizZen Emergency report (April, 7th , 2020): 95% of the missing content from NGNG got restored now. Thank you again Sean Lang, for this mountain of work. MechCommander lives!
RizZen Emergency report (April, 15th , 2020): 100% of NoGutsNoGalaxy MechCommander ingame content got restored, including the guides, overviews and briefings. The Beginner's & Player's guide are back online and tactical knowledge for MechCommanders is accessable again. Have fun enjoying it!
---
Upcoming / planned articles:
(c) by RizZen (2016-2020)
Read the first article, start a journey...