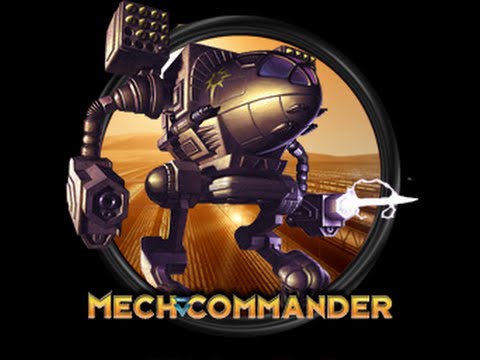 MechCommander Gold doesn't sound any different than before, and while the muted, bass-heavy weapon-firing effects still sound right on, your mech pilots' muffled and repetitive commentary will quickly grow tiresome once again. At least the game's dynamic soundtrack, which responds to whatever is happening onscreen, remains effective.
MechCommander is magic—for me, it's the purest expression of everything anyone ever loved (having a garage filled with multi-story death robots and lasers) about FASA Interactive's more-famous versions of the series, MechWarrior, but packaged in a way that holds up better today than the decade-old iterations of its first-person brother.
Through escort, search-and-destroy and scouting missions, you field a team of up to 12 BattleMechs, fostering pilots and equipment like precious action figures that run out of ammo, need to be repaired and can suffer permanent death. That ownership over your Mechs and pilots is at the core of the experience — taking a cue from Wing Commander.
When i´m interested in starting to play MechCommander - how may i start?
1998 - Well, the basic version MC1 was released. From today´s perspective it is not recommended to play this version anymore. It contained the original 30 basic campaign missions, three solomissions and a handful multi-player scenarios for MSZone networks. It had many issues, no waypoint systems and only restricted technical functions.
1999 - The official expansion pack MechCommander Gold was released, coming as own standalone version on CD. You can download this version and others as pre-installed gamefolder here from moddb! The gamefolder was patched to latest version 1.8 - the last official patch. I recommend using this version to start playing MechCommander cause it contains the original 30 missions campaign plus the original 12 missions expansion of Gold version. For the original game folder you need the original CD or *.ISO to be able to play the game. You can download the seperate *.ISO here.
2001 - around six additional campaigns where created. They where splitted into three campaign pairs combining each an original & expansion campaign override with usermade missions. Those files went offline after a time and are not available anymore for patching any original game folder with them.
2006 - magic from hardlight-productions released those mentioned user campaigns on moddb as seperate standalone versions - in the same way created like he did with the "Original" folder - enhanced with high resolution executables. Here a list:
Those can be downloaded exactly the way it goes with the "Original folder" above. You need to download and use/mount the original CD / ISO in order to start game with one of the resolution.exe files.
2016 - i started modding MechCommander. I got much help by the guys of NoGutsNoGalaxy.net and so i published the early versions of my mod on their servers. On the forum you could find many downloads and content for MechCommander. Things like content that went offline over the years, massive guides and knowledge for the game - and the best thing: the most complete remastered standalone fullversion of MechCommander that ever existed.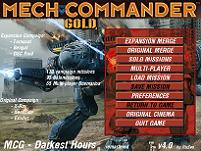 But still there is much more to uncover. Visit us on NGNG and look for yourself. Start a journey!
2019 - after finishing MCG Darkest Hours Fullversion for MechCommander 1 - Gold i started to create the version i would like to have done in the first place while starting to mod MechCommander wayback 2016: MechCommander Gold - P.R.O.M.E.T.H.E.U.S. Merging eight different single player campaigns from the Inner Sphere Version of the game into TWO HUGE XXL campaigns was finally done with Darkest Hours and released as freeware pre-installed game folder with the ISO included in it's download content package. Bugfixing and serious issues got solved and MCG-DH is a solid extension to the available Vanilla and Customermade MechCommander game content.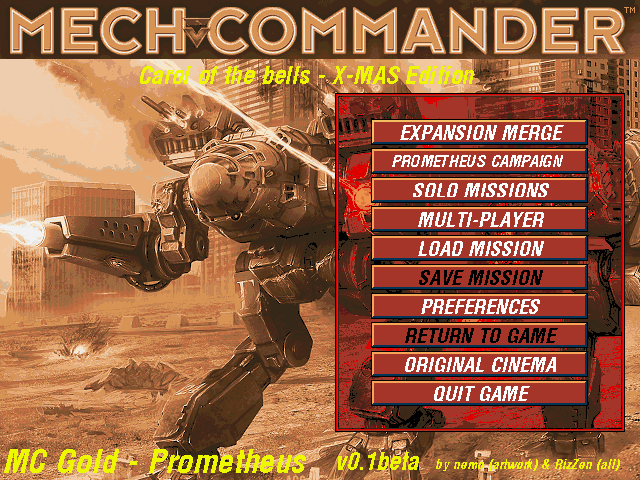 2020 - the year of the Covid-19 disease. I decided to release a prior beta Full Version Built for my new MCG Prometheus - Version 0.1Beta!
After all the MechCommander content on NGNG forum servers got purged in 2019 i recreated and reuploaded all content here on modDB and EverythingBattleTech.com. This slowed down my modding work for the new Clan Wolf Campaign edition (finally will be MCG-P v5.0) - but i still got a solid Demo Beta Built Release for X-Mas. This is my tribute to one of the best RTS non building X-Com like pc computer games of the world:

Prometheus Content list:
new recolored artwork and menu design, Clan Wolf style logistics and HUD
33 of 200 brandnew missions for the upcoming Clan Wolf Campaign
play more missions, after mis 33 you will go on playing the Darkest Hours missions that enlarges the current Beta Campaign up to 89 missions total
new voice package for one MechWarrior (others are in the making)
corrected female / male voice issues with new warriors
a full functioning second campaign (the original Expansion merge from Darkest Hours that will be replaced in the later phasis of MCG Prometheus development
integrated mixed-tech purchase into the whole campaign
more vehicles available in the vehicle bay purchase logistics menu
The whole game in a new shape
MechWarriors with unique MechPaints on the Battlefield - different color setups available
starting a campaign with nothing - building a MechBay from scratch
Planned in the next:
storywriting - full briefings with tactical and storyplot information for the players, not just mission objectives and air support parameters
completing the Menu Re-Design with nameplates and eliminating the last remaining "baby blue" from the built
creating more missions in order to complete the first Clan Wolf Operation with 50 missions total on eastern 2021
extending the game content
bugsolving and technical support
rebalancing the ingame parameters in order to make it comfortable to play for anyone
MechCommander 1 - Gold: Prometheus is a Vanilla oriented standalone that will be further developed in the future. It will become update releases, fullversion updates and technical support during the whole development process. MechCommander 1 / Gold is great! MechCommander Gold - Darkest Hours is greater! MechCommander Gold - Prometheus will become the greatest of all versions. It's maximum campaign length of 200 missions will give players the feeling of an endless career. Only here - real time strategy non base building x-com style plus limit-breaking reverse enginering.
Have fun, that's an order!
Regards RizZen
---
(c) by RizZen - 2020 overhauled