Targetting specific Mech parts
MechCommander aiming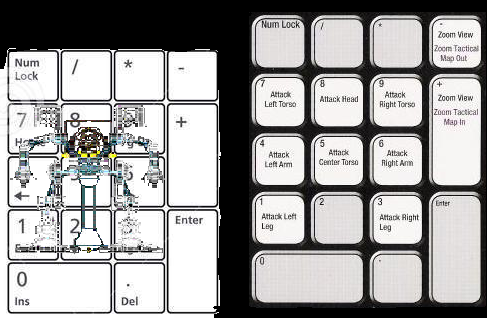 You can demand your pilots to target specific parts of a mech's body, but this leads to nearly 90% missed shots (more if you demand head shots). This is where conviction divides. Some players pretend it is useless to aim - but others (me) see the positive effect of aiming specific mech parts - especially when it comes to maxing out warriors shooting skills.

The better your MechWarrior shooting skill is - the better you results are when you target specific MechParts. As you can see above - legs and arms give a high percentage of being missed - the head has the lowest hit chance. The torso has the highest chance to get hit - but although has the most armor points.
Old rumor: My Mechs stop shooting when i aim certain Mech parts. This can have two reasons: 1. When your unit is out of shooting range, when the command is given - your unit may not shoot at all - minimum it has to have one long range weapon and must be in the long range attack radius. 2. When you give the order to your lance they will stop moving and JUST shoot when they have a 100% chance to hit. That means that low skilled warriors will shoot with such a low shooting rate - that it seems as if they are not shooting at all. With higher skills you can see the difference. In certain missions you get advantage on the battlefield by legging certain heavy enemy units in order cut them off from assistance - or targetting the head for higher salvage counts does make a difference - in my opinion.
Now when you target specific enemy mech parts and order your unit to move on - something strange happens - they start to fire the target mech. The reason therefore is that the Mechs start shooting at ANY chance to hit the enemy target - not only when they have a 100% hit chance to the desired target. This means you just need to aim the specific mech part ONCE per target & then start moving the mechs when you want your Warriors to fire at all hitting chances. The reason for this is that you probably could isolate a single enemy mech and kill him with surgical accuracy when you outnumbered the enemy and can risk a longer time in order to certainly hit the cockpit and have a 99% undamaged salvage from the battlefield after mission.
I always aim for the head & move - unless the legs give a bigger tactical advantage in-mission.
Moving your units is extremely important when you face enemies on the battlefield. You always have to move your units into better tactical aiming positions and distances in order to fire your weapons with maximum efficency. You need to coordinate long/medium/short ranges while fighting the enemy mechs. When you outnumbered the enemy you have to focus on surrounding the target and - if possible get the worst firepower behind his back. Then you will see very fast - that aiming - is a thing in MechCommander.
---
MechCommander keyboard-layout: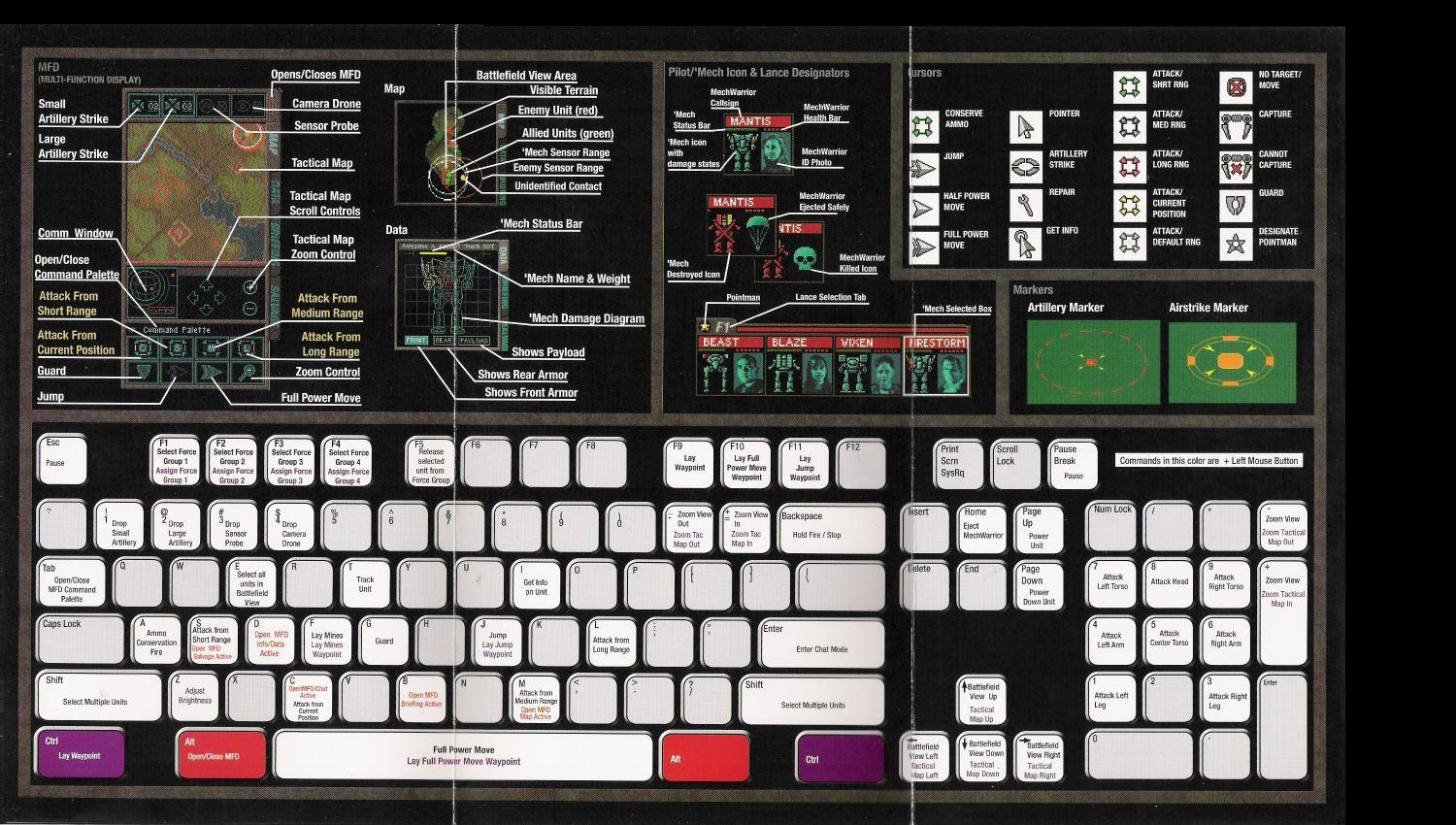 ---
Head attack & right arm - discussion
RizZen:
I tested it many many times now. The mechs DON´T stop firing... - but the fire rate drops enourmously when you order your squad to target a specific mech part. Most prefer head - the head has the lowest chance for a hit. The body/torso has a higher chance to hit. Now the important message:
The mechs will shoot ONLY with a 100% hitting chance when you order them to target specific mech parts.

That means:
That lower the shooting skill is - that less shots will come out. When targetting head - there will comes less shots out of your mechs too. For that reason - ONLY FOR THAT REASON it gives the player the picture that their squads don´t shoot when targetting specific mech parts is used.

Aslong there is no more additional order - the mechs will stop moving (the only thing that rises the chance of hitting) to get maximum hitting chance for their own capacity.

As soon you give them additional orders - their priority changes - they will hit for the head/torso whatever - in priority - but will ALTHOUGH shoot when there is no 100% chance of hitting the specific mech part.

So - i dont know how many times i will repeat how aiming works in MechCommander - but i hope one day one of my "hitting" romans will people make understading how aiming works on MechCommander.

Reinstalling doesn´t help, changing parameters doesn´t help.

Understanding helps! Learning how to aim right helps! Skilling your warrior´s accuracy helps!

That better your Mech Lances / Warriors are - that more you will learn how to aim specific mech parts. And with all of that information keep in mind that the chances to hit certain mech parts are always lower than hitting in general... but the chances of looting mechs from the battlefield will be higher when you aim right.
---
(c) by RizZen 2018 - overhauled (2020)