MechCommander
Install instructions

---
How to install MechCommander Gold -
Darkest Hours?
bbc_standard_quote wrote:

Easy explanation: Unzip Game folder of download zip to your hard-disk, enter the extracted game folder, mount *.iso file and choose one of the MCX-Resolution.exe files to start game. (Windows 10, 8, 7, XP, 98)
by RizZen (2017)

Wait, what is an ISO? How to mount an ISO?
For now: Use google... - ohh man...
---
Notes for different OS

Windows 98 / 98SE / 2000 / ME
MechCommander Gold can be physically installed via Original CD or mounted *.iso
when MCG is physically installed MC-Editor can be installed too
MechCommander Editor & Extender can be used but their limits reduce them to only make new maps - mission objectives and scenarios have to be *.abl scripted in *.fit files game uses then
Standard Resolutions are recommended for older Windows OS
for playing - MCG-Darkest Hours - MechCommander Gold - Desperate Measures needs to be physically installed to run proper, not MC1!
to play MCG Darkest Hours you just need to extract MCG-DH Fullversion - place it in game folders and start game from "MCG Darkest Hours\" folder while CD/ISO is mounted

Windows XP/Vista (32bit)
can be installed - sometimes only with workarounds
editor works but is more unstable then on older systems like Win98
game CAN be physically installed but it is not needed to play it
mounting CD or ISO and playing it is possible like explained below for Win10
rainbow color issue (only vista or windows 7)
Youtube Tutorial by SeanLang
game can be physically installed with workarounds on Windows7, but Win7 users have most technical issues
game can not be physically installed on Win8
CD or ISO can be mounted in order to play a prepared Original game folder or MCG - Darkest Hours Fullversion
editor can be installed on Win7, not Win8 - is very instable
rainbow color problems (Vista & 7)

Windows 10 (64&32bit)
See step by step tutorial (below)
For short: Mount MCGold.ISO out of "MCG Darkest Hours\" gamefolder and start Game.exe
there is no physically installing of Original MC/MCG necessary - the Darkest Hours folder is full prepared (pre-installed)
editor doesnt work on Win10
physical install doesnt work on Win10
before starting for the first time Win10 needs to install/activate DirectPlay
Installing on Linux / MAC:
---
Windows 10 setup - short explanation for pros

:1. Download

MCG-Darkest Hours Fullversion

2. Extract the *.rar file into your game library "MCG - Darkest Hours\..."

3. Mount the MCGold.iso file (inside fullversion folder)

4. Start the game with the

resolution.exe

you desire

Notice: For best result start MCX.exe files with WinXP SP3 compability and 256 reduced colors, Menu will always be 640x480 resolution with frames & before you start it the first time DirectPlay must be installed. For more information read below (installing on other OS f.e.)
For dummys...
How to install and run any MechCommander 1 / Gold the easy way explained in detail!
Step 1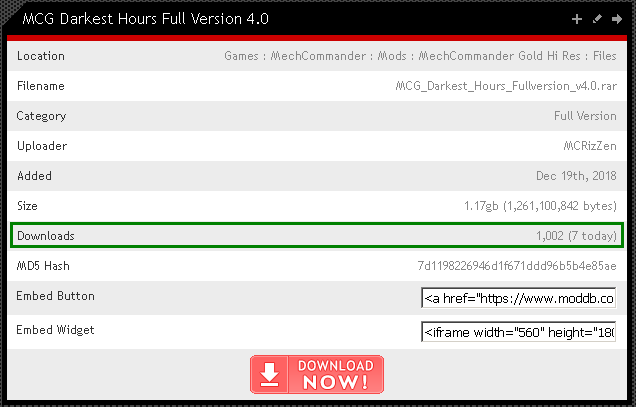 Download the
Full Version 4.0 - on download page you will find another spoiler explaining how to install MC the easy way. (modDB download)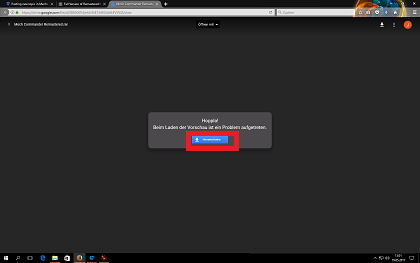 When you downloading from my googledrive it will say that file is too big to be content shown. It will also tell you that it couldn´t scan for viruses cause file is above 1.4GB in size. But you can download it in spite of that. Button will be shown in the middle for it. The file contains no virus or whatever. Only the game. You are free to scan file after downloading if you dont trust it.

Step 2
Extract the whole file (with winzip or winrar on older OS). It contains this folder: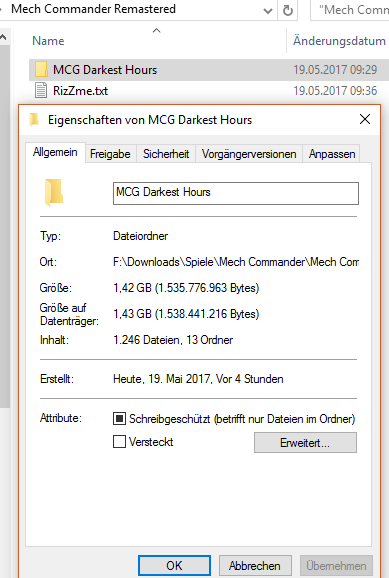 Put it whereever you want... - to your game directories.
Step 3
For Multi-Player install and login on gameranger.com, it needs the including MCX.exe path of gamefolder.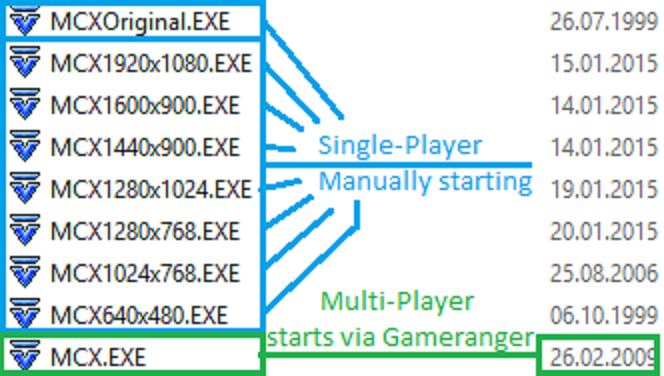 For Single-Player enter MCG - Darkest Hours and start with the resolution *.exe you desire to play. Notice that you need to use original disk or mounted *.iso (inside game folder) to play. Windows 10 can mount iso file easily, other Windows versions may need additional Software to mount virtual drives like Virtual Clone Drive (freeware).
Folder content for players. The MCX.EXE is the one for multi-player games. MCXOriginal.exe is the orignal one. Game can be started with it but no multi-player compatibility using this. Same with resolution exe files. They are intended to be used single player only.

NOTE: Windows10 users should Start exe Game Files with windows xp sp2compability& reduced colors 8/16bit graphics. Reduces errors in Solo-Missions & Single-Player-Campaigns - better technical stability through all testing this way.

---
(c)by RizZen (2017) - overhauled (2020)