MechCommander Gold - Darkest Hours v3.0

Standalone is born!
first release (December,24th,2017)


"Yes, I've made a great deal of dough from
my fiction, but i never set a single word down
on paper with the thought of being paid for it...
I have written because it full-filled me ...
I did it for the buzz. I did it for the pure
joy of the thing.
And if you can do it for joy,
you can do it forever."

by Steven King
After about one year of MechCommander research and modding i could proudfully release my early first standalone version of MechCommander Gold - Darkest Hours. It was Version 3.0. All versions below where simple update patches for the Original built. This threads shows history of 3.0 and the beginning of v4.0 development. I took out all links cause the latest version of MCG DH v4.0 is online here on modDB and all actual information about MC that probably exist you can gain here on my profile, just look above!
Have fun reading, that's an order, RizZ!
All Hotfixes for Darkest Hours Full Version 3.0 on this list:
Original Campaign Mission Hotfixes
- Bugfix Op5Mis13 - MisObj6 - Kill Wirth! = Kill all! ~ v4.0 content ~
- Bugfix Op4Mis10 - Turkina // Mad-Cat Bug ~ v4.0 content ~
- Multi-Player Pilot-Downgrade (optional) ~ v4.0 content ~
Expansion Campaign Mission Hotfixes
- Hotfix Op2Mis13 ~ v4.0 content ~
- Hotfix Op3Mis1 ~ v4.0 content ~
Installation notice:
For original campaign you find installation notices in related threads above. The expansion mission hotfixes come as Customer Distribution Packages. Two *.fst files for main game directory MCG-DH\ - where the game-*.exe files are. Just overwrite existing ones with updatet versions. --- v3.1 Updatepack for bugfixes - All above as one download ---



All known workarounds for most common crashs and errors:
Mission workarounds
- Operation 1, Mission 1 - RizZen Remake - Mission objectives
- Operation 1, Mission 7 - Finding all crates!
- Original Merge: Operation 1, Mission 14 - Optical missing extraction marker
- Original Merge: Op02Mis17 - Hidden forces - Objective Kill All!
Technical workarounds
- Targeting specific location on enemy mechs
- Resolutions - How to handle them (before gamestart)
- Waypoint Bug - Access violation!



All known ingame bugs / cosmetic errors that will be solved on a long term:
Ingame-Mission/Map-Bugs:
Original campaign
- Operation 1, Mission 13 - Turret Controls -> re-linking all buildings (Turrets)
- Operation 1, Mission 14 - missing extraction marker (workaround above) -> maybe i find time and motivation to add marker with the ongoing updates
- Operation 1, Mission 20 - Star League Base - Crate update
- Operation 4, Mission 10 -> Crate update
- Operation 4, Mission 16 -> This original X-Ray campaign mission has a bug created by its developers. I will extract the mission files and search for bug when time comes but im optimistic it can be solved. report by splina
- Operation 5, Mission 7 -> re-linking all buildings (Sensor tower)
- Operation 5, Mission 9 -> Crate update
Expansion campaign
- rebalancing purchase files - rebalancing shop
Technical & Story related
- non logical tactical briefings due to merged campaign missions order -> Story overhauling planned - DONE (v4.0) -
- Right Arm bug (for player mechs all weapons are assigned on Righ Arm) -> Maybe on real long time perspective, many entries have to be done before completing this issue
Those bugs and errors are any bugs which the developers have left when they published their campaign-standalones. For usermade campaigns there are not existing any source files which means a big workload when editing them. But it can be done. Let´s see how long it will take. But i´m happy to announce that all of those left are harmless origin bugs that won´t affect your games to crash. But loosing a pilot by replacement on a mission is a no-go. I just will focus on issues like that in the first place.
There will be a final update for MCG-DH-v3.0 which will include all of those in one package but this will last on some time cause it will be the last update for v3.0 until standalone v4.0 is finished. With version 4.0 the final upgrade package for all v3.0 users will be released so that they won´t be forced to download 2GB file again - but just a small update package.
---
Fullversion 3.0-3.3 development
History logfile (March,23th,2017)

Remastered: Mech Commander Gold
- Darkest Hours -Free Download
MechCommander Gold - Darkest Hours (Fully remastered) v3.0 Download - googledrive link - Latest Version
Size: ~1,75GB
1.043 files (1.337)
14 game folders
Gamefolder Name: MCG Darkest Hours; version: 3.0

Includes
Original game & ISO + Exodus & Turncoat
+ Xenocide & Bengal + X-Ray & DSC-Raid
user made custom campaigns
95 solomissions to play free & 64 multi-player missions
to play with gameranger

89 missions original campaign merge
41 missions expansion campaign merge
95 solo missions to play (Solo-Mission-Update Part II available)
64 multi-player mission maps pre-installed and activated - start game with gameranger on gameranger.com in order to play multiplayer
+20 new MechWarriors
new MixedTech Patch for Solo- and Multiplayer comparing all technologies into logistic purchases (full mechs, warriors, vehicles & equipment)
pre-installed editor, editor2, extender - only work on windows 98 here

MCG - Darkest Hours Guide (full game content for players)

The whole package contains everything to play !
Fully remastered Version for Mech Commander Gold - includes a complete pre-installed game folder where you can just put into ur game directories and start playing MC without installing anything. MCG - Darkest Hours - pre installed folder with all updates, an installed and already used editor & CD *.Iso file to mount. (Mounting only necessary on singleplayer - gameranger loads iso when starting multiplayer game).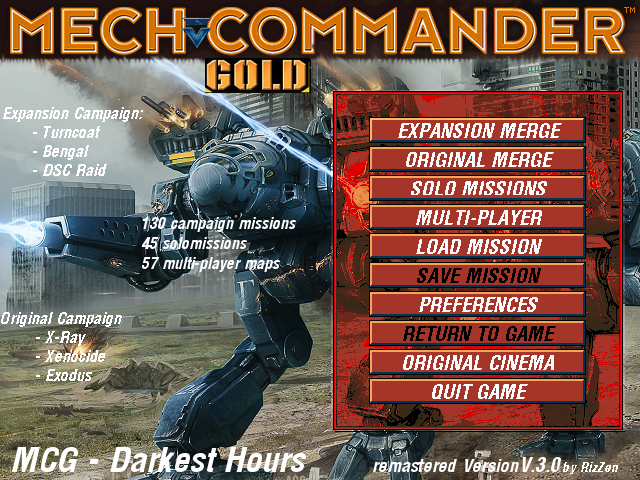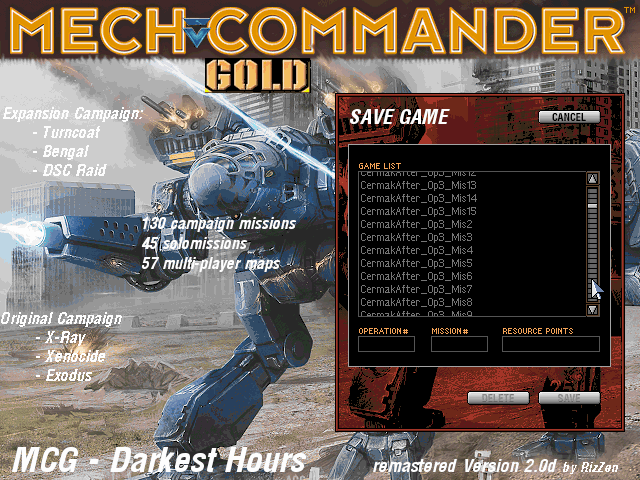 Save Game Screenshot from Main Menu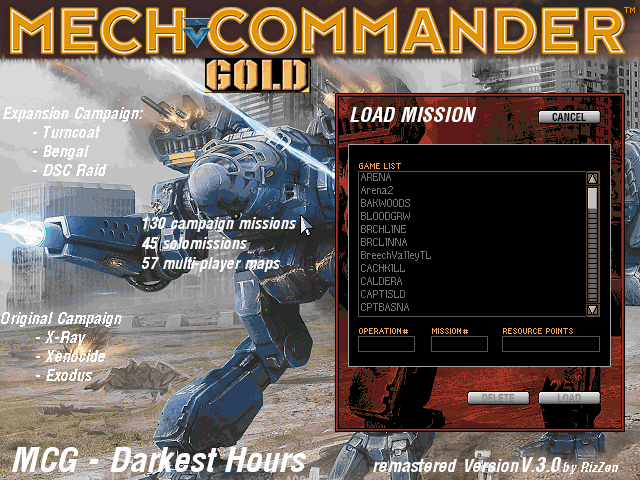 Load Mission Screenshot from Main menu
Multiplayer notice!
I have set the standard resolutions (640x480) to 1024x768 for multiplayer. To change resolution on multiplayer you need to change Prefs.cfg file (line resolution 1-3 possible to use in MP). Playing MCG - Darkest Hours vs. Non Modded causes Crashes for non Mod players when Mod only items and maps are used. Be sure all participators of multiplayer game have running the same game version on gameranger. Remastered MCG - v3.0! New Warriors don´t work for Multi-Player. (only 30 instead of 50 to use) - Darkest Hours already HAS mixedtech-patch. No need to install mixed-tech versions from other sites.Multi-Player Tutorial & Quickstart Guide

Singleplayer Notice!
When you play single player campaigns or solomissions use the resolution exe files to start game manually.
(Be sure & re-check if original MCG CD is in drive or Mounted before starting exe!!!)

Tested on those OS
Windows 10 (64-bit), Windows 8/7 (32/64bit), Windows Vista/XP (32/64bit), Windows 98 SE (8/16bit)

_________________

Updates / Patches / Game enhancements

Latest purchase hotfix (PuWa v4.0)
v4.0 fixing double warrior bug with pilot Mantis in expansion merge (released: 12/08/2018)
Download 01_PuWa.fst

Latest Version Update
v3.0 to 3.3 Update (date of release: 04/28/2018 )
v3.3 Update contains latest bugfixes in a customer distribution package:
Story-Overhaul
Corrected all missions briefings headlines
new story for many missions
both campaigns should show ending movies after last mission now, no crashs anymore
fixed and controlled all master-purchase files
Bugfixes for several missions of Original & Expansion campaign merges
New Versions of 00_MUpdate.fst, PuWa.fst, xRiz0204.fst & xRiz0301.fst
Expansion Merge Purchase rebalance fix (PuWa.FST update)
Installation notice: Copy the content of the "MCG Darkest Hours" folder into your MCG-DH installation´s game folder. Package contains new versions of some *.fst files for game´s main folder where the *.exe files are.
3.1/3.2 Updates no longer exists - everything is included in v3.3 update.

Optional updates


Downgrading warrior skills for Multi-Player balance (06/20/2017) - Solves purchase issues in Multi-Player by using Vanilla Warriors.
Solo-Mission Map Pack II (06/25/2017) - Additional Solo-Mission Map pack for training and skirmish scenarios
Multi-Player Map Pack II (06/30/2017) - Additional Multi-Player Scenarios for MechCommander Multi-Player feature.
---
Latest v3.0 Version history
History logfile (March,26th,2017)
LATEST VERSION (v3.3)Available as Downloadpackage
Update 3.3 content
More Bugfixes & Storyoverhaul
Bugfixes for several missions of Original & Expansion campaign merges
Original Campaign Mission Hotfixes
Bugfix Op5Mis13 - MisObj6 - Kill Wirth! = Kill all!
Bugfix Op4Mis10 - Turkina // Mad-Cat Bug
Expansion Campaign Mission Hotfixes
Hotfix Op2Mis13
Hotfix Op3Mis1
New Versions of 00_MUpdate.fst, PuWa.fst, xRiz0204.fst & xRiz0301.fst
Mission purchase logistics Rebalance (PuWa.fst - fix)

___________________


VERSION HISTORY
an overview
Latest Full Version 3.0 content
original (89 missions) & expansion (41 missions) campaign merge
Exodus & Turncoat
Xenocide & Bengal
X-Ray & DSC-Raid
Original & Expansion (100% Recreated & working Originals)
alltogether 130 campaign missions to play the biggest campaigns ever made for MCG
recreated 30 original and 12 expansion campaign missions for merge
updated 42 purchases and created 90 new purchase files
new soloipurchase.fit, xpur.fit & purchase.fit
Other changes / extended content
colossal purchase file update for original campaign (bugfixes & balanced purchase inventory in order not to be flooded with items during campaigns.
updated last turncoat mission of expansion campaign to make it compatible to campaign (warrior bugs)
95 instead of just three solomissions to play
play the original solomissions ACEHUNT, PAREDUX & THEGUN
play all recreated original & expansion missions from all operations with awesome budget (keep in mind these missions not finished yet)
64 activated Multi-Player Maps to play on gameranger.com
new netpur.fit, clanpur.fit, ispur.fit
colossal *.sol file update for solomissions
colossal *.mpk file update for multi-player missions
integrated Mixed-Tech-Patch for solomissions & multi-player (IS+Clan tech fusion for both playable sides)
includes 24 BattleMechs, 23 Vehicles, 50 Pilots and 49 weapons & mech equipment to use for these features
contains all basic elements that exist in original gamefiles, including special weapons like Sniper / Thunderbolt / ...
New artwork
new loading screen
new saving screen
new multi-player menu screen
new background menu screen
+20 new warrior pictures for logistics & in-mission
+20 nameplates for new warriors
new music for main menu & logistics
New desc.fit
added indexes and descriptions for 20 new warriors
Folder structure changes
put links to gameranger & MCG Darkest Hours Guide into game folder
new MCX.exe for gameranger to play multi-player scenarios
pre-installed editor, editor2, extender
new icon for MC directed links or exe files
no CD-Exe for testing (only 640x480 resolution)
new resolution *.exe by magic (1280x768 widescreen)
new resolution *.exe by magic (1280x1024 4:3 monitors)
integrated original *.ISO - CD into game folder for gameranger (loads iso automatically)
ReadMe file inside - how to install full version
new readme for multi-player in main game folder (MCG - darkest hours Multi-player ReadMe.txt)
link to gameranger (not MSZone anymore)
some more new in-game music files

Further information about modded content
- rebalanced warrior skills (especially the ones from mission gifts)
- first campaigns with working purchases for 130 campgain missions total
- gaining 14 Warriors from the battlefield
- created new start0.pkk (easy & hard) // xStart0.pkk (expansion)
v2.0d - integrated Mixed-Tech-Patch and Multi-Player MCX.exe, Original ISO-CD-file for compatibility with gameranger, introduced 57 working multi-player scenarios & 45 Solo-Missions to play free
v2.0c - first Multi-Player version without Mixed-Tech-Patch & Artwork update for MechWarrior "Michawn".
v2.0b - New Warrior skills bugfix, Artwork (pilot face for logistics & in-mission) & Campaign mission update
v2.0a - New Artwork, New Mainscreen, New Save-Load screens & New files for main game folder referring to gameranger
v2.0 - Integrated recreated (unfinished) original missions into existent XXL-User-Custom-Campaign Merges, New Artwork, New Mission order during campaign - balancing, introduced +20 new warriors for XXL-campaigns, bugfixes for new warriors, optional new music files for ingame sounds & created +42 purchase files for larger campaigns
v1.0 - took Original game folder from ModDB as backbone for remastered version, introduced ALL three big usermade custom campaigns into Original Game making it ULTIMATE XXL 59 mission original campaign and 29 mission Expansion campaign override, created +47 purchase files for larger campaigns
v0.Alpha - created some missions and built first own small campaign, figured out how to merge campaigns by introducing missions into existent written pre-built of MechCmdr1.fit-file in data\missions\ folder

For more information related to updates and file changes i have made in previous Versions have a look into the Old-Development-Threads Version 1.0 & Version 2.0, here you can find further and deeper information & explanations of how game was modded and finally remastered.MechCommander Gold - Desperate Measures v1.8 by evolving it to new Free Full Version
MCG Darkest Hours v4.0.
---
The difference between Vanilla MechCommander &
MCG Darkest Hours (June,19th,2017)


tokyodan:
I already have Mech Commander Gold - Desperate Measures installed and running. How is Darkest Hours different?
>> 19 Jun 2017 <<
It's EPIC!

It combines Original & Expansion Campaigns with all famous usermade campaigns ever built for MCG. The difference is you can play 130 instead of just 42 campaign missions total. Campaigns in "Darkest Hours" are much longer then Vanilla campaigns. They are telling other sub-stories who took part at the same time within invasion. Darkest Hours simply offers fun for much more total-playtime than Original Version ever could & it gives players a new level of freedom & possibilities while now it is possible to mod and play around with original missions - what was impossible before.Further i have rewritten many of the game files and solved bugs. For the player nothing really changes but the bandbroad the game has to offer.

__________________________
My top ten list of "Reasons for using Darkest Hours instead of Original Version Desperate Measures"



bbc_standard_quote wrote:

I.

Original MCG DM - 42 single-player campaign missions total split into two campaigns


Remastered MCG DH - 130 single-player campaign missions total split into two campaigns


II.

Original MCG DM - three solo-missions total to play with IS or Clan technology


Remastered MCG DH - 95 solo-missions total to play with mixed-tech (both techs in purchase) for total freedom play


III.

Original MCG DM - ~20 Multi-Player maps with divided techs for both sides


Remastered MCG DH - 64 Multi-Player maps with combined mixed-tech (full purchase)


IV.

Original MCG DM - Original Artwork


Remastered MCG DH - New Artwork (Menu - Mainscreen)


V.

Original MCG DM - 30 MechWarriors


Remastered MCG DH - 50 MechWarriors (more warriors for larger campaigns)


VI.

Original MCG DM - No pre installed editor


Remastered MCG DH - Pre-Installed Editor (works only for Windows 98 on my side)


VII.

Original MCG DM - No more than 4 resolutions to play, no HD Resolution


Remastered MCG DH - Several resolutions / *.exe files to choose for single-player, pre-set resolution 1024x768 for multi-player (MCX.exe)-file


VIII.

Original MCG DM - No update or development support


Remastered MCG DH - Ongoing updates and development


IX.

Original MCG DM - No remastered gamefiles


Remastered MCG DH - Many remastered gamefiles


X.

Original MCG DM - Same game since 1999


Remastered MCG DH - Evolving since February 2017 when project MechCommander started



__________________________
Im a big MechCommander Fan since my youth. I had the version you have for two decades. In this time many people developed great things for MechCommander. Such as Multi-Player Scenarios, user campaigns, mods and other stuff. 2006 three user campaigns came up at the end of MSZone times.
1. Exodus & Turncoat
2. Xenocide & Bengal Lancers
3. X-Ray & DSC-Raid

Each of this campaigns contained several missions with another background story during invasion. The customer campaigns overwrote the two existent ones and are available as different game versions with other Original & Expansion campaigngs. What i have done was to combine these three user custom campaigns into two big campaigns containing Exodus, Xenocide & X-Ray campaigns as original campaign overriding one and Turncoat, Bengal Lancers & DSC-Raid campaigns for expansion override. (v1.0)
But this wasn´t enough to me cause i had original game with its great campaigns and the big user campaign merge... - i wanted to be able to play ALL MISSIONS ever made into TWO big campaigns instead of playing several short campaigns. I wanted to skill all warriors or minimum many to it´s top level and then not only play one mission until game ends but more. So i decided to find a solution for integrating original game into my user merge. Finally it works now. All Original Missions are part of the biggest single-player campaigns ever done for MechCommander. (2.0)But STILL ... - this wasn´t enough for me. I wanted to integrate Multi-Player functionalities too into remastered version and so i started atleast to work out a solution for bringing Remastered MechCommander Online. The guys on MechCommander Online helped me to integrate Multi-Player functionality into MCG - DH v2.0d. Since then it is possible to play online on gameranger with the remastered Version i offer for free. The MCX.exe in Darkest Hours Main folder is compatible to gamerangers entry for MechCommander Gold. (v2.0d)Last but not least i integrated *.iso file into main folder of game so that it is not necessary to download an iso file seperate when you downloaded MCG DH v3.0 - cause iso file is already in game folder. That is one reason game folder is that big. Old and usual informations tell that in order to install MCG people need to create game folder and copy CD content into it to have game playable with ISO file - with my full version you just download the pre-builded folder with ISO inside. Means installation is more simple then installing original version to get it running on all systems. (v3.0)
I did testing v3.0 on several OS & physical systems: Windows 10, Win8/7, Windows Vista, Windows XP & Win98 SE - game works for all of them.
---
Latest v3.0 Version history
History logfile - solutions and bugsolving started (April,2017)
wulf:
THIS IS A MASTER PIECE!!!! Thank you soooooo much for making this.I just got into Mechcommander.Wanted a game in the Battletech universe for so long.I didnt have a pc, back in the day when Mechcommander was released.So im very very happy someone made it trouble free to install.And all the content! So amazing.This is far far better than the original! Thank you so much again.I joined here , just to tell you that.Fantasic work! Download this.You will NOT regret it.He has done us all a big favor! I would most surely hire you for my merc squad lol! Thanks again.Really enjoying this and Mechcommander Omnitech.More than games i paid 50$ or more for.I just cant say enough .AMAZING!!!!!!

Oh i got one question.When you play .In 1920x1080,The mission is in full screen, but the Mech bay and purchase and briefing screen menu .Doesn't scale to the full width of my screen.Not a big deal, but if theres a way to fix that.This would be perfect,I am guessing not. but thought i would ask. Have a great day and thanks again !
« Last Edit: 25 Jun 17 by wulf »
RizZen:
Thank you man, that really honors me and my work.

The in-game graphics will be in resolution you have chosen.

Menu/logistics are designed for 640x480 - there are ways to make it another resolution but I'm ashamed no way to introduce them optional that you can switch without deeper changes resolution you want. I'm working on that too on a long time perspective but for now all users must live with Align Top Left 640x480 Vanilla MC Menu design.

New Solo-Mission Map Pack II
+50 Missions to play total in Full Version 3.0
New Multi-player Map Pack II
+18 Multi-player scenarios
MCG Darkest Hours - Content
Terms of Use
« Last Edit: 7 Jul 17 by RizZen »
FuzzyNZ: Thank you so much! ; 19 Dec 2017
holmaren: Thanks for this great game Like someone wrote " This is a masterpiece"

I have one small question: I'm stuck at Operation 1, mission 7. I have been playing this mission over and over again BUT i cannot find all the crates?!? Are there any crates on the Island in the North? Or are all the crates on the "mainland"? I have burned 1 forest down to access one crate that was hidden there. I must be blind because i cannot find them all :S ; 26 Dec 2017

dashi112: op 1 mission 7.
for EVERY crate you need a jump capable mech as theres 1 on the islands south of the beach where you start and 1 on the biggest island to the east.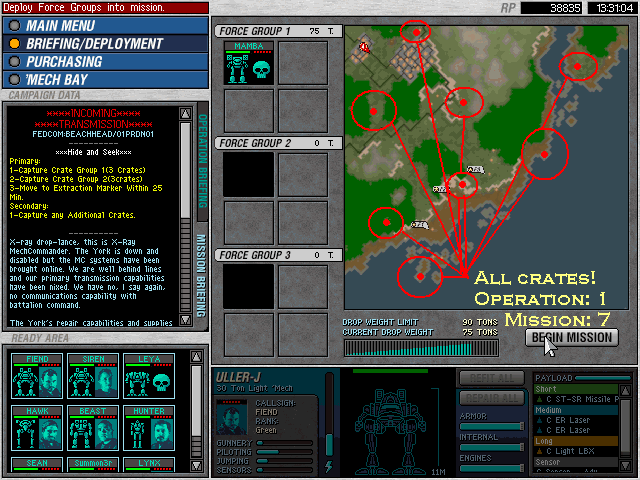 RizZen: Operation 1, Mission 7 - Finding all crates!
* I made dots where to search for crates. I think i have all, tell me when one is missing - but to achieve all mission tasks i have those coordinates in my memory to overcome this mission. - I recommend exploring each mission map for all enterable places when mission time limit allows it. I experienced that it is possible to uncover 99% of the campaign´s mission maps. There are many eastereggs to find. Like "small containers" for example - that can be salvaged and containing nice equipment for example.


*this ingame screenshot is made from prototype version of Darkest Hours. I had no artwork for new pilots profile pictures so as "in between" solution they all got skulls as pictures - nowadays the profiles look this way:


« Last Edit: 2 Dec 18 by RizZen »
verbanon: Hi ! I have DL your Darkest hour mod/standalone.

Yet i cannot finish mission one of the original merge? I complete all the objectives and there is no mission accomplished screen?

Playing on W7. Anything i do wrong?
>> 18 Mar 2018 <<
Rizzen: Mission Objectives

Have you seen this? Mission 1 was remastered by me. The old objectives aren´t enough to finish mission. You have to conquer south-west-island depot by crossing an originally non-existent bridge. But be careful, on the other side a Mad-Cat waits for attacking your mech-crew. I know objective has been shown as "optional" but on some installations this doesn´t work, don´t ask me why - mech commander source code is really annoying and physics too.

Op1, Mis1 with 1440x900 resolution - Zoomed In - Screenshot of mission objective actually not shown on map - will be fixed.
- DONE -
« Last Edit: 23 Dec 18 by RizZen »
---
Latest v3.0 Version history
History logfile (April,2017)
Aidan_Abacus: Greetings RizZen,

yesterday I stumbled over your wonderful MCG version in search of a little Mech fix before the new BattleTech turn-based game arrives.

About myself concerning games:
I am one of the German Ambassadors for Elite Dangerous (guess everybody knows this space simulation) and also moderator in our German fan forum elitedangerous.de

As I am not alone in my wait we have a little thread there since the announcment of the new game and linked your cool MCG version there and typed a view words while installing it, added the necessary links and so on:
BattleTech kickstarter

Guess you don't mind that you are a little more famous now

Let me sum it up with a well done and thank you VERY much, Mechwarrior! o7

Regards,
Abacus, 6 April 2018
RizZen: GERMAN - Deutscher Support!

I'm happy that I saw your thread. I think this is the beginning of a great alliance. More and more MechWarriors will see this and beneath new Kickstarter I think MCG Darkest Hours is a nice thing to do while waiting for releases by battletech or any other developers.
Have fun, RizZ, 6 April 2018
---
Latest v3.0 Version history
Player support (April,2018)
matthewfarmery: This is one awesome game! I just recently found this modded version and been playing it a lot. So thank you for making this

However, I have a problem that I hope someone can help with, OP 1 mission 18

in the briefing, it says there is a mechanism to get over the bridge, but I have no idea what to do, there are a few markers in the south, but placing mechs on each marker doesn't do anything. unless I should just use jump capable mechs? but that doesn't explain the intel about something to get over the destroyed bridge?

please help, as this mission is driving me crazy, unless this is bugged in some way? or what I'm I missing?

thanks in advance

Edit

done it,

place mechs on the markers before you get close to the bridge, cross it then destroy the turrets, then move your four marker mechs across the bridge, first objective should be complete.

I was getting too close the bridge before I put the mechs on the markers. so problem solved, onto the next mission
« Last Edit: 31 May 18 by matthewfarmery »
RizZ: Operation 1, Mission 18 - Original Merge

There is no turret to destroy in Order to deactivate the mechanism...
« Last Edit: 12 Dec 18 by RizZen »
matthewfarmery: oh right, I did destroy something, but didn't realise that it was getting to the second marker disabled the explosive device. It was a bit of a tough mission, as it took me a few attempts to do it.

Have to say, this is one hell of a game, but this modded version is way more fun and better.

again, thank you for your time you put into this, as I only recently realised that both mech commander games were freeware. and only recently found this modded version of MC 1.

awesome work, on making this is into an awesome version to play.
« Last Edit: 1 Jun 18 by matthewfarmery »
RizZen: Thank YOU for the appreciation of performance!

People like you always motivated me to finish this private remastering. I appreciate your comments. Although the critical comments of other players. Thats why i updatet the briefings in v3.3. Some complained that missions where just sticked together making Storyline ilogical and out of sense.

I admit Op1Mis18 is a really tough mission. But i have read the creators development thread for this mission - and that mechanism was a genious Idea from the creator. I wanted it in. I wanted any of the User missions... so here we are.


Have fun enjoying the other content. There are 7 more operations to go & two more game features to play.

Regards RizZ
« Last Edit: 1 Jun 18 by RizZen »
matthewfarmery: Yeah, it was a tough mission, so far, I built up a nice small mech army, I was able to get the mad cat on mission 1, (wasn't easy) but that been my main mech of choice! plus got a few other nice mechs, but that mad cat is my workhorse, and I pretty much been in most missions so far. I think the general feel of the campaign is a lot better then the original, plus more missions, and a better way to level up mech warriors, so they become a lot better. plus there are some nice mechs to salvage if you can get them.

So overall, the game feels a lot more fun then the original game.

So again, thank you for the hard work.

Edit,

Just done mission 19, I don't see the point of capturing the partisan farm? it says it will blow up bridges, but doesn't seem to do anything? as the bridges seem to remain intact?
« Last Edit: 1 Jun 18 by matthewfarmery »
RizZ: Follow the objective order from briefing file. Otherwise Bridge objective may fail. Bit confusing by the original creators. Just follow objective order to complete this mission. I may Change the briefing txt when you have ideas i appreciate to introduce next updates.
matthewfarmery: I was able complete the mission, just kill everything, and all objectives are completed then. So it didn't seem to be necessary to capture this building? as I never bothered to destroy any bridges, which is what I thought capturing that house would do?

Then again, the mission seems to hinge on killing all units, so would destroying the bridges make that impossible anyway?

So, not sure what suggest? one way, is that if you do capture the house, it might airstrike the bridges, but only some of them, so that enemy only comes from one direction, rather then two, not sure if that is possible? but yeah, otherwise, it a bit of a pointless objective in my eyes.
---
Latest v3.0 Version history
Interview given to Brandon (June, 17th ,2018)
BrandonAndChristie BerryHill: Hey man. I hope you don't mind. I included a link to your awesome game addition in my youtube retro review of MCG




Amazing work. I bow to your greatness.

edit by RizZ: put youtube link into bbcode « Last Edit: 9 Jan 19 by RizZen »
---
ELIDON:

I can't win Op2Mission10.
I Kill/Destroy all enemy and structures but Obiettivo 1 don't green.

What's the bug?
10th July 2018
RizZ: Destroy all power producing structures on the map and you will see.

"I destroyed every building..."

IS

obviously a lie.
Nefo: I hit the same problem. It turns out that you need to destroy literally every power generating building on the map. There's one or two near where you are first deployed that is far away from the map marker.
---
MachineGod: Hey Rizzen, it's MachineGod from Youtube.

Something I'd like to see come of this mod is an expansion of the era-appropriate weaponry available such as Rotary Auto Cannons, Light/Snub PPC, Heavy Lasers, Arrow IV Missiles, Machine Guns, Micro Lasers, and Heavy PPC. And if possible, some new mechs that would also be in use at this time period such as the Marauder, Highlander, Annihilator, Nova, Storm Crow, Blackjack, and Super Nova. Also, I've been playing ahead while at work just to see exactly what changed, and I've noticed some bugs/typos etc. I'll point them out in my lets play. Episode 3 should be up tonight at some point!
I have noticed this too, they stop in place to be able to aim better and will fire from their current position while aiming for the cockpit. It was like this in the base, unmodified game as well. The only time you should be using that option really is if you REALLY want to try and salvage a mech, as the ''cockpit shots'' are still entirely dependant on enemy movement and pilot gunnery skills to be successful. I think I've only ever pulled off one before with an ERPPC shot by a modified Hollander II W to a FireStarter W.
19 July 2018
zocom7: I like the way how this game is compiled. Although not perfect, the one issue remains with all of the single-player missions. The secondary/optional objectives somehow must be completed in order to finish the mission. It's a pain doing them when I did some of the early missions in-game. To the OP, Please fix.
28 July 2018
RizZen:

Secondary objectives question
@zocom7: There is no possible solution. Sometimes when i work with the game editor and extender - it works - sometimes it doesn´t. There is no REAL reasonable explanation - only that editorwork in general sucks because it is buggy like hell and often crashes in between or when saving a mission. It is simply out of my programming skills to find a solution for that.
The "secondary" objects could be edited by hand - then it would definitely work - but i promis there are only a handful secondary objects that don´t work - for example the one in Mission 1 of the Original Campaign merge. It would be easy to change the entry that is responsible for broken mission objects - hard is - to implement this into the existing full version. The mission files need to be extracted first - then i need to find out again in which file the wrong entry is (will be the master mission files 99%) - they can be edited then. But then you need to recompress the whole mission files again into ONE package and this package needs to be converted to MCG-File formats... so in the end - ONE SINGLE ENTRY TO CHANGE is HOURS OF WORK.
The only way to get me doing this is a list of missions that need entry changes. It is much easier then because i can do the repetitive actions to all files in a row - step by step - - so many words just to point out: I need time to it. One day would never be enough. And at the moment i really dont know when my time allows it again to focus in programming for several days again. So no time for me left at the moment to do any of it.


Aiming specific mech parts question
@Kurotabo: I tested it many many times now. The mechs DON´T stop firing... - but the fire rate drops enourmously when you order your squad to target a specific mech part. Most prefer head - the head has the lowest chance for a hit. The body/torso has a higher chance to hit. Now the important message:
The mechs will shoot ONLY with a 100% hitting chance when you order them to target specific mech parts.

That means:
That lower the shooting skill is - that less shots will come out. When targetting head - there will comes less shots out of your mechs too. For that reason - ONLY FOR THAT REASON it gives the player the picture that their squads don´t shoot when targetting specific mech parts is used.

Aslong there is no more additional order - the mechs will stop moving (the only thing that rises the chance of hitting) to get maximum hitting chance for their own capacity.

As soon you give them additional orders - their priority changes - they will hit for the head/torso whatever - in priority - but will ALTHOUGH shoot when there is no 100% chance of hitting the specific mech part.

So - i dont know how many times i will repeat how aiming works in MechCommander - but i hope one day one of my "hitting" romans will people make understading how aiming works on MechCommander.

Reinstalling doesn´t help, changing parameters doesn´t help.

Understanding helps! Learning how to aim right helps! Skilling your warrior´s accuracy helps!

That better your Mech Lances / Warriors are - that more you will learn how to aim specific mech parts. And with all of that information keep in mind that the chances to hit certain mech parts are always lower than hitting in general... but the chances of looting mechs from the battlefield will be higher when you aim right.


Edit: The Updating - Files question

In general i published all updates the way that older files need to be replaced with newer ones. There is no need to delete older files or other files...
« Last Edit: 12 Dec 18 by RizZen »
(c) by RizZen (2020)