Welcome to the Editor's Choice awards for the 2021 Mod of the Year Awards, where we show recognition to the mods from the past year that we've found to be personally deserving of attention. We've chosen a series of award categories which range from best singleplayer mod, to multiplayer, to most anticipated and to several more unique and theme related categories.
---
Best Singleplayer
A mod which brings extra depth or significance to an engrossing singleplayer experience.
For: Quake
Slayer's Testaments is a vicious, brutal gorefest of a total conversion that transforms Quake into a depiction of both its predecessor and the modern-day reimagining of the DOOM formula. Distilling the purest elements of fun from the new line-up of DOOM games and building on them with unique modifications and gameplay adjustments, the icing on the cake is an actively supported modding scene that allows others to make their own maps within the tightly woven combat sandbox of Slayer's Testaments.
---
Best Multiplayer
A mod which offers a new way to play with your friends.
For: Mount & Blade II: Bannerlord

The full-on medieval combat that is so integral to Mount & Blade as a franchise generally has its best outing in the singleplayer - where a huge game world, ripe for conquest, is put on the table. Taking part in this wider game world with other people has been achieved with the previous entries in the series before, but Bannerlord Online enables this option in the newest entry in the line-up. New mechanics, new items to hunt, and many other systems designed to transform Bannerlord from a co-op experience into a pseudo-MMO make this mod a satisfying multiplayer time-sink.
---
Best Graphical Overhaul
A mod which focuses on beatifying an older game with technical and artistic upgrades.
For: Star Wars: X-Wing Alliance

Some of the best games in the early Star Wars line-up were those putting you straight into the dog-fighting action of the movies, pitting you with and against the evil Empire. These days these games hold up well enough for a playthrough, but TIE Fighter: Total Conversion (TFTC) achieves a truly superb standard of visual fidelity considering how much of the underlying technology remains authentic. With engagements that look decades more engaging and more support on the way, TFTC has been a labour of love with a lot more to give!
---
Best Overhaul Mod
A mod which overhauls a game, enhancing or changing it to be a whole new experience.
For: C&C: Red Alert 3
Generals is a fondly loved and remembered entry in the C&C line-up, enjoying a healthy modding scene in the many years since its release. Many mods make an effort to up the visuals, action, and bombastic tendencies in some way, but perhaps the most impressive effort in this regard is Command And Conquer : Generals Evolution. Not satisfied with changes in Generals' engine, the team instead have been rebuilding Generals from the ground up with Red Alert 3's technology, and the technical innovation really shows.
---
Best Continued Support
A mod which has continued to receive major updates and support, years after its original release.
For: Star Wars: Galactic Battlegrounds

After nine years, the Expanding Fronts mod for this classic Star Wars isometric RTS is still seeing regular media updates with major revisions always on the roadmap. Star Wars is full of so much rich content to mine for mods, whether you break into the Legends expanded universe or the new direction of the Disney canon, and Expanding Fronts has grown and evolved with the times. Never going out of fashion, it's still a solid play and probably will be for years to come.
---
Expansion-worthy Award
This is a mod that we wouldn't be surprised to see as an official expansion,
or be worth paying money for.

When the final entry in the first round of Dawn of War games released, the game boasted nine factions from across Warhammer 40,000's richly detailed lore. Each new release came with a new faction or two, and a new campaign to boot. All of this is more or less put to shame by the sheer amount of content the Unification mod brings to the table. Seventeen new factions with an emphasis on balance as well as a new campaign in the works fulfil some 40K fan requests for the Dawn of War games that wouldn't otherwise be met until later entries in the series (and sometimes, with mixed results). Sometimes the old ways are the best - and Unification goes some way to proving the original quadrilogy of Dawn of War is king.
---
Historical Accuracy Award
A mod that dives into a period of history rarely touched upon by other games,
and does so with great attention to detail.

That this mod is implementing mechanics and systems inspired by mid-to-late 1800s warfare into the medieval combat of Mount & Blade: Warband is impressive enough; however, Between Empires touches upon a historical period and context seldom covered in mods, with the two World Wars and many medieval conflicts being a more popular pick as a general rule. Between Empires creates a number of new systems that ensure it's not just a simple reskin of Warband, but indeed pushes combat, strategy, and political machination to a whole different level. Special mention goes to the technology system, where as time goes on, the tools available to a warring player develop with a strong focus on historical accuracy!
A mod that uses the story or universe of a film, television show, or other property to
accurately recreate its world and vibe.
For: Mount & Blade II: Bannerlord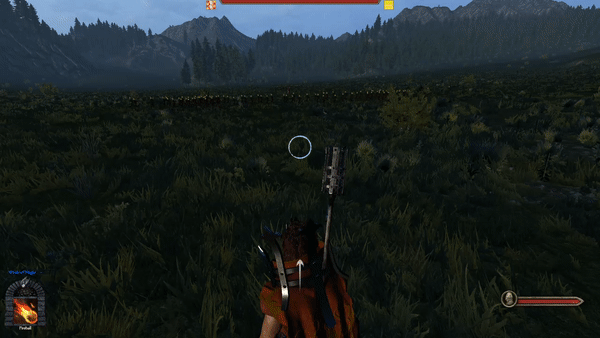 Warhammer Fantasy lends itself well as a subject for many total conversion mods in fantasy contexts, owing to its vast roster of units, factions, and mechanics. Being one of the lords of an army of vampires, undead, or pseudo-British zealots is an interesting premise in of itself, but The Old Realms takes it a step further in adapting the magical aspect of Warhammer, too. Now, battlefields can be rocked by magical artillery, armies bolstered by reanimated dead, and more ways than ever to eke out victory in a stacked-odds fight. Still in active development, The Old Realms has some content available to play, with it being a hotly anticipated mod in the community.
---
Best Unique Twist
A mod that takes a game in a new and interesting direction.
Sometimes, Mod of the Year is a great opportunity to draw attention to a mod that continues to chug along but hasn't yet benefitted from recognition, and though Mass Effect: Unification's latest significant release comes from 2017, it has enjoyed updates in that time as well as a very promising devlog this year that showed progress on a new faction. The twist? Instead of a "galaxy-knows-your-name" protagonist in a vast space opera RPG, this mod puts you as one of the foot soldiers in the huge battles that frequently wage in the Mass Effect universe. It's an impressively unique total conversion with a lot of original work behind it, and the offering seems destined to increase over time.
---
Most Anticipated
A mod which, though not yet released, has spent 2021 building incredible anticipation for it.
For: Crusader Kings III

Warcraft's universe has been subject to many different layers of story expansion, ranging from the generally engagement-oriented RTS games of yesteryear to the wider, less focused content of World of Warcraft. As such, the universe is richly detailed with plenty of opportunity for modders looking to make their own adaptation of the content. Warcraft: Guardians of Azeroth 2 takes the politically-minded Crusader Kings III and puts a Warcraft spin on the whole premise, hoping to bring every major faction from the universe into the fold and provide plenty of familiar faces to engage in political or military combat. It's a more cerebral and thoughtful take on Warcraft's often bombastic material, but as a result, carves out an appreciated and highly anticipated place for itself.
---
Supported by mod.io
The 2021 awards are proudly supported by mod.io. Launch an official mod community for your game with powerful moderation, discovery, events, marketplace and metrics systems, using our cross-platform mod SDKs and plugins for Unity and Unreal Engine. Interested in adding mods to your game and finding out more? Reach out for a demonstration.
---
What mods would you have picked given the chance? Let us know in the comments and get ready for the next announcement in a few days, the most anticipated mods and then the big one soon after that, the Top 10 Mods of 2021!