To celebrate fifty five years of Trekking, six classic Star Trek games (with two more on the way) have been brought to Good Old Games. Here's five great mods to get in the mood with (with a few for games that have come to GOG or are coming soon!)
---
By Chris Jones
Star Trek: Legacy is often regarded as one of the better visualisations of Star Trek's grand-scale ship battles in video game form, with a full storyline and a rich ship roster to pick from. However, Star Trek's extended universe includes many other ships and storylines, and the classic Ultimate Universe mod for Legacy rips into the extra material! Featuring dozens of new ships including many new generational variants of ships, new timelines, new scenarios, and expanded battles, The Ultimate Universe is a brilliant way to experience Star Trek's greatest battles first-hand.
By DOCaCola
Star Trek: Armada: II is a solid RTS, and one of Star Trek's better outings in general. With an interesting storyline and very modular support, it has been a prime candidate for mods over the years, including Fleet Operations! Adding new ships and graphical effects into the game, as well as immersion-related features like randomised and unique ship names, this mod revitalises an older RTS and gives you even more tools with which to wage interstellar war!
By Firefoxccmods
The TOS timeline is comparatively campy to modern day Trek, but it remains a nostalgic era for fans of the franchise. The unique ship designs and 60s storytelling conventions resulted in a rich beginning for the seminal sci-fi franchise. This mod takes one of its "rival" franchise's games, Star Wars: Empire at War, and transports it into the 23rd century during the time of Kirk and the Motion Picture. With Empire at War's galactic conquest mechanic and many original ground unit designs, this mod properly brings to life Star Trek in huge scale.
By Stellar Parallax
Whilst Armada II was critically acclaimed for the quality of its gameplay, it unfortunately never received an official sequel that could further leverage the rich background lore of Star Trek. Using Sins of a Solar Empire: Rebellion as a basis, these modders took matters into their own hands and created Star Trek: Armada: III. With stunning visual effects and a huge set of ships to pick from, as well as highly developed gameplay mechanics, Armada III is a brilliant fan-sequel that is well worth a play for any Star Trek and RTS fan.
By don_quichote
Whilst Star Trek's FPS outings were rare, Elite Force set a strong bar for quality. Playing much like other 90s FPS games of the era with fast-paced, frenetic action, combined with the concurrently running Voyager theme, the creativity behind this game serves it well to a graphical overhaul. don_quichote's efforts result in a USS Voyager alive in stunning detail, with almost all textures in the game receiving overhauls and with some character models, too, receiving extra work to make them better resemble their show counterparts. If you pick up Elite Force on GOG, make sure to grab this mod too!
---
To Boldly Go Where People Went Before
Fifty five years ago, Star Trek had its humble beginnings as an original sci-fi show set in the 23rd century. Struggling to make it through to a third season due to studio cancellations and saved only by repeated fan letter campaigns, it's a far cry from the state of the franchise today. With thirteen feature films to its name, dozens of games (some of which are pretty excellent), a major MMO, and several concurrent series, the franchise is going strong even in its 55th year.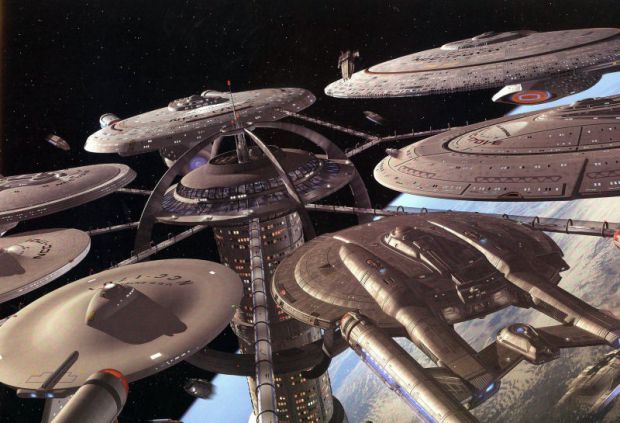 Star Trek's games have touched upon a wide variety of
its expanded material, spanning centuries of in-universe lore
Trekking On
As time has gone on, many Star Trek game adaptations have been created. Some were hit or miss, but some, like Elite Force, were brilliant reimaginings of the series' TV outings. As with many classic games, some of these were eventually left behind as storefronts transitioned to the digital space. Thanks to GOG, however, six Star Trek games have been reworked and re-released for modern hardware: Star Trek: Voyager - Elite Force, Star Trek: Elite Force II, Star Trek: Hidden Evil, Star Trek: Away Team, Star Trek: Starfleet Command III, and Star Trek: Bridge Commander. Two more are on the way - Armada and Armada II - and all can be bought or wishlisted here.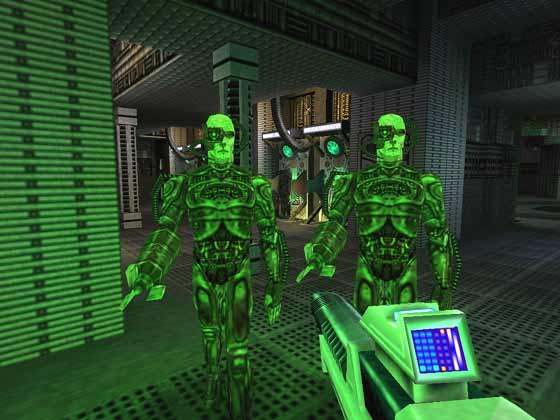 Elite Force is a stand-out game in the Trek lineup for
its first person view and fast-paced gameplay loop
Beaming Up
Star Trek has been a fascination of the modding community for years, with total conversions, overhauls, and more being built upon other fitting games. Star Trek's own outings have been used as vehicles for other sci-fi franchises, like Babylon 5 for Armada II. With all these classic games coming back, the new series premieres being shown, and new show announcements on the horizon, it's a good time to be a Star Trek fan.

With Armada and Armada II on the horizon, you can't go wrong browsing the new Star Trek catalogue on GOG. Whilst you're there, why not check out the number of other sales on? Solid RPG games and some greatly immersive narrative dramas are included in the deals currently available on the site. Are there any classic Star Trek mods you're looking forward to revisiting? Let us know in the comments down below!