Right, this year's April Fools' Day is officially over so here's the actual update you've been waiting for, bright and early.
Central Africa, 2041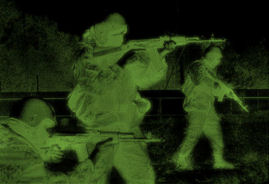 With his earlier concerns now proven valid, General Orlov received the green-light to investigate a suspicious area in what used to be Congo-Kinshasa until the brutal horde of the elusive 'Warlord Sulaymaan' had taken control, turning it into a haven for everyone with passion for violence.
"Sentry up ahead. Sasha, take him out", Leytenant Sergey Kosygin wispered to the point-man while his Spetsnaz group slowly advanced towards the supposedly 'abandoned' warehouse compound under the cover of the night.
Moments later, the unsuspecting guard's lifeless body hit the ground, his brain-stem severed by an expertly thrown hatchet. Despite being only lightly guarded, the team found the inside of the complex to be bristling with mercenaries, terrorists and other thugs.
"This is Volk to Oryol. We seem to have come upon a large-scale black market operation here." Meanwhile, General Orlov observed the team's actions through the cameras on their helmets, carefully analysing every detail of their surroundings.
"Looks like a large arsenal of weapons; AKs, RPGs, machine guns. Plenty of ammunition too..." Orlov commented on the live footage. "Volk, could you zoom in on those picture-looking things on the board by the large truck?"
As the image became clearer, it revealed a series of photos with names written under them in scribbled writing. They included North African politicians installed by the Europeans, corporate advisors from the US, as well as Chinese and Russian military commanders.
But there was one photo that got everyone's attention: General Yevgeny Romanovich Orlov, 106th Guards Airborne Division - wanted dead, bounty: 700.000 Dollars in diamonds/gold. Nervous silence befell the attendants inside the command tent while the team kept scanning the scene. Suddenly, a meagre looking figure in a dirty labcoat emerged from a nearby structure and confronted a tall bearded man, seemingly in charge of the place, near the truck.

"Are you seeing this, Oryol? Who is this guy?", Leytenant Kosygin inquired. "Doesn't look like one of them. Cell leaders generally don't wear labcoats and glasses, do they?"
Orlov nodded in agreement while the facial recognition software tried to identify the stranger, eventually coming up with a 62% match. "The closest ID we got is one Munir Aziz Khan", said Orlov. "Wanted for treason by Pakistan's ISI since 2037. It says that he's a virologist." "Understood, Sir", the squad leader confirmed while signalling his marksman to ready the Dragunov. "Do you want us to eliminate him? They would most likely spot us but taking him out should be worth it."
"No...Abandon the area immediately and set up an observation post at the following location...", the General replied while sending coordinates about a kilometre away. "Radio-op; tell the comrades in Juba to get in gear - I need the Tupolev!"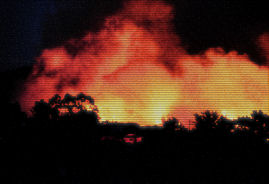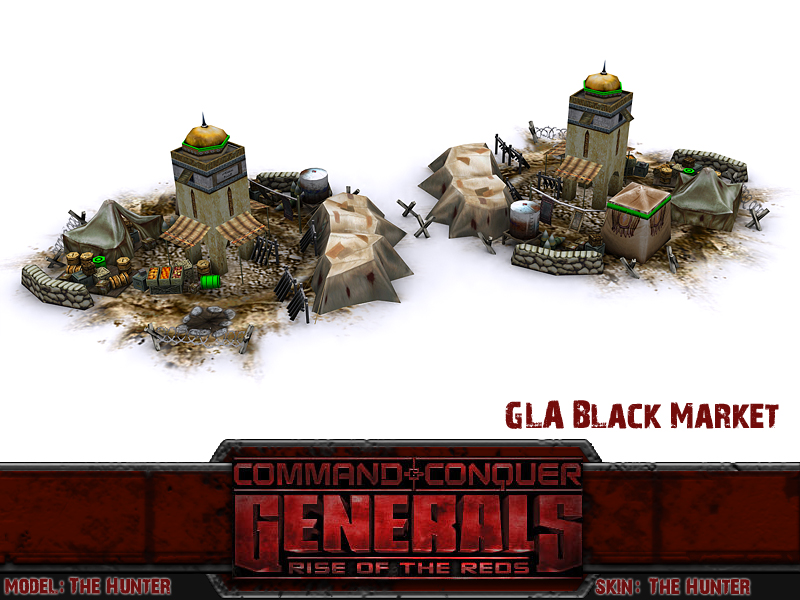 The Black Market unlocks the GLA's tier-1 technologies and provides them with a number of useful upgrades as well as a steady stream of income.In addition, it is the place where GLA leaders put out bounties on enemy soldiers, allowing every cell to gain additional funds for destroying the enemy upon construction of a Black Market.However, due to the growing importance and interconnection of Black Market activities, every cell may only operate one such facility at a time lest they spark too much attention from international law enforcement agencies.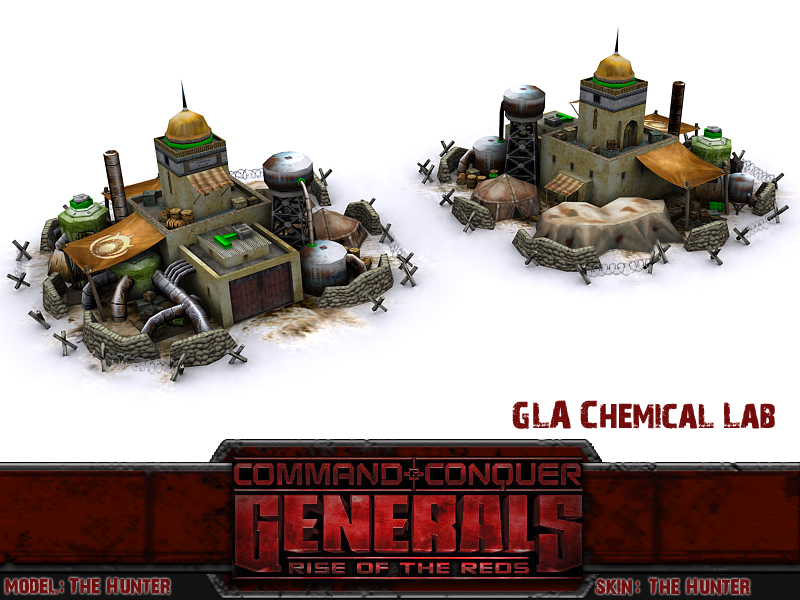 The Chemical Lab becomes available after tier-2 technologies have been unlocked. Here, defected scientists work on improving the GLA's arsenal by means of illegal research and ordinance modifications. In addition, it is also a very sturdy structure which can be used to shelter the vital, yet vulnerable Command Trucks in the event of a heavy assault, general power attack or superweapon strike. Due to the scarcity of dedicated scientific personnel, every cell may only maintain one laboratory at a time.
Do note that unlike the other GLA buildings, these two will not be connected to any tunnel network.
That concludes today's update. As you can see, the GLA has underwent a large number of changes to their basic mechanics in order to make them fresh and interesting compared to the other factions.
You may also like to hear that our upcoming version is more or less complete content-wise at this point and that we are currently in the process of testing, testing, testing and more testing in order to assure the highest possible level of quality upon release.