Intro
In this fifth dev diary we finally finished all city buildings and base buildings allowing us to finalise the design of the map for the Civilization 2 - Red Alert 2 Siege of New York Scenario!
Background
While working with Metropolis on the Civilization 2 - Heroes of Might and Magic 2 Mod I started thinking about how cool it would be to play a C&C2 style dark and moody scenario along with a city siege Red Alert 2 style Civ2 scenario with towering capturable buildings as I'm a huge Command & Conquer and Red Alert fan (so much that I run a retro C&C tribute website). The Red Alert 2 city idea seemed too hard at the time so I figured I'd continue working on the HoMM2 scenario and start work on a fun Command & Conquer 2 Africa Campaign Scenario as training first. Well now after months working on those projects I feel I have the confidence and experience to try and attempt this rather crazy idea of mine to change Civ2's well known world battle map style into a beautiful sprawling urban metropolis of endless tall buildings and streets for your tanks and bombers to fight over, all somehow within the limitations of the old Civ2 MGE engine of course! It's 20 years too late but I'm doing it anyway haha!
Dev Diary
Update time! And I think people will like this one as ALL BUILDINGS HAVE BEEN COMPLETED!

Have made good progress and finally got all those city buildings imported, which meant I could finalize the city layout and map design. This is a big moment I've been waiting a long time for haha! Glad to be finally there. Since my last dev diary I've also shrunk the unit shields down so that they're in the way of things less, similar to what MetroPolis & I did in the Heroes of Might & Magic Civ2 Scenario. Here is a screenshot of the Allied/American forces area which contains a lot of similarities to the first allied mission area from the original Red Alert 2 game (note: Allied base buildings in the blue glowing areas were not ready yet at this stage).

(Click to expand)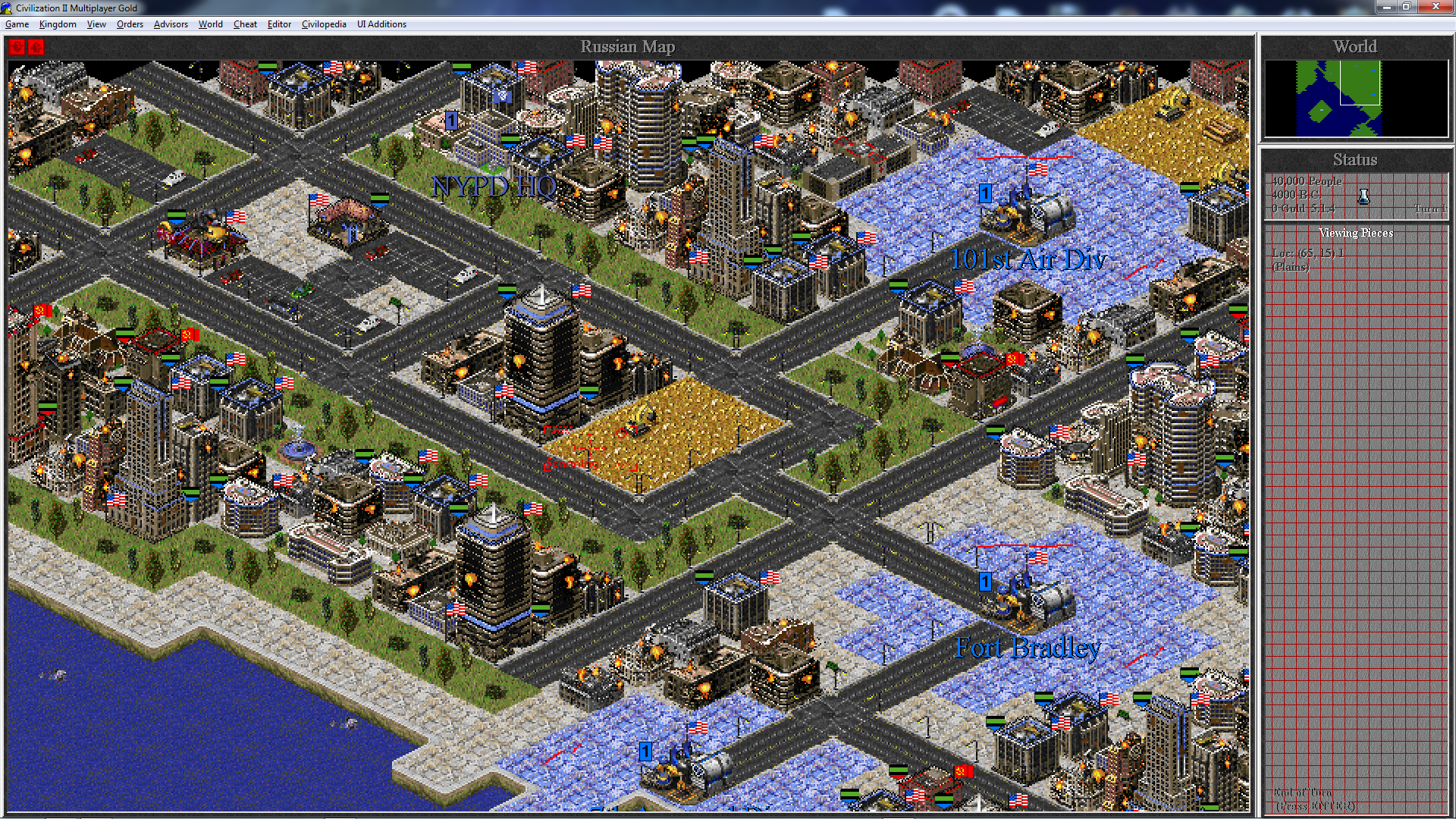 As you can see there are many garrisoned buildings allowing for much taller buildings (unit cells are much taller than terrain cells) and of course the illusion of destructible buildings since there are burning crumbled versions under all the building garrison 'units'. With all the different types of buildings with special ones like hospitals, churches, police stations, court buildings, petrol stations, fast food joints and car parks etc the final diverse result is much more city like!

And on the other side of the map here's the Russian side where I wasn't tied down to the original RA2 map layout and was able to create whatever I wanted haha! As you can see this side is more urbanized and densely packed with city buildings. The Russians have managed to take/garrison a number of buildings however the allies still have many. The invading Soviets will have a much larger army (paratroopers, V2s, Dreadnoughts, tanks & zeplins etc) however they will have to fight street by street, building by building, block by block (think Stalingrad) to clear out the allied garrison positions and crush their bases. The US forces will have to try and delay the red advance as long as possible to build up their own army (of ships, tanks & aircraft) to fight back push the Soviets out of New York! (note: Soviet base buildings in the red glowing areas were not ready yet at this stage).

(Click to expand)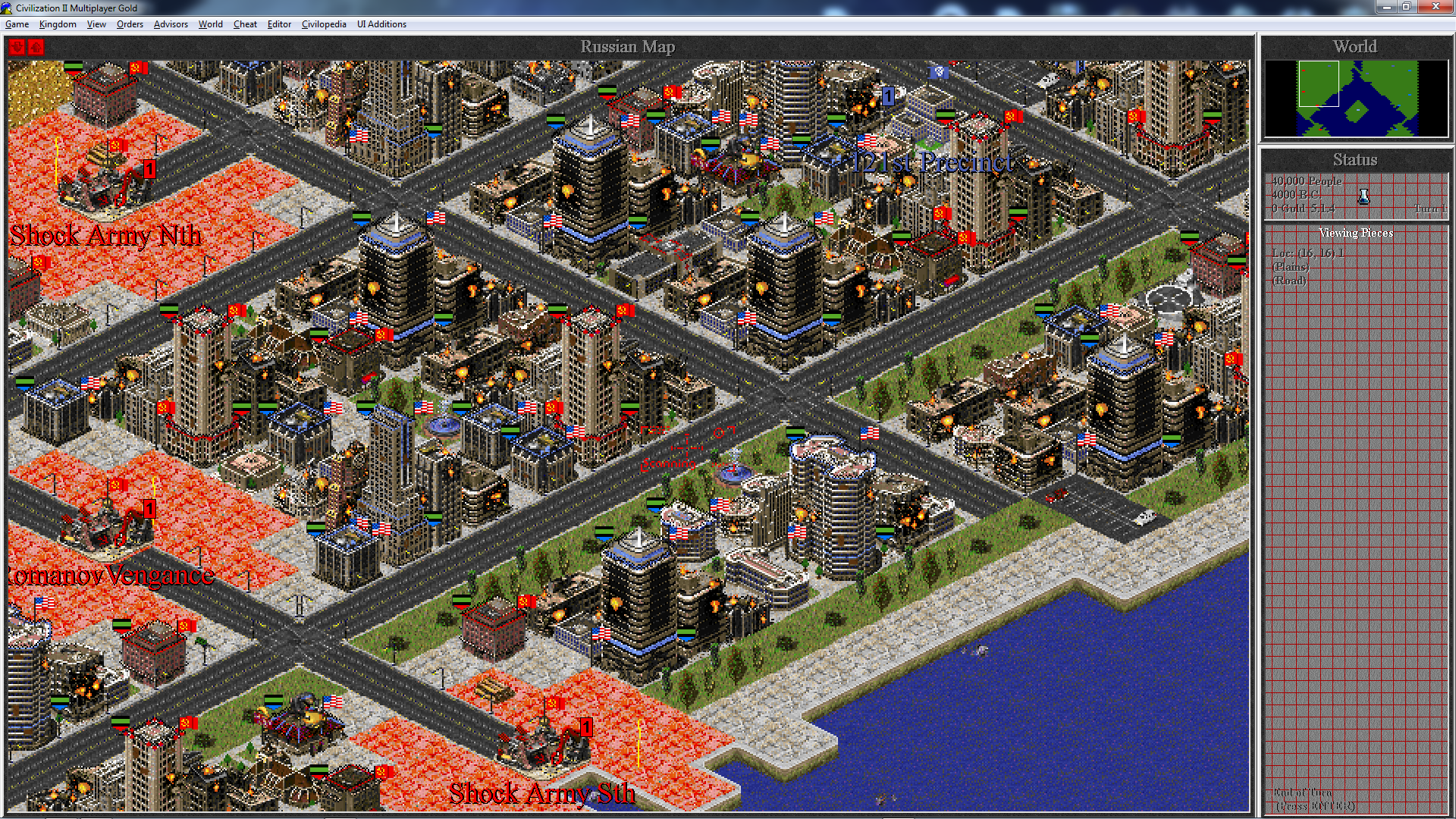 I've had a couple of people tell me to stop bloody posting zoomed in 2:1 images and show the darn map hahaha! Well I couldn't then because I didn't have a city made. Now that I do have a finished city I shall finally reveal the entire map layout in a regular 1:1 zoom screenshot! As you can see both factions are separated by a bridge and the New York Harbour. Also those with a keen eye will notice the Statue of Liberty is now a city and its own faction (that very bad things are going to happen to haha). As previously stated the New York Police Department are also their own faction with a number of Police station bases and will have police car units charging around the map (also getting in the Russians way haha) to recreate the effect of the police cars roaming around the original RA2 city missions.

(Click to expand)




And now for the final missing peice of the puzzle. Base buildings are completed!!! Which means I'm finally done with all buildings lol!

MetroPolis taught me a trick when we were making the HoMM2 scenario where if you either remove settlers from game or the tech that gives railroads you can then use railroad formations for extra decoration. So as previously posted I decided to take that idea and create base buildings (eg Refineries, Factories, Barracks & Radar) around the command centers (cities). Wasn't easy as railroad and irrigation slots are so darn small so epic amounts of downsizing was required but the end result looks pretty cool. I especially love all the glowing tesla reactors around the red soviet bases haha.

Now I can finally start working on units next!



Soviet bases
(Click to expand)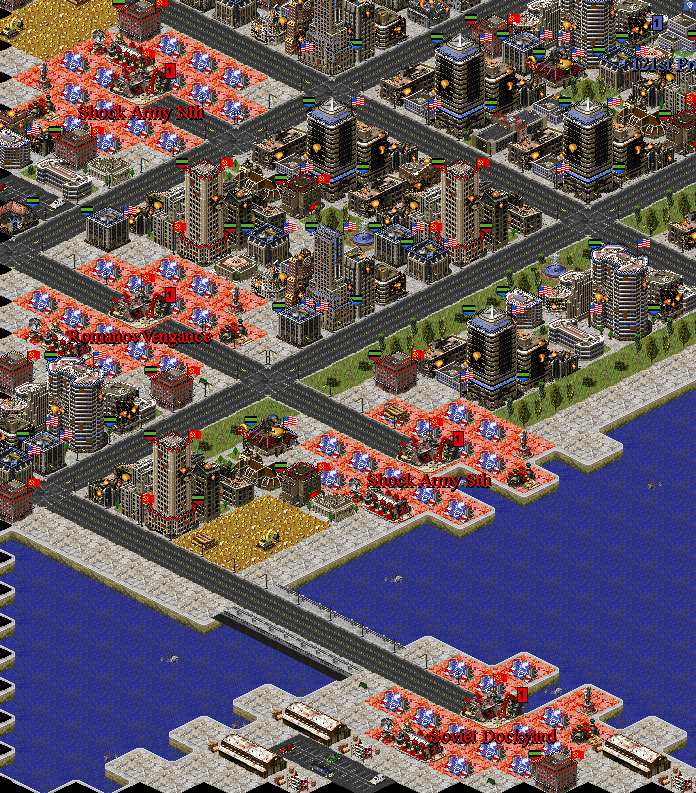 Allied bases
(Click to expand)
If you like my work please feel free to check out my other mod projects such as my & Metropolis's Heroes of Might & Magic 2 Civ2 scenario, my Red Alert 2 Siege of NY Civ2 scenario, my Command & Conquer Civ2 scenario remaster, my Terminator Future War Civ2 scenario remaster, my Deadworld Reborn Civ2 scenario remaster, my Civ1 Graphics for Civ2 mod demaster, my ToT Graphics for Civ2MGE mod remaster, my Civ2 Playstation Graphics for Civ2MGE mod remaster, my Better Terrain Graphics for Civ2MGE mod, my Alpha Centauri Civ2 scenario remaster, my Attila's Conquest - Play as Barbarians in every Civ game scenario series, my old Star Wars Civ2 scenario, my new Master of Magic Enhanced Civ2ToT scenario, and my Civ1 Soundtrack Overhaul mod. I'm also the creator of the popular Star Trek TNG GZDoom and Quest For Glory IV 3D Hexen GZDoom mods.