Hi fans! The days are shorter, the trees are bare, and the snow is almost here. You know what that means; it's that time of the year again! That's right, it's Mod of the Year time! For those of you who are new, Mod of the Year is a site-wide competition on ModDB where fans can vote for their favorite mods to find out which mod is the best on ModDB. This a great honor for all mods out there, so you can expect the competition to be intense.
The next 11 days are going to be intense, where starting on the 1st and ending on the 10th, all visitors to ModDB can vote for their favorite mods. If you think we've earned your vote, let us know by casting your ballot with ZombieMod on it!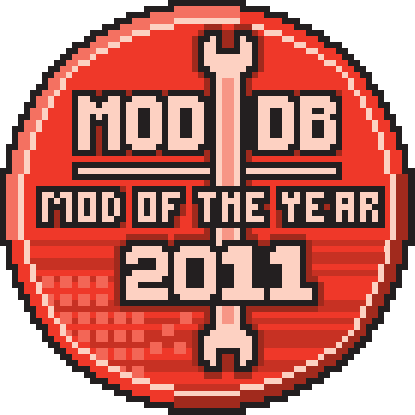 Last year, ZombieMod did very well through the support of you guys, our beloved fans. We were shy of the last round, but this year, we hope to do much better, because we've done so much this year. Don't believe us? Have a look through the pictures and videos from this year. We think you'll be impressed. This year we've accomplished huge goals, such as the integration of our own custom M1151 HMMWV and M1126 Stryker models, many new weapons, several new skins, the completion of the 3 survivor doctrines and planning of the Zombie doctrines, the creation of an infection system, the ability to crew abandoned vehicles, and much more.
As usual, we'd like to thank you for your dedication, and we can't wait to show you more of the mod. So, these next 11 days, we're going to post pictures of the survivor faction for your enjoyment, and so that you can see what we're up to. We think that some of the content will amaze you.
So tell everyone you know about our mod and how to vote! While you're add it, be sure to support the other upcoming Company of Heroes mods, such as Modern Combat, Pacific Thunder, Afrika, The Great War 1918, Eastern Front, and Imperial Reign (I promise you it's not dead). Please vote for these great mods!
The ZombieMod Team