In this first dev diary we look at changing Civ2's terrain, cities, icons, and GUI to look more like the dark Terminator apocalyptic future we all know and love for the old Civilization 2 - Terminator Future War Scenario!
While digging through old Civilization 2 website archives I found a cool old Civ2 MGE scenario called Terminator Future War by Paul Heron. A scenario set in the Skynet triggered apocalypse future is such a cool idea (I'm surprised there aren't more Terminator scenarios for Civ2 out there considering how many other franchises have been covered), especially as it's been made as a world wide surviving human nations versus Skynet scenario using extra information from the comic books so hat's off to it's creator. However this must have been one of Paul's earliest projects as while he went on to do some pretty cool total conversion scenarios in later years you can see clear as day in this screenshot that this scenario is massively let down by a lack of custom terrain. Cyborgs and humans battling it out on Civ2's default colourful fertile world just looks wrong!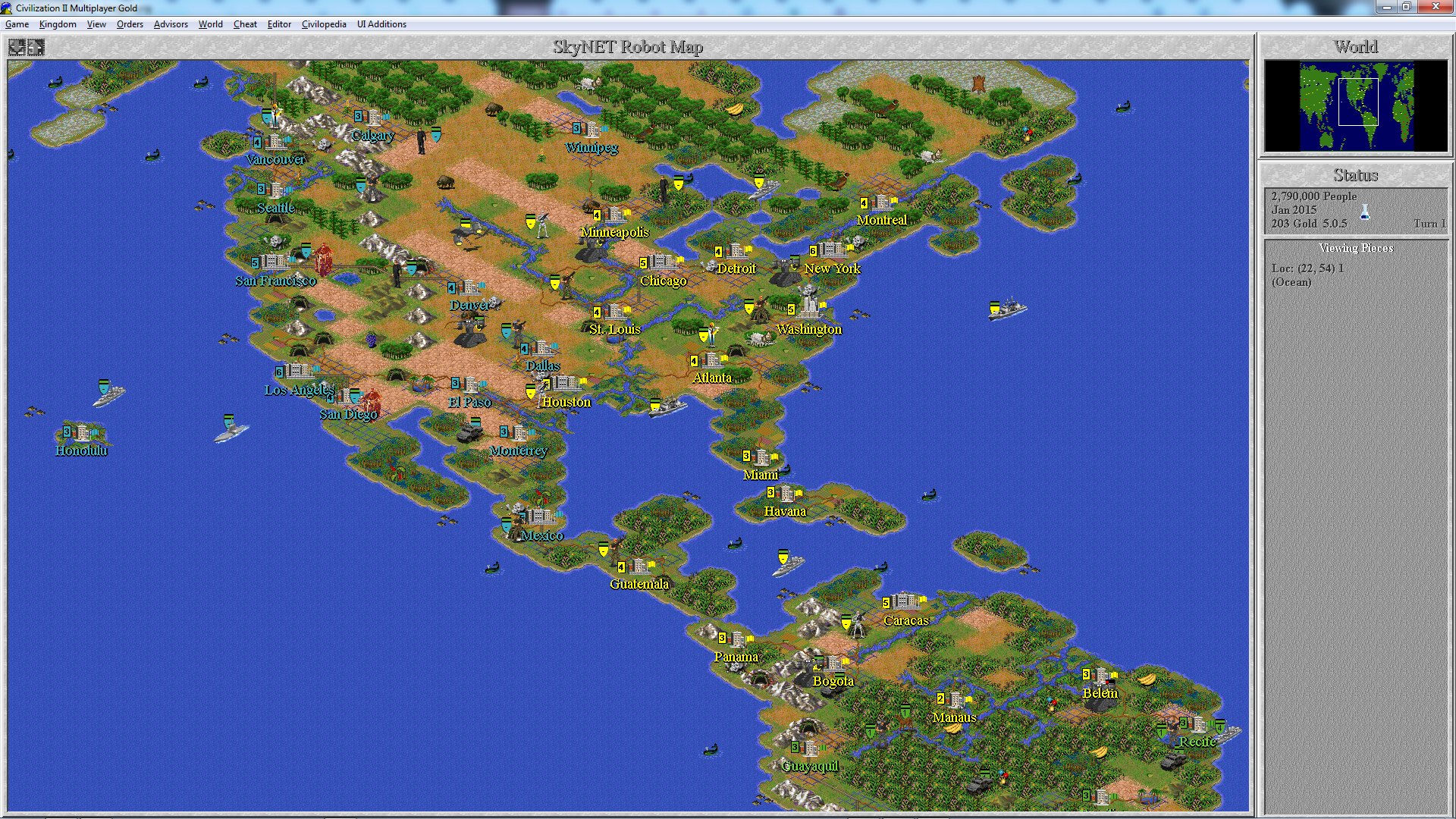 I can see that Paul brought across the terrain1.gif file from the old Microprose Apocalypse scenario which didn't really change much other than the desert, plains & pollution cells. Curiously he didn't take their terrain2.gif file which changed all the forests to burnt out versions which would have helped a lot lol!
Due to my other bigger Civ2 scenario projects (such as Heroes of Might & Magic Civ2 and Command & Conquer Red Alert 2 Civ2 ) I don't really have time to take on another whole scenario remaster project but I reckon with only 1-2 hours I can massively improve this (just for fun).
I'm thinking replace the forests, swamps and jungles with burned out stuff, darken everything to give a night feel (just like the future war sequences in Terminator films), and also grey/ash out everything to give that nuclear winter feel too. I bet I can find a way better custom ruined city design too.
Aaaaaand here we go.. not too bad for 2 hours work lol.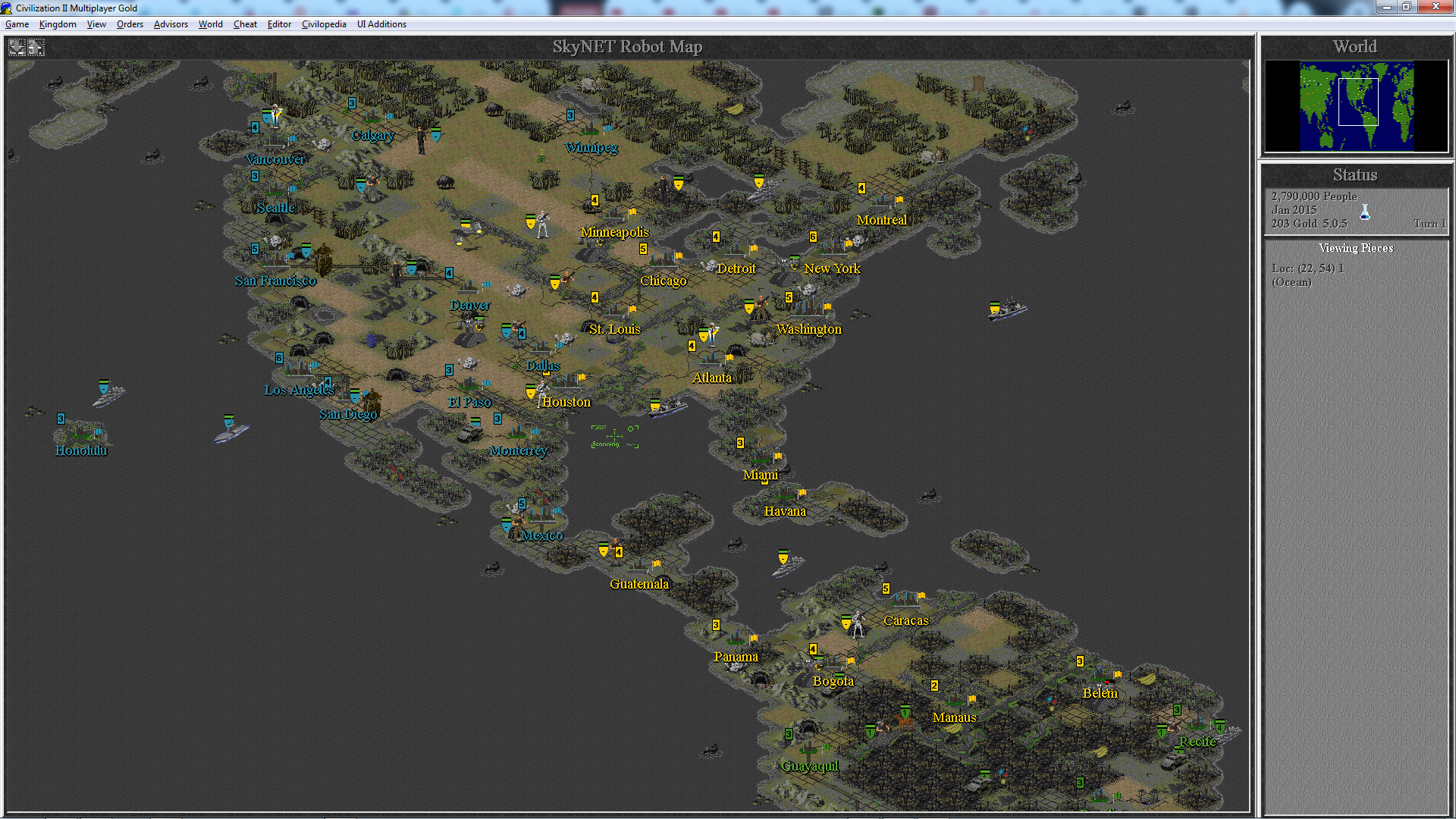 I took the burnt forests from the Microprose Civ2 Apocalypse scenario, darker swamp from Eivind's Civ2 Colonialism scenario, and replaced the jungle with the rotting swamp (as it looks kinda burnt) from Civ2 Test of Time. Used some old paint shop pro 7 darkness and moonlight filters on all terrain and then converted back to Civ2's colour palette. Also played around with a few of the units to make them darker and fit in better (eg ships). Replaced the default modern cities with some eerie ones called 'Dark Metropolis' from Harlan Thompson's city collection but grayed our their big brown walls. Also applied the darkening and moonlight to the cities file to ensure faction colours, flags, and fortifications don't look too bright against the night world. Replaced the diamond/cell flashing selector cursor with the Civ2 Master of Orion Jr scenario scanning one as it fits a terminator scenario perfectly haha.
Here's some more shots showing the new graphics on Europe and Asia/Australia. Paul Heron put a lot of effort into his map to show the worldwide battle between SkyNET and the resistance factions, so it's nice to see it all looking a bit more like that post apocalypse ash covered night world now that we loved seeing in the films.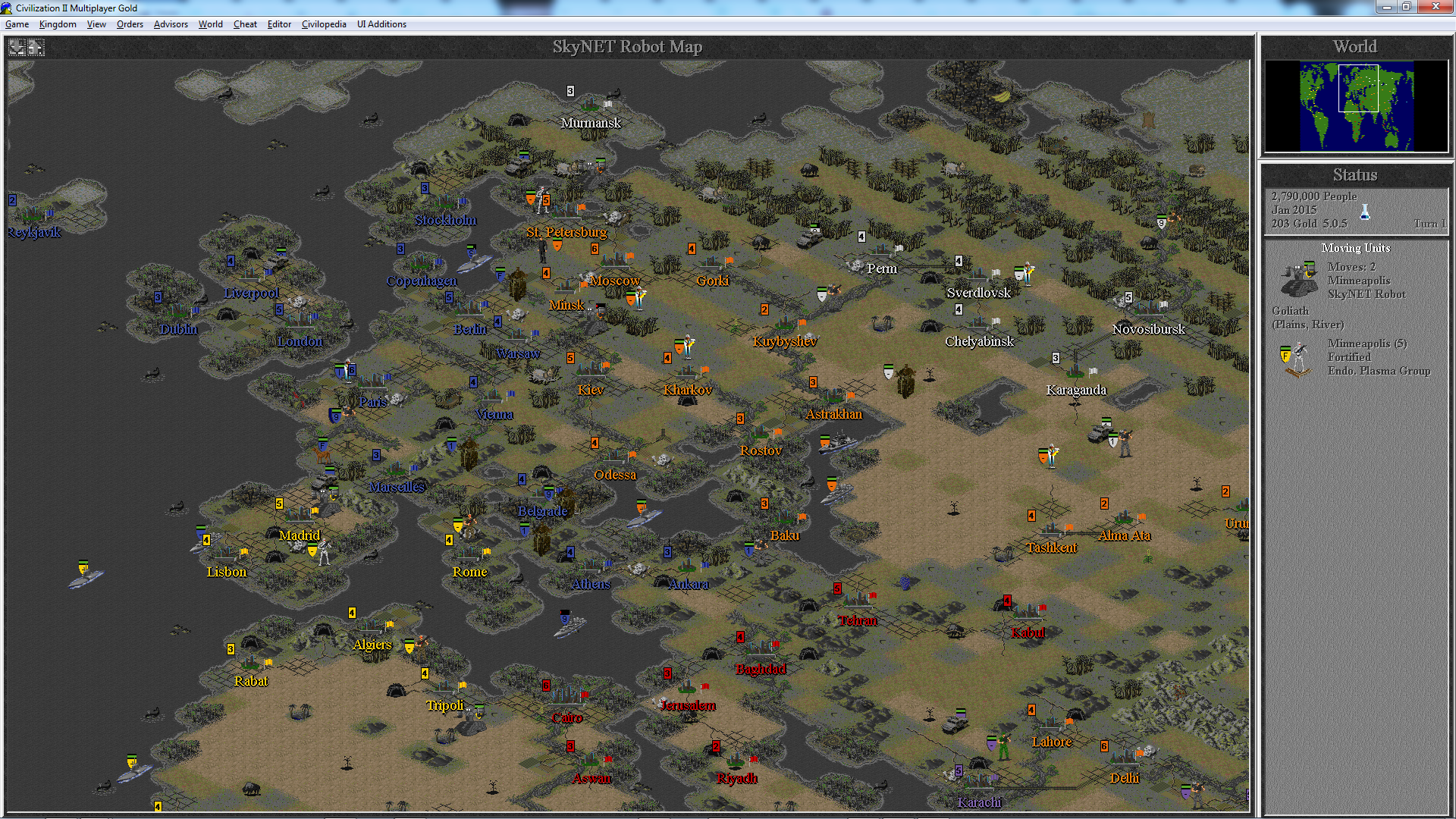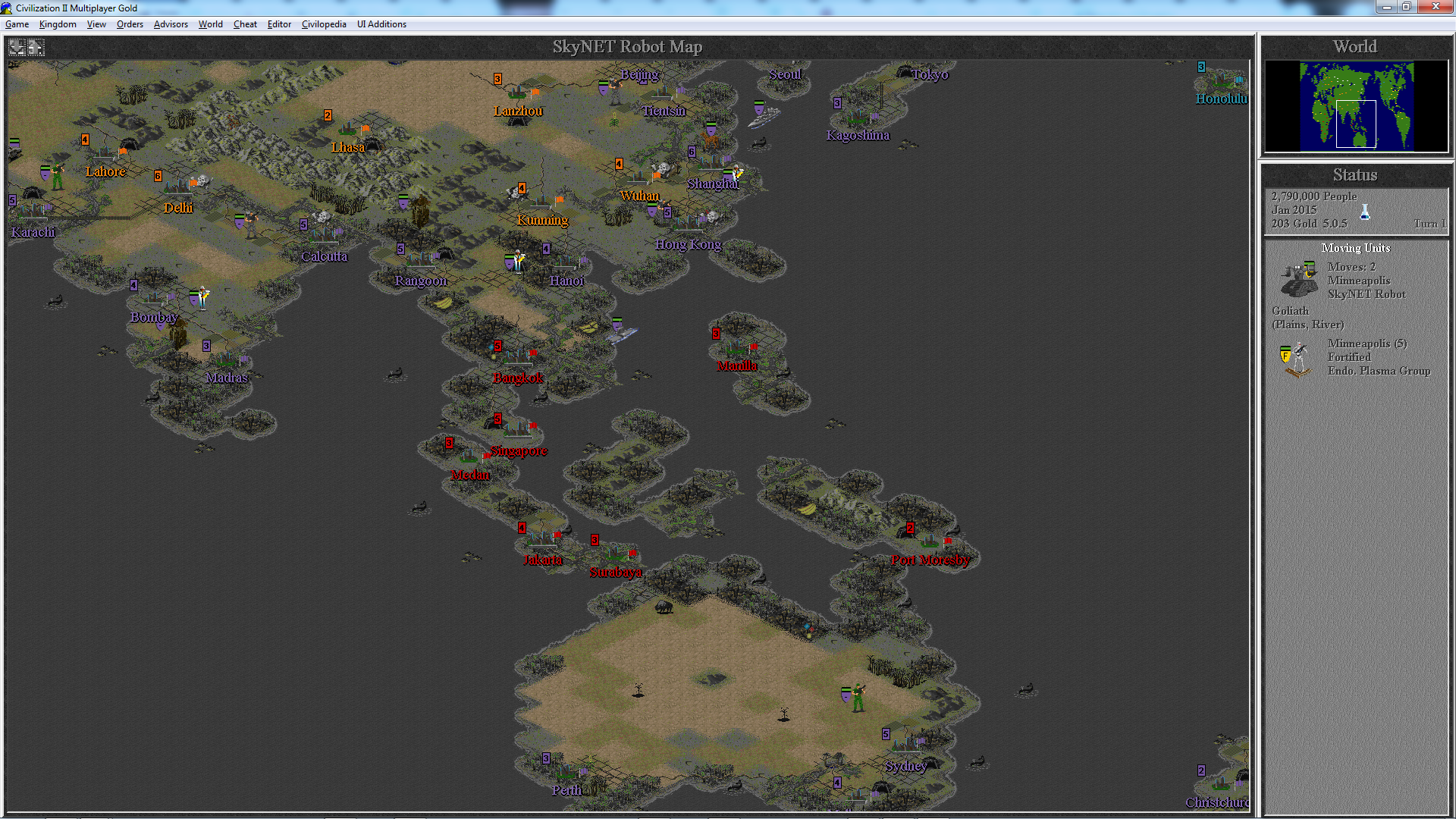 My work got some interest over on the forums so I decided to throw a few more hours at it and make some more changes.
Brought the full GUI over from my Command & Conquer Africa Remaster scenario
Replaced the city background using the Terminator 3 nightmare sequence
Changed people and resource icons to Test of Time scifi ones.
Added a few more custom wonders to Paul's existing ones and replaced all their icons with photos from the films and also recycled a couple from my Red Alert 2 scenario. Left regular buildings as they are but applied darkness and moonlight filters to them to fit in better.
Replaced technology icons with photos from the films.
Am just making some final changes to the sounds and music and this thing should be ready to go! Stay tuned...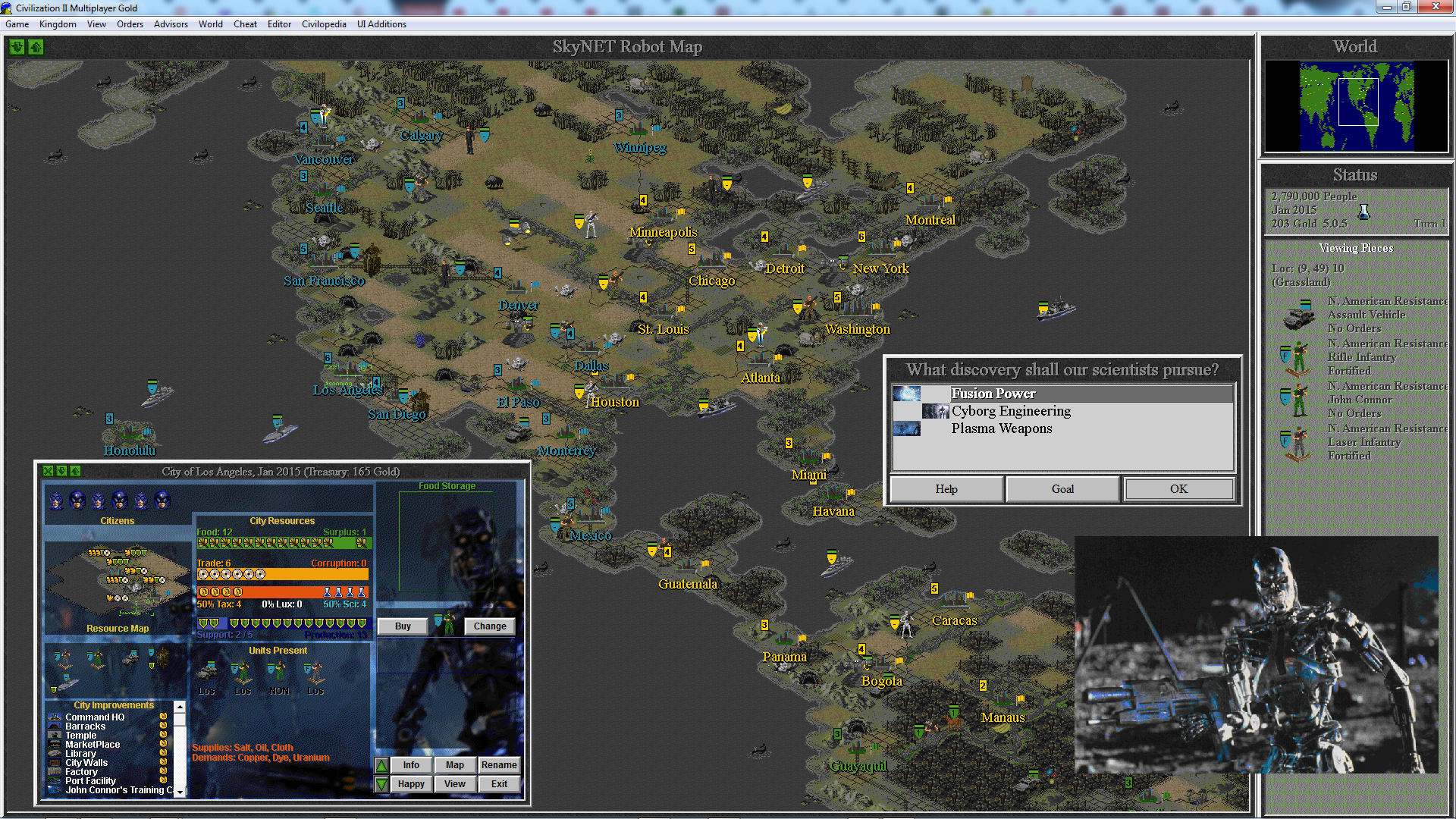 If you like my work please feel free to check out my other mod projects such as my & Metropolis's Heroes of Might & Magic 2 Civ2 scenario, my Red Alert 2 Siege of NY Civ2 scenario, my Command & Conquer Civ2 scenario remaster, my Terminator Future War Civ2 scenario remaster, my Deadworld Reborn Civ2 scenario remaster, my Civ1 Graphics for Civ2 mod demaster, my ToT Graphics for Civ2MGE mod remaster, my Civ2 Playstation Graphics for Civ2MGE mod remaster, my Better Terrain Graphics for Civ2MGE mod, my Alpha Centauri Civ2 scenario remaster, my Attila's Conquest - Play as Barbarians in every Civ game scenario series, my old Star Wars Civ2 scenario, my new Master of Magic Enhanced Civ2ToT scenario, and my Civ1 Soundtrack Overhaul mod. I'm also the creator of the popular Star Trek TNG GZDoom and Quest For Glory IV 3D Hexen GZDoom mods.