An Official Announcement (and something special...)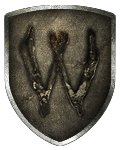 For the past
few months we've given no more than silence, and the fears have risen that Westeros is dead, it's about time we acknowledged rumour, that yes indeed, nothing of late has been done, but it's about time we did something about it.

The past week has seen some hint of revival and I shall give some detail as to what efforts are underway to re-establish some control over the chaos, to kick some life into the poor beast and bring all this hard work, of so many people, to the stage of completion. To you alas, it remains distant; to us and perhaps a select few yet to be chosen, it's in sight. We have been hindered by software struggles, by internal disagreements, by the simple fact that each addition has brought on board new ideas to implement or models or artwork of far finer quality, and that has slowed us down; and indeed I could spend a further thousand words criticising our faults, my own included, but blame gets us nowhere, so instead I am reforming how we work, overseeing the implementing of files to the master copy to ensure we don't get anything game-breaking thrown in, I have been finding fresh active modders (a shoutout to SoulGamesInc and Stannis the Mannis), and might still be after some more (anyone good at economy? ) and mostly I've been persuading others to work, but that's nothing really, either they're busy or they have it in themselves to produce something of their own volition, and so Murfmurf has been toiling away in Milkshape, on what you shall soon see, Dux has been filling in reams of code, Noobas compiling artwork, but he's never needed motivating to do that, Kilic is back in November, Hanni has something else to show and I think Mhaedros mentioned he would actually do some code... others shall return in their own time, but we can't wait forever.

So this is the change, and the majority of the team do not support this, do not condemn this, do not acknowledge this, because the majority are silent, inactive, busy with their lives. Westeros 1.0 will not be all the things we have promised, 1.1 may be or perhaps it will be 2.0; it will one day be, but if we are to get anywhere, we must consolidate what we have, cut out the excess, the glitter, to produce for a certain, undisclosed, date something that is concise, finely polished, and ultimately, most importantly, a final released product.

Do not fear, we are, still, alive.

- Inarus, October 2013.



"Lord, cast your light upon us, for the night is dark, and full of terrors.


The

Baratheon dynasty is in splinters, brother faces brother as the

illegitimate son of the Lannister Twins sits upon the Iron Throne, the

hour is nigh, let all true men declare fealty or rue the day they

opposed the rightful King of Westeros.

"