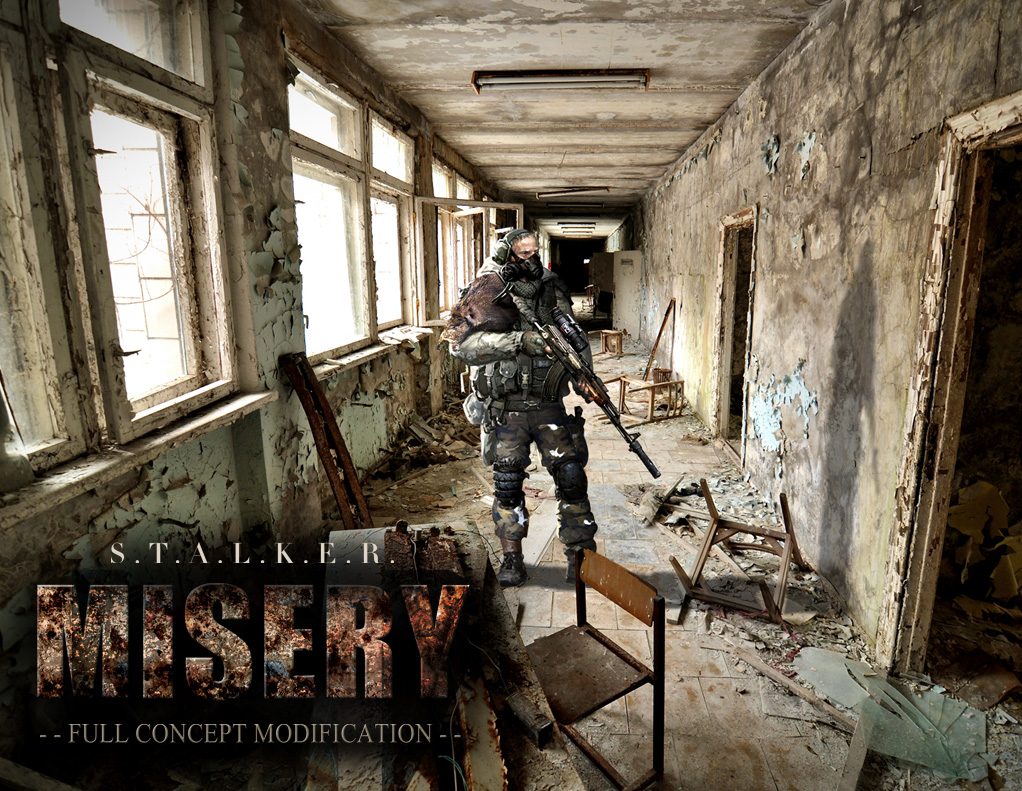 THE MISERABLE YEAR 2013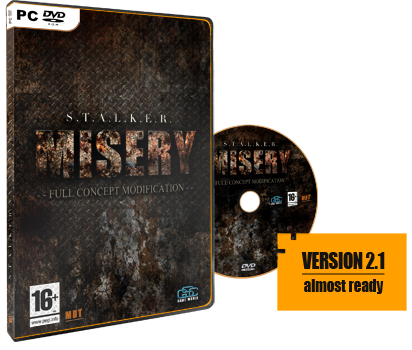 THE RELEASE OF MISERY 2.0
The countdown timer for the release received quite a lot of attention on ModDB.
It was placed there by a pro-actice and motivated MDT member without lead acknowledgement beforehand. It was noticed straight away when the timer had a handful of hours added to it to give the MISERY publishers a chance to reach their deadlines.
MDT worked very hard right up until the very last hours right before the official uploading of the mod. But we managed to keep the promise of the release day when taking different time zones into account. This was the first and only actual release date promise given by MDT ever, while each and every ETR on the way was always considered a promise by at least a few good people.
Some people wished for the mod to be released in incomplete form as with most other mods while others wanted (and expected) the final product to be a shining pearl without a single flaw or bug.
It is safe to say that we landed somewhere in the middle of all of that.
It is no surprise that MDT could (and would love to) be building on this project for ever and ever. But at some point it had to reach the very patient community that had been teased with feature previews for far too long.
N.Aaroe is responsible for the MISERY mod promotion aspects and looking back he would have wished that he never had revealed the project of MISERY 2.0 from such early point (Quarter 2, 2012).
Back in april 2012 trojanuch and N.Aaroe wanted to merge MSO with MISERY 1.0 resulting in MISERY 1.2. It was this project that escalated to such extreme degree as several other modders wanted to join in and contribute in many ways. The development constellation quickly turned into an actual team and with it the ambitions of the mod just kept growing and growing. No one ever planned for or saw it coming that MDT in 2013 would be standing with an actual development team, an exclusive website and 50.000+ visitors on the day of its release!
THE OBLIGATORY PATCH
As it was stated long before release, a patch was certain to follow the actual mod release as it was also the case for MISERY 1.0. A full concept modification of these proportions cannot be tested in every single aspect and detail prior to release.
There will always be crucial matters to attend to lurking in the shadows here and there.
Afterwall, this is the famous X-Ray engine we are talking about.
VERSION 2.1 ALMOST READY
MDT are busy re-building the upcoming version 2.1.
There are several unofficial patches that deal with various bugs and glitches and we are very thankful for that.
But as it turns out these patches also introduce other and new issues for the mod. Something that cannot be avoided when you don't have the full insight on the gigantic data that is forming the MISERY mod. So we had to thread these unofficial patch partition and re-build the game data from scratch to make sure that we are implementing what is good and NOT merging in what is bad. We are currently in the final stages of this task.
"MISERY version 2.1" and will be going to require a new game start.
MISERY 2.1 will not only iron out the most crucial aspects of data instability but also add new cool features to the game.
Release of version 2.1 will be this month and we can not wait to see your reactions on the surprises that we implemented to this version. Maybe you missed some of the revealing that we have already posted?...:
- The Ghillie suit + detail shots
- The item multi-usage
- New artifact handling
- Re-skinned Boar
THE SUPPORTIVE CROWD [YOU]
It is such a positive fact that S.T.A.L.K.E.R. gamers and MISERY community especially are extremely helpful and supportive towards each other. Seeing people sharing tips and informations like that is a beautiful thing. Social media really flourishes with MISERY interaction.
MDT are well aware that many items and features are not explained in-game with a
semi-automatic interface guiding the player from left to right. We will keep it this way and continue to state that this mod is designed for experienced S.T.A.L.K.E.R. gamers only. We are in favor of putting two and two together and investigating your options
of interaction and Zone simulation.
PATCHING THE MOD

What's important in this regard is the notion of patches being indication of an ongoing MDT care and devotion towards our mod. Being able to continue to polish on our work is something that is really important to us and we feel greatly honored that the community is so supportive and motivating towards our post release efforts.
We made a mistake when publishing the Patch 2.0.2 QUICK FIX and we are not proud of that. The Quick Fix needed a few file alterizations and was re-published a few times.
A prime example of why patches (and all data) should always be downloaded from the main source only (miserymod.com) to minimize the amount of faulty patch data floating on various sites and in forums.
This is the sort of thing that eventually will happen in a non-funded development setup like MDT. But we have learned from it and already did set up 2 new ground rules for our new process and structure.

To improve on these aspects MDT will henceforth:
:::::1:::::
Be pre-releasing patches in our new semi-public forum: The MDT Testing Lab
While this decreases our level of confidentiality we will be gaining an extensive amount of motivated 'beta testing' ressources at any given time. It takes a lot of ressources to be managing a closed and constantly evolving group of NDA certified BETA Testers in an unofficial environment. So a semi-public acknowledgement of the patch or update data
will now be giving us the 'go' to publish the patch or update officially and in proper form.
:::::2:::::
Be releasing official patches and updates only when MDT key staff are
able to monitor the official response to the gamedata, which will allow us
to quickly react on mishaps of data composition and other difficulties.
This feels like a natural step for the MDT development concept as you really can't
have a better beta testing environment than the ever so ready, dedicated and experienced
gamers already tracking our mod production.
That being said, the current NDA certified BETA Testers (and thus members of MDT)
did a better job on this than we could ever hope for. There's just a limit to how
much developers can actually ask for and keep doing so.
In addition MDT often are in need of instant testing and would like to not
be technically burdened by time zones.
NO NAZISM HERE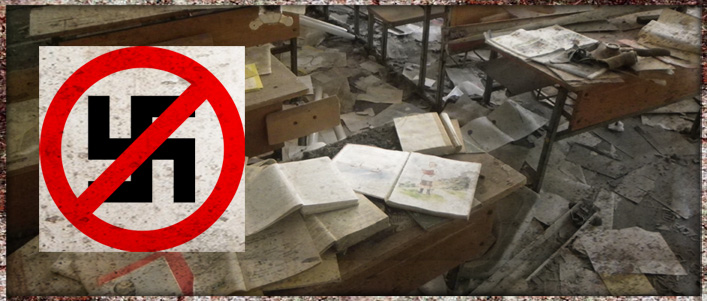 Now, this is a very serious matter.
Everyone thinking or claiming that MDT are nazis are plain wrong; it is as simple as that.
MDT are nazi haters and in no way supporting Nazi belief, culture or mentality.
The contents of MISERY are not put there to represent or recommend any real life quality and/or value. Such items like the "Mein Kampf" book, the cocaine and the porn magazines were designed for immersion, depth and atmosphere purposes only.
In the case of "Mein Kampf" it was designed as an item brought to the Zone by one or more militant Zone Men that may have a sick and twisted mind that could find a quality or interest in the Nazi beliefs and tactical ways of The Nazi regime of World War 2.
This book is just one of many World War 2 referrals implemented for the sake of a conceptualized Zone authenticism.
Such books containing warfare tactics may even form a common Stalker topic at a campfire
at some point. At least this is what MDT would like to think, having more than one former
real life soldier on board the Concept Board.
Please note the fact that you are not leveling up or obtaining a Super Mario Special Power
when you have this book. You can use it to clean your weaponry by tearing out its pages or
trade if off for a pack of russian cigarettes. Nothing magic here.
Just authentic item depth as with any of the other component added by MDT.
Some Monolithian NPCs are able to commit suicide with explosives when conquered in combat scenarios.
This is neither a reference to any specific religion nor cultural approach or belief.
The background lore for this feature was well represented in the original S.T.A.L.K.E.R. Wiki.
We could go on like this, having each and every of the 150+ new items be accounted for through a political and ethic argumentation. MDT neither find it needed nor fitting to have in-game warnings and notions about our political and ethic standing and orientation.
In fact we find it very immersive for the player to be able to interact with the game world through his own mature eyes and have his character conduct the path of his choice.
When playing S.T.A.L.K.E.R. (and with the MISERY mod in particular) the gamer is entering a fictional world engulfed in violence, bad language, sexual content and negative influences.
You are killing people and the overall content is far from anything ever wanted in real life.
This should not come as a surprise to anyone installing the mod.
Everyone playing the MISERY mod is at least 16 years of age or at least expected to meet this
age restriction set by its PEGI and the very same thing is re-stated about the MISERY mod as seen here. This is safe to assume since S.T.A.L.K.E.R. Call of Pripyat does have
an international ESRB rated M for Mature.
At this age you should be able to distinguish between right and wrong in this world.
Luckily 99% of MISERY trackers and gamers are able to do so.
If you feel disrespected in any regard or find that the MISERY mod directly or indirectly are promoting its malicious contents please do send an email to contact@miserymod.com and your claim will be analysed by MDT lead.

MISERYMOD.COM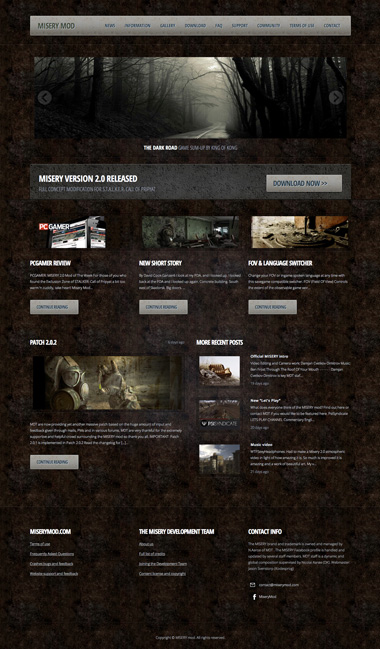 Since release on July 31 MDT headquarters (in the form of miserymod.com) have already received hundreds of emails from around the world.
The top 5 topics for emails coming in on the MISERY website are:
- questions that are answered in the manual, Readme or FAQ
- notices of bugs
- positive feedback
- feature suggestions
- business or cooperation inquiries
Auto-reply was set up to make sure that each and every mail had its confirmation reply in order. Patch changelogs are clearly indicating that no email and bug notion went by unnoticed. If your email notion or suggestion was not already covered in either of the released Patches the information is yet to be dealt with.
The average amount of daily visitors is currently around 1.000.
If you have any ideas on how to improve the website please let us know on contact@miserymod.com and make yourself heard.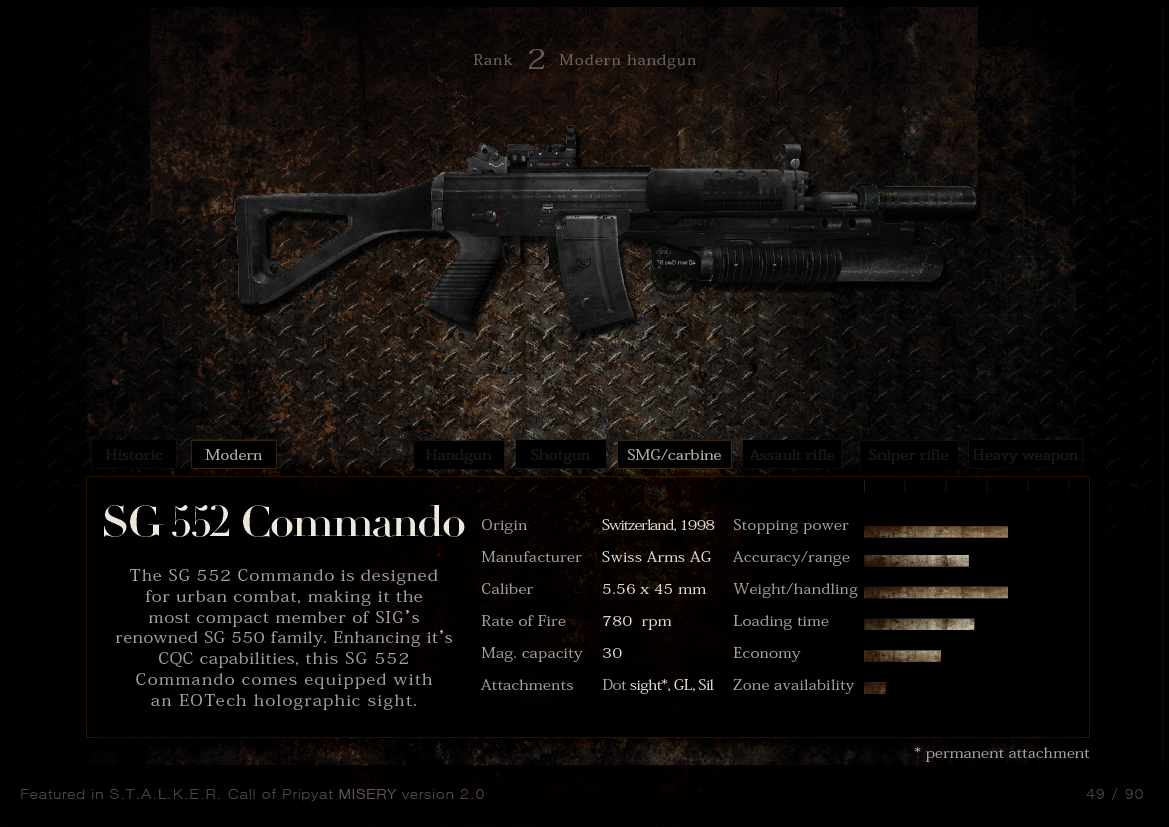 ARSENAL
Did you know that we recently uploaded a full rooster of S.T.A.L.K.E.R. MISERY weapons?
See it HERE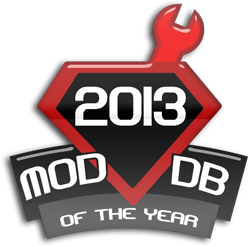 MOTY 2013
MISERY has now made it to the Top 100 mods of this year - all thanks to you guys!
Words cannot express how much it means to us seeing that you guys place your vote on our hard work.
This is the biggest 'thank you' that we could ever ask for and the team feel much energized by this.
Last year MISERY 1.0 mod won the Editors Choice Award and this is a price that motivates us all on a daily basis to this day.
But seeing each and every one of you that are placing a vote on MISERY 2.0 this year is the best thing ever.
No matter if we make it to the Top 10 or not it is You who make sure that we keep doing what we do!
THANKS
Thanks for all the encouragement and feedback that we get.
This is the reason why we put such an effort into the public display and promoting of our mod project.
In case you are interested the [active] MISERY Development Team is:
These people are spending hours every day to improve on the MISERY mod.
We also get much help and support from talented russian modders like practik, kcs123 and Chorbit!
See Q12 in the FAQ for more credits. Join the fangroup: StalkersoftheZone
Peace, N.Aaroe on behalf of MDT