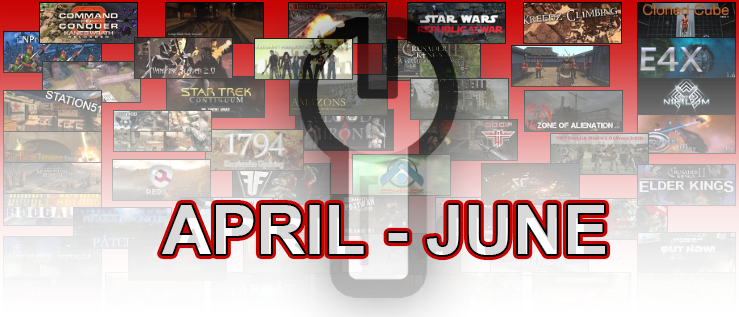 Year in Review 2013 Quarter 02
Every year we showcase hundreds of new and old mods, being updated and polished in these monthly reviews we highlight some of the big hitters of the year along with all those mods featured in the headlines.
Deus Ex: Nihilum (DXN, DEN or Nihilum for short) is a First Person Shooter mod taking place in an alternate Deus Ex continuity - released on May 28th 2013. It features new made-from-scratch original content, while also extensively featuring material from the UNATCO Born mod (used with permission from fender2k1, UB's project leader) and Deus Ex: Revision (used in accordance with the mod's license).
Modern Combat transports players into the midst of a high-tech war between the current-day Chinese and U.S. militaries. Incorporating all-new factions, units, doctrines, gamemodes, artwork, music, maps, and singleplayer missions, we aim to craft the most immersive and enjoyable strategic representation of 21st-century combat possible on the PC.
Complex is a free advanced game modification based on Relic Entertainment's Homeworld 2 game engine, free of any business directive, developed with passion and hard work, for experienced RTS players only. In a world of simplified games often under pressure to do well commercially, our challenge has been to create this ambitious project, for those who want more from a modern videogame.
Other Featured Releases in Q2:

A Game of Thrones v0.4.2

Casus Belli v1.35

NProject Mod v2.8.1

1794: Kosciuszko Uprising Patch 2

Half-Life 2: Wars v2.0.9

Elder Kings v0.1.1

Kreedz Climbing v1.2

A Clash of Kings v0.9

Cloned Cube Alpha .3

Factum Solus Episode 2

Exterminatus Beta 7.50

Nostalgia

Gekokujo v2.1a
Vampire Slayer v2.0

Fallout: Project Brazil beta 1.0.1 beta patch

Zone of Alienation v1.07

Burning Ground v0.3b

Star Trek: Continuum Release B

Amazons: Total War v7.0E

Return To Castle Wolfenstein: Cooperative v0.9.5

FOC Enhancements v0.5.0

NordInvasion v0.4.9

TMT Turkish Mod v1.0

Fortress Forever v2.46

Morrowind Rebirth v2.2

Station 51

Kane's Wrath Reloaded Final Version

Leetmod - COD4 Patch 1.8

CnC Post-War Release 0.1

Black Mesa: On a Rail - Loop Mod

Blood and Iron Released