Intro
In this third dev diary we look at adding special fun buildings like the McBurger Kong and Petrol Station, while overhauling all previously made small buildings to much better quality for the Civilization 2 - Red Alert 2 Siege of New York Scenario!
Background
While working with Metropolis on the Civilization 2 - Heroes of Might and Magic 2 Mod I started thinking about how cool it would be to play a C&C2 style dark and moody scenario along with a city siege Red Alert 2 style Civ2 scenario with towering capturable buildings as I'm a huge Command & Conquer and Red Alert fan (so much that I run a retro C&C tribute website). The Red Alert 2 city idea seemed too hard at the time so I figured I'd continue working on the HoMM2 scenario and start work on a fun Command & Conquer 2 Africa Campaign Scenario as training first. Well now after months working on those projects I feel I have the confidence and experience to try and attempt this rather crazy idea of mine to change Civ2's well known world battle map style into a beautiful sprawling urban metropolis of endless tall buildings and streets for your tanks and bombers to fight over, all somehow within the limitations of the old Civ2 MGE engine of course! It's 20 years too late but I'm doing it anyway haha!
Dev Diary
In this new update I thought I'd talk about burgers.. mmmm yes yummy burgers.. because you know there's just nothing better than visiting McBurger Kong for a burger.. unless of course the building's on fire and there's a full blown shoot out between US marines and Soviet paratrooper forces happening there haha. ;)

In the original map Soviet paratroopers constantly drop ever 2mins next to these buildings and all hell ensues if you've garrisoned the nearby buildings. So naturally the plan is to recreate that fun in this scenario. I'll have paratroopers dropping to the sound of sirens every 5 turns or so. If the garrisons fall then the allied player will have enemy paratroopers running around unchecked.

On the left is the garrisoned McBurger Kong and Petrol Station using destroyable unit slots (haven't decided whether I'll keep the flags yet), and on the right is the destroyed and burning McBurger Kong and Petrol Station using terrain slots.
After doing all these recent base buildings and special buildings I've started to realise just how bad my early buildings were. They're so shrunken to fit in a standard Civ2 diamond cell that they've lost way too much detail, they also look ridiculous next to the larger super buildings due to them having way smaller/compacted windows and floors. Since making them I've worked out a number of tricks mentioned in previous posts such as using the upper cells areas above the diamond, adding blast damage to the top most corner (so I can cut it off and buy more vertical space haha), and also removing floors (and making them roughly 3-4 story instead of 10 lol). That allows me to go wider and use more horizontal space and naturally pack in way more detail. Here's some examples of this...

Firstly to test this theory I added a brand new small building.. not ghetto but.. erm.. Brooklyn/Queens style cheap old housing/apartments shall we say lol. They'll be a lot of these outside of the office districts. Sure enough I was able to get it way bigger and wider than previously imported buildings.


So naturally I had to go back and redo the other 1 cell buildings. I thought redoing these old ones would be quick, however just like the first time I did them I still had to manually paint back in all the columns and window shadows as they still downsized so badly lol. But they definitely look much much better now!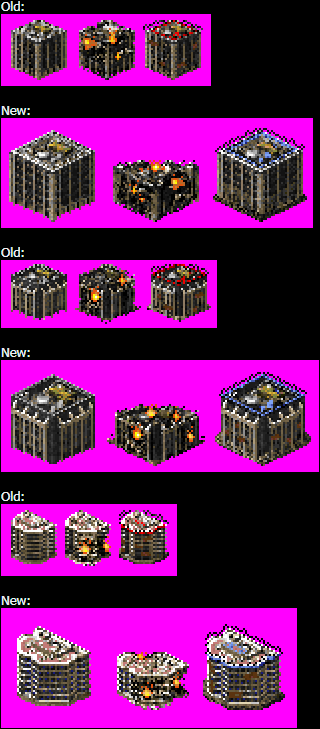 If we focus on this last example above, the center damaged building still has to fit in a classic cell but its still an improvement over the old one due to me reducing/pancaking floors and removing the top area with blast damage. The one on the right is of course the garrisoned unit version and unit cells are much bigger than terrain cells so I'm able to leave the building tall with more floors, it is sooo much better than my old one lol. The left one will go in as background decoration in the 3x3 super building area where I'm also less size limited so have made it a match for the garrisoned version.

Here's a damaged one inserted next to a new 2x1 building of similar architecture to make a 3x1 diagonal group. I couldn't really stretch out the buildings anymore but the gap between them annoyed me so I put in a little park as hey, that's what they do in real life haha.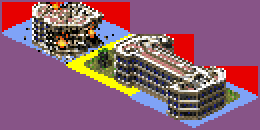 And this is how they look in-game (reminder: surrounding decoration are just temporary space fillers):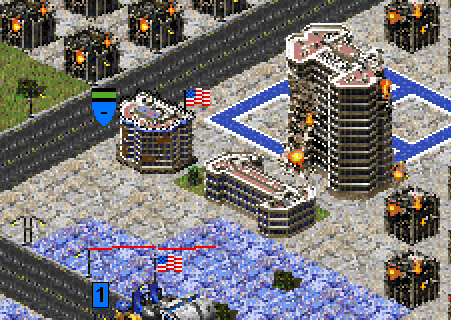 Looks so much better! In fact the new small & large building models look so good that I realise I'm going to need to do another pass on my original 3x3 super buildings as compared to my latest stuff in the shot above this one's floors look all wonky and uneven lol. Oh and it's roof is at a weird angle.. and its windows need bluing.. jesus haha!!!

Always happens though with a big project, you compare your later work to your earlier stuff and realise you're pretty much gonna have to redo all your earlier work lol!
If you like my work please feel free to check out my other mod projects such as my & Metropolis's Heroes of Might & Magic 2 Civ2 scenario, my Red Alert 2 Siege of NY Civ2 scenario, my Command & Conquer Civ2 scenario remaster, my Terminator Future War Civ2 scenario remaster, my Deadworld Reborn Civ2 scenario remaster, my Civ1 Graphics for Civ2 mod demaster, my ToT Graphics for Civ2MGE mod remaster, my Civ2 Playstation Graphics for Civ2MGE mod remaster, my Better Terrain Graphics for Civ2MGE mod, my Alpha Centauri Civ2 scenario remaster, my Attila's Conquest - Play as Barbarians in every Civ game scenario series, my old Star Wars Civ2 scenario, my new Master of Magic Enhanced Civ2ToT scenario, and my Civ1 Soundtrack Overhaul mod. I'm also the creator of the popular Star Trek TNG GZDoom and Quest For Glory IV 3D Hexen GZDoom mods.