In celebration of ten years since release, Warhammer 40,000: Space Marine - one of the better titles in the 40k lineup - has just put out an Anniversary update which unlocks all DLC (including pre-orders) for free alongside other goodies! Here's five 40k mods from across the franchise - and even conversions for other games - that will immerse you in the grimdark future of the 41st Millennium.
By WWindu
Dawn of War's vast and storied modding community is well-loved in the 40k community, carrying huge hitters (one of which we'll be covering in this list) and a gigantic amount of additional content. The sequel's moddability, lesser as it is, meant many people wrote it off as far as mods are concerned - but this mod is determined not to let constraints get in the way! Elite Mod adds many new units, maps, and rebalances mechanics to give the game both more content and a more competitive edge. An additional faction in the form of the Grey Knights adds new ways to play, and an active tournament community on Discord means this is the mod to play for fans of Dawn of War II's more tactical gameplay loop.
By GrimDawn40k
40k's universe is damn near post-apocalyptic as it stands; rather, the entire narrative is always on the brink of (or suffering from) numerous apocalypses one after the other. As a result, the gothic style of 40k fits right into Grim Dawn, a post-apocalyptic ARPG, with hundreds of new weapons, classes that cover both the loyalist Imperium and deranged Chaos forces, and new abilities that make you feel like an embodiment of destruction. As Warhammer's top-down dungeon-crawler-like experiences are few and far between, this mod is a great stand-in for the classic genre of games.
By Naradius
Seeing as Space Marine's 10th anniversary is what this article's celebrating, we'd be remiss not to mention Space Marine: Augmented, a truly epic mod for the game that far expands the reach of the multiplayer in both co-op and competitive modes. Fight alongside or against your friends with more personal expression than ever before thanks to many new armour options (some of which are behind new unlock challenges), new weaponry that widens the gameplay sandbox, new abilities, and new gear. The limitations on combined armour sets are also removed, allowing you to mix and match to make your perfect marine! Then, take on Orks in the Exterminatus mode with new gameplay balance and sub-classes, or take to the multiplayer in huge multi-dreadnought games. Space Marine mods are unfortunately few and far between, but this one has enough content for everyone to enjoy!
By the Unification Team
Unification is the ultimate Dawn of War mod, and that's the short of it. The long version is it contains over a dozen new factions, new units for all vanilla factions, a updated campaign, many new maps, new gamemodes, new mechanics, and new tiers of combat for larger battles than ever before in Dawn of War. It's a culmination of the modding community's combined efforts, joined into one superb experience that transforms Soulstorm into the definitive 40k experience.
By ChromeAngel
Where Space Marine has you leading one of the Imperium's super soldiers from over the shoulder, this mod for the Source Engine puts you right behind the bolter, fighting against both the forces of Chaos and Tyranid swarms. With a community of diehard players and updates as recently as 2019 (marking nine years at least of continued support), the mod is feature-rich and full of new and exciting ways to experience 40k. The franchise's first person outings have been rather hit and miss, but Exterminatus is a bullseye as far as FPS mods go, boltguns and all!
---
Steel Rain
Warhammer 40,000 is a franchise full of wide and varied media, from the seminal tabletop experience, to movies, to smaller shows, to games, to a full selection of fan-made content. With breadth sometimes comes a lack of depth as 40k games don't always hit the mark, but Space Marine is a definite success in this department. It carries solid and impactful gameplay alongside a compelling campaign that touches upon all the right cornerstones of 40k. Few other games have nailed the feeling of being one of the Imperium's super soldiers.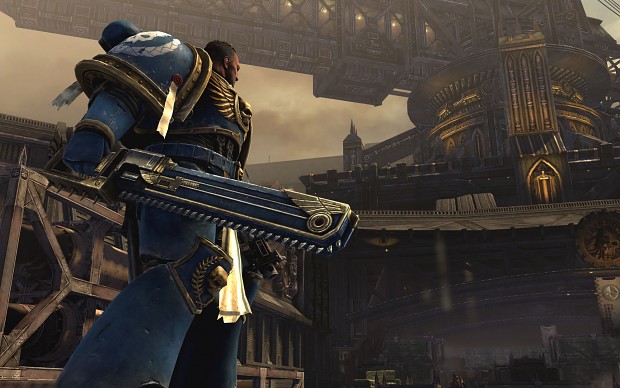 Space Marine sees you inhabit the armour of the god-like super-soldiers of the
Imperium of Man in the 41st Millennium.


Grimdark Fun
One of Space Marine's core features is the extensive customisation that lets any fan of the tabletop become their favourite "chapter" of Space Marines and take the battle to the multiplayer modes. Additional customisation was, before, locked behind DLC, but with the 10th anniversary upgrade (which is free for all pre-existing owners and now comes with the game as standard), all buyable DLC was made freely included. In addition, DLC only available as limited-edition pre-orders has also been added into the game, and scans of materials that shipped with physical releases like the manual have been added to Steam as an optional bonus.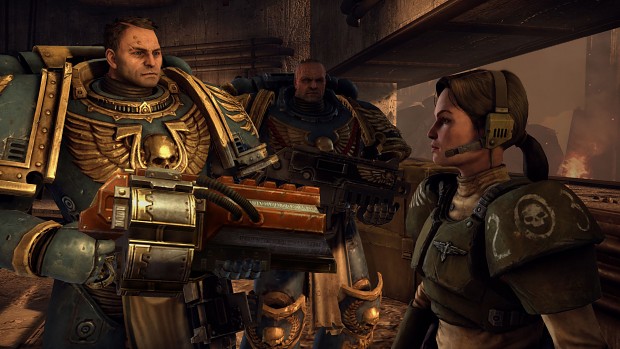 A huge variety of weaponry and a solid singleplayer campaign is joined by multiplayer that manifests in both competitive and co-operative modes, allowing you to customise your own Space Marine
Deep Striking
Space Marine was worth playing before as one of the best visualisations of 40k's insane scale, but the 10th Anniversary edition gives you even more excuse to bring total war to the grimdark future.
(You can also check out DOW2: Retribution mods here. Whilst there's not many other mods for Space Marine, perhaps now's a good time to make your own?)


Fans still hold out hope for a follow-up to Space Marine and a continuation to the story of Captain Titus, whose fate was left on a cliff-hanger. Perhaps Games Workshop's Anniversary edition is a test of the waters to sniff out the viability of a sequel? We can only dream. For now, there's never been a better time to get involved with the community surrounding Space Marine.