Are you ready to step through the Stargate? We are happy to share more information about the Stargate Space Conflict Demo that will be available for players between November 28 and December 12. The Stargate Space Conflict Demo is a preview that will give you a small taste of the Stargate battle fantasies you can expect to live out when the final version of the mod launches next year.

Our team decided to reply to some of your questions about the demo, while revealing more information at the same time about what's coming in.
Features
A lot of you were asking questions about the accessibility of this demo. You will be pleased to hear that it's going to be public and available to all of you on November 28. The demo will be playable for two weeks and will allow you to discover our content, before the release of the final version. This demo will be a Steam exclusive.

A short questionnaire will be available on our site for each player to let you share your feedback and your impressions about our demo.

Since it's a demo, the content may evolve in the final version, which is still being developed at the moment. It will depend, of course, on your comments, including the upcoming updates of Homeworld by Gearbox Software Ltd.
Playable content

The Demo will let you experience the following modes:
Interactive campaign: Composed of 3 missions, the later will last for more than a hour. They're all different to show you the potential of the campaign of Stargate Space Conflict that will be available in the final version. Each mission represents a series characteristic of Stargate. The missions will feature cutscenes with certain key moments of the show.


Co-operation with your friends via Steam: Play with your friends in staged and immersive battles against the artificial intelligence. You will be able to choose your difficulty level beforehand. You will be able to choose the path you want to take, defend Earth, or even attack Abydos, It's all up to you.


Online Instant action via Steam: Defy your friends or the artificial intelligence in online games. Same rules and same methods as the online co-operation.
That being said, please note that the demo won't feature the "Offline Skirmish" mode. The multiplayer support will be entirely assured by Gearbox's Shift™ servers.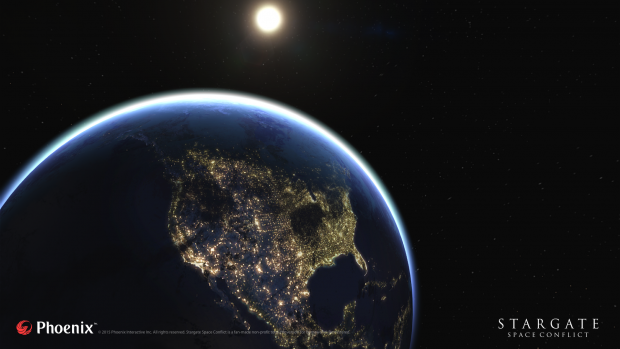 You will be able to play with a brand new and remastered visual experience, faithful to the Stargate franchise with high realistic planets, high detailed ships and more… Get ready to step through the Stargate on November 28.