In this third dev diary we look at changing Civ2's leader portraits used for diplomacy with HoMM2 heroes and make a bold attempt at replacing Civ2's original wonder videos for the Civilization 2 - Heroes of Might and Magic 2 Mod!
As a kid growing up in the 90s playing endless hours of Civ and HoMM Blake always wanted some sort of hybrid game that gave him the HoMM experience but in the Civ sandbox world. Games like Master of Magic and Age of Wonders 2 sort of granted that wish however Tom2050's amazing HoMM3 mod for Civ3 mod has REALLY fulfilled that dream of a sandbox HoMM game. Blake was so inspired by the awesomeness of it that he wanted to try and make a Heroes of Might & Magic 2 Civilization 2 Mod to compliment it. Soon after this Blake discovered a talented Civ2 modder on the other side of the world called Metropolis had already started a similar project and the two of them got to work on finishing their dream!
Recently Metro & I have finished replacing all of the 42 Civ2 Leader pictures with HoMM2 hero portraits. Converting their faces into the limitations of the Civ2 colour palette has been a real challenge but the final results are pretty good!

Here's some of the imported leaders (light blue is transparent in-game):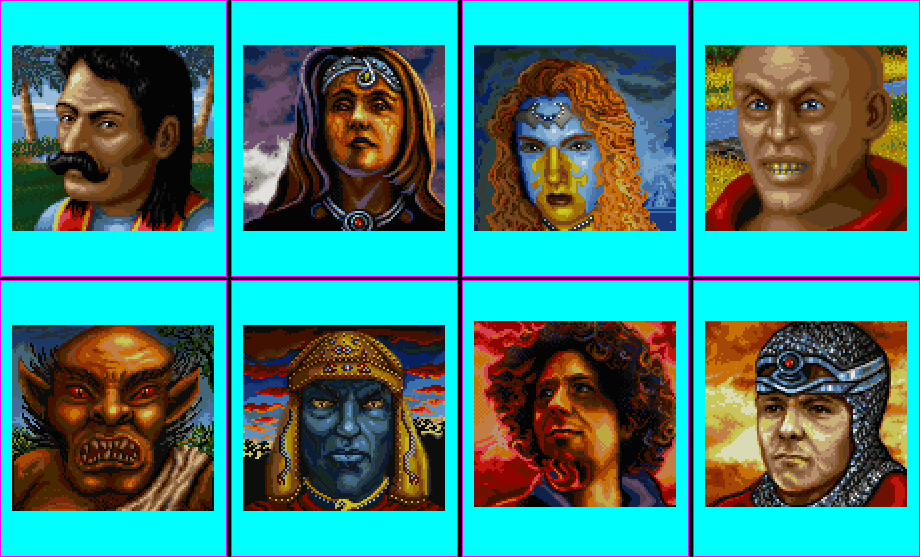 Here is a in-game Diplomacy screenshot (note we'll probably be telling people to disable the 3D 'Heralds' as having a Zulu, a Roman or some big Russian guy dancing away in front of our leaders doesn't really suit the HoMM theme haha) using the new leader portraits.
Meanwhile Metro & I decided to 'go where no Civ2 scenario maker has gone before' (at least we don't think anyone has) and replace all of Civ2's cutscene videos. As previously mentioned we're using HoMM2 artifacts as the Wonders so we're going to make some sort of cool video that leads to a book or scroll showing what the wonder artifact does using HoMM2 icons of course.

Here's some test shots of Metro's awesome wonder video work (note: titles won't match video as we're testing using the slot 1 Pyramids wonder)
And last of all here's a new in-game world shot where I've been playing around testing our world decoration. For a game that doesn't have anywhere near as many map objects as HoMM does I think we've done a pretty good job at squeezing as many map decorations into the scenario as possible haha!
If you like my work please feel free to check out my other mod projects such as my & Metropolis's Heroes of Might & Magic 2 Civ2 scenario, my Red Alert 2 Siege of NY Civ2 scenario, my Command & Conquer Civ2 scenario remaster, my Terminator Future War Civ2 scenario remaster, my Deadworld Reborn Civ2 scenario remaster, my Civ1 Graphics for Civ2 mod demaster, my ToT Graphics for Civ2MGE mod remaster, my Civ2 Playstation Graphics for Civ2MGE mod remaster, my Better Terrain Graphics for Civ2MGE mod, my Alpha Centauri Civ2 scenario remaster, my Attila's Conquest - Play as Barbarians in every Civ game scenario series, my old Star Wars Civ2 scenario, my new Master of Magic Enhanced Civ2ToT scenario, and my Civ1 Soundtrack Overhaul mod. I'm also the creator of the popular Star Trek TNG GZDoom and Quest For Glory IV 3D Hexen GZDoom mods.