In this second dev diary we look at changing Civ2's background images used on adviser, city and event screens with gorgeous HoMM2 ones for the Civilization 2 - Heroes of Might and Magic 2 Mod!
As a kid growing up in the 90s playing endless hours of Civ and HoMM Blake always wanted some sort of hybrid game that gave him the HoMM experience but in the Civ sandbox world. Games like Master of Magic and Age of Wonders 2 sort of granted that wish however Tom2050's amazing HoMM3 mod for Civ3 mod has REALLY fulfilled that dream of a sandbox HoMM game. Blake was so inspired by the awesomeness of it that he wanted to try and make a Heroes of Might & Magic 2 Civilization 2 Mod to compliment it. Soon after this Blake discovered a talented Civ2 modder on the other side of the world called Metropolis had already started a similar project and the two of them got to work on finishing their dream!
The time has come for a big second update on our project.
Metropolis has been busy working on the event code so Blake decided to play around with background graphics.
Now this was difficult. Civ2 doesn't normally allow you to edit adviser and event background images. They're all stored in a DLL file called Tiles.dll. Clever fans have made an editor called GifX that allows you to change these images however you can NOT go over the original image file sizes (unless you use resource hacker and break compatibility with pre MGE versions of Civ2). This is really tough as most of the Civ2 background images are low resolution grey-scale (sort of black and white) images. Blake really wanted to get all of the Heroes of Might & Magic 2 castle screens into Civ2 somehow as decoration.
After a LOT of experimenting Blake was able to do it! We're pleased to say that he was able to get all 6 HoMM2 castle screens into the game AND with colour! However he had to downsize them quite a bit, reduce details, and severely reduce the colours. Blake also had to put thick marble borders around them to reduce their sizes even further.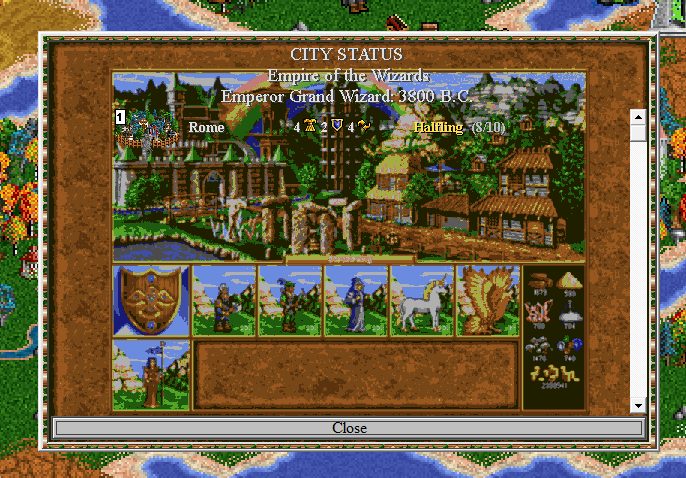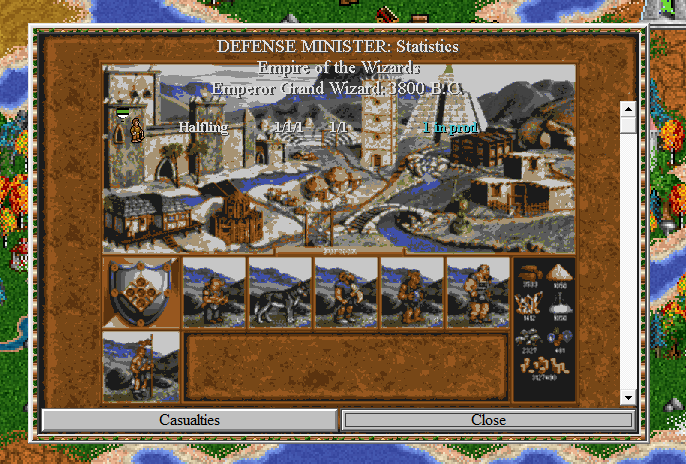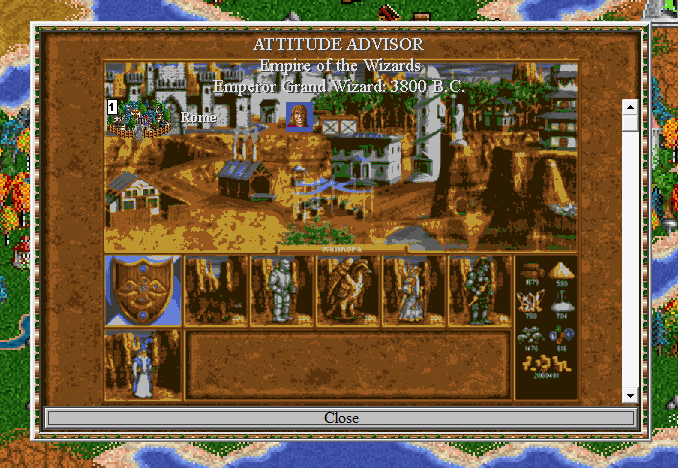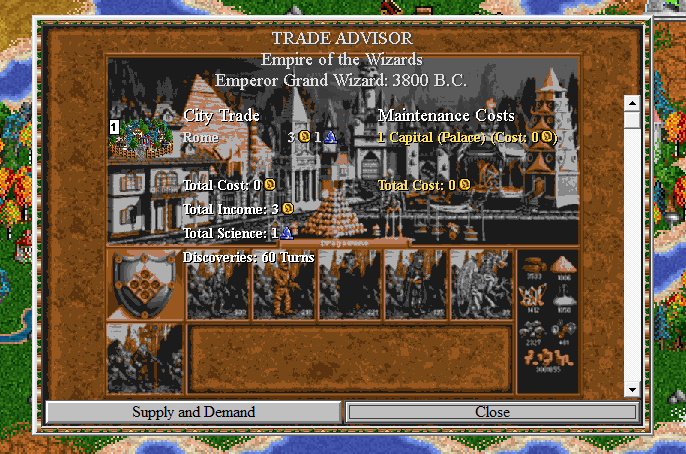 (note: Necromancer translation error has been fixed)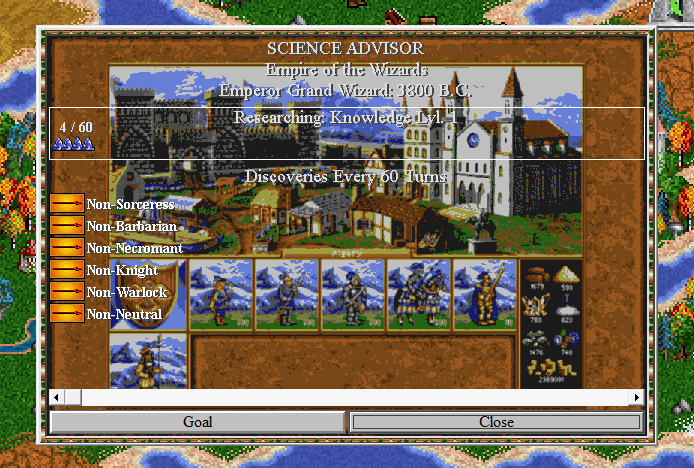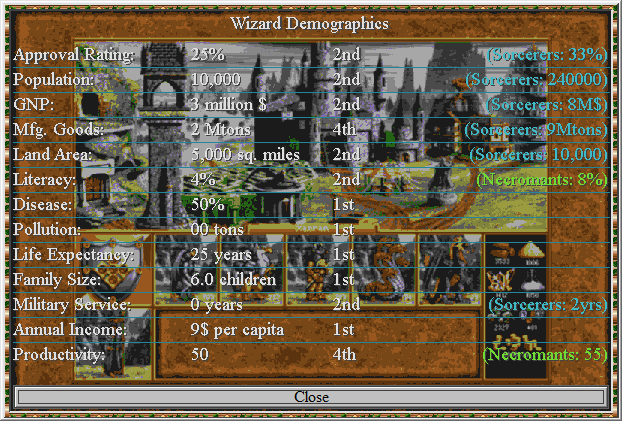 For remaining screens Blake's putting in screenshots from HoMM2 cutscenes.

Wonders Screen:
This was the smallest advisor screen of them all at measly 30k. Had a take a chunk of detail out of the picture and it juuuuust fits.


Civ Score Screen:
Blake always loved this HoMM2 cutscene of a crashed ship so he couldn't resist using it! Had to compress it quite a bit sadly.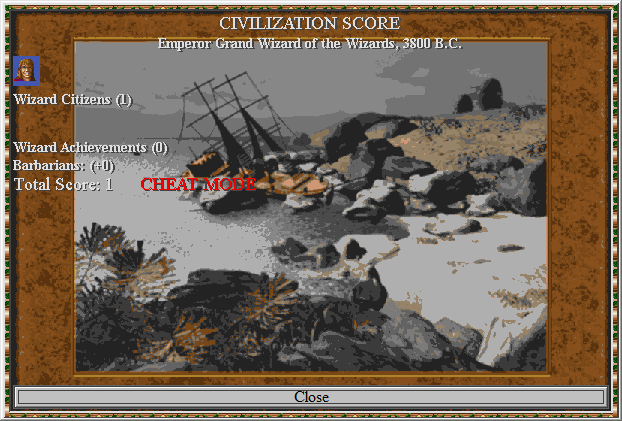 Intel Report Screen:
Used a shot of the the HoMM2 Gold intro. Had to compress it quite a bit sadly.
(note: Necromancer translation error has been fixed)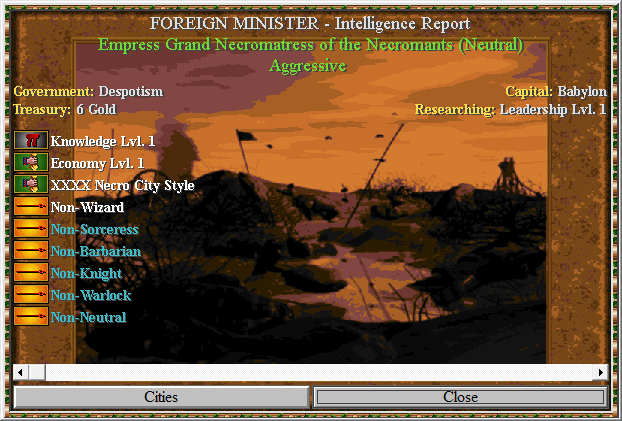 Top 5 cities screen:
Used a cool castle cutscene video shot.
(note: Necromancer translation error has been fixed)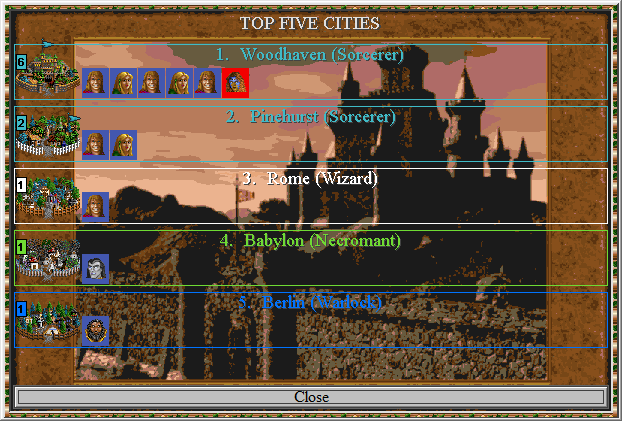 Kingdom Screen:
Used a campaign cutscene video shot where you can see Roland's Kingdom (had to massively compress sadly).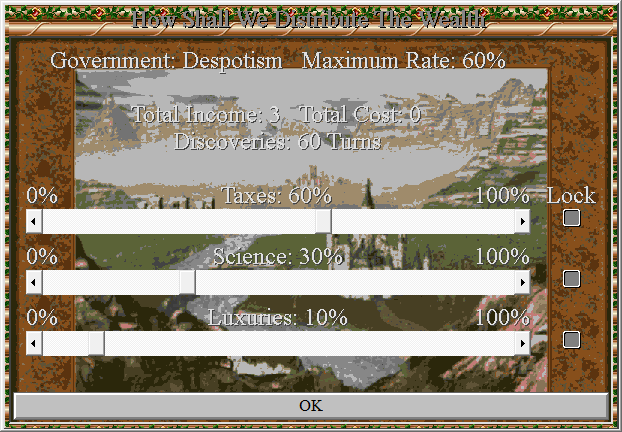 City Capture:
Used a shot from the final bad guy campaign mission cutscene video where you lay siege to Roland's Palace (had to heavily compress sadly).



Rioting:
Took this shot from the campaign mission cutscene video where you turn the peasants/citizen's against Roland or Archebald.



Celebration:
Couldn't find any pictures or cutscenes in HoMM2 showing people celebrating. So Blake just used a cool shot of someone worshiping some royal magical stuff from a HoMM2 addon cutscene video. He thought about using the image from the HoMM3 intro of Catherine's men celebrating but wanted to keep things HoMM2 themed.



Creating a city:
Took this shot of a little village from the campaign mission cutscene video where you turn the peasants/citizen's against Roland or Archebald.

Of course after doing all this work it started to become pretty obvious that the adviser screens had become too difficult to read and needed darkening. So Blake darkened all of the adviser backgrounds and then reconverted back to Civ 2 pallet and the results have come out pretty darn good! Writing is very easy to read now. :)

I won't post the whole lot again but here's a couple of examples: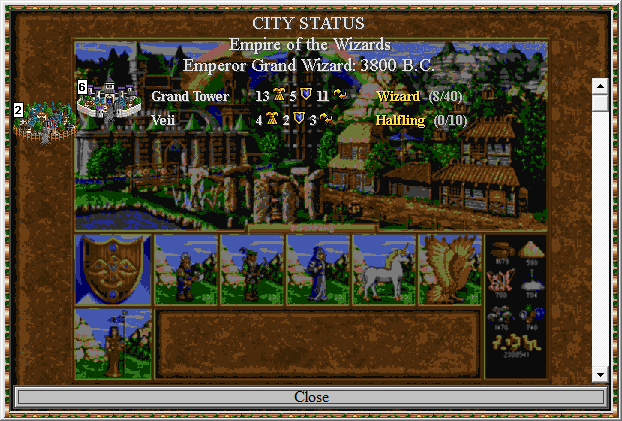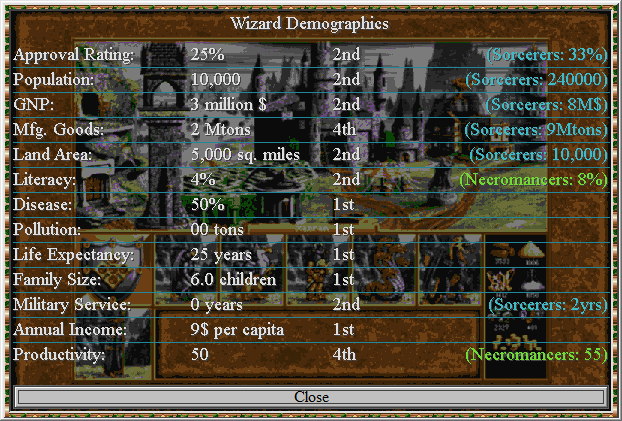 Meanwhile while all this was happening Metropolis decided to surprise everyone by editing the images inside of the dll file that controls what you see in the Civ2 city view screen! This is something very rarely done before so it's very cool!

Here's a test screenshot from a savegame where we'd built most of the buildings in town and the results are pretty awesome!! He's really out done himself on this one haha:





A while back we decided to replace Civ2's wonders with HoMM2 artifacts and hero skills. We replaced their icons with HoMM2 ones and were done with it. However to add to his above work Metro came up with a way to still have artifacts instead of Wonders in the city view where the HoMM2 artifact simply display on pedestals (since they are not buildings). Looks really nice!



If you like my work please feel free to check out my other mod projects such as my & Metropolis's Heroes of Might & Magic 2 Civ2 scenario, my Red Alert 2 Siege of NY Civ2 scenario, my Command & Conquer Civ2 scenario remaster, my Terminator Future War Civ2 scenario remaster, my Deadworld Reborn Civ2 scenario remaster, my Civ1 Graphics for Civ2 mod demaster, my ToT Graphics for Civ2MGE mod remaster, my Civ2 Playstation Graphics for Civ2MGE mod remaster, my Better Terrain Graphics for Civ2MGE mod, my Alpha Centauri Civ2 scenario remaster, my Attila's Conquest - Play as Barbarians in every Civ game scenario series, my old Star Wars Civ2 scenario, my new Master of Magic Enhanced Civ2ToT scenario, and my Civ1 Soundtrack Overhaul mod. I'm also the creator of the popular Star Trek TNG GZDoom and Quest For Glory IV 3D Hexen GZDoom mods.