It's the 30th anniversary of Sid Meier's Civilization 1 this month so I thought I'd finally release my Attila's Conquest 1 – Play As Barbarians Scenario for both CivDOS & CivWin. This scenario is the first in a series where I attempt to play as the 8th Barbarian slot in each Civ game via hacks, cheats & editor tools and release a scenario for others to play as them too. Can you also overcome all the Barbarian disadvantages to defeat the advancing regular 7 Civs in this special 8 Civ survival scenario?
Demonstration Video:
youtu.be/TyFLI_B_Cbg?list=PLZqnaGtTZxFbq3F5R6lqzyVvYzg9tRBPY
About:
When I was a young boy playing Civilization 1 in the mid 1990s I remember coming across a hex editing guide for Civ1 save games and noticed that you could change the player controlled Civ to even the 8th Barbarian faction in slot 0. I tried it out and was amazed to see that it actually worked! There I was playing the infamous red faction as ruler Attila the Hun! I had a fun game mucking around however due to the severe limitations on the Barbarians I didn't get very far and was quickly defeated.
Fast forward nearly 25 years and I decided it would be fun to try again and really see if I could find ways to actually win a game as the Barbarians and see what would happen when you kill all the other Civs. I created a thread at the CivFanatics forums to discuss strategies and made some great discoveries. Basically if you're quick and you can get to everyone before someone gets gunpowder then you just might have a chance haha.
I had recently discovered Honzas DOS Tileset for CivWin mod and made my own CivWin Soundtrack Overhaul Mod to convert Civilization 1 for Windows (CivWin NOT CivNet) into a more DOS like experience. So I really wanted to play my Barbarian game in Civilization for Windows instead of DOS however I didn't have much luck in starting a Barb game in CivWin so I gave up and played my game in CivDOS. After I finished my game I then discovered how to convert CivDOS save games to CivWin allowing me to now release my Barbarian game for both formats!
Fortunately these days there are some great map editors and Civ editor programs that allow you to design your own scenario and even change Barbarian cities to have or build any building or unit you want! Using these I was able to create a fun Barbarian scenario that actually gives you a fighting chance and then was able to go on and WIN the game trigger a full victory end sequence with no crashes! That means you can do it too guys!
For more information on Barbarian advantages & disadvantages, installation instructions, and any known issues check out my mod development threads at these Civ forums:
forums.civfanatics.com/resources/attilas-conquest-i-play-as-barbarians-scenario-civdos-civwin.29373/
apolyton.net/forum/civilization-series/civilization-i-and-civilization-ii/9424570-attila-s-conquest-i-play-as-barbarians-civilization-1-scenario-civdos-civwin
If you would like to try this scenario you can find it here at ModDB:
Download Attila's Conquest I - Play As Barbarians Scenario (CivDOS & CivWin) - Mod DB
I had so much fun playing as the Barbarians that I've decided to make a series of scenarios and videos showing you how to play as them (via editors, hacks or cheats) in each Civ series game including spin off games like Alpha Centauri and Call to Power! You can find the next up and coming scenario in this series Attila's Conquest II for Civilization 2 here:
www.moddb.com/mods/attilas-conquest-2-play-as-barbarians-scenario-mge
There are many challenges to playing as the Barbarians so not everyone will be able to win the game but hopefully I've given you the tools you need to have a chance of winning! Good luck!
Screenshots: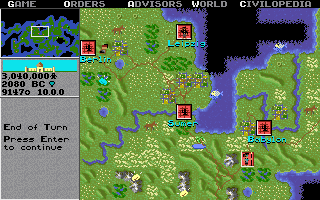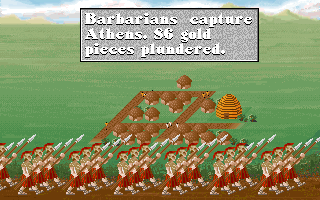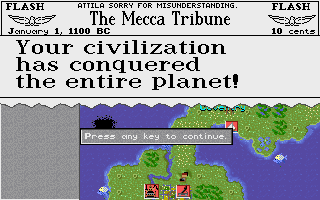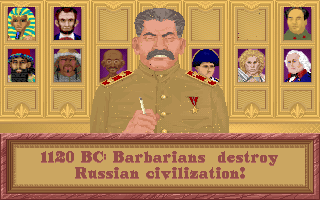 If you like my work please feel free to check out my other mod projects such as my & Metropolis's Heroes of Might & Magic 2 Civ2 scenario, my Red Alert 2 Siege of NY Civ2 scenario, my Command & Conquer Civ2 scenario remaster, my Terminator Future War Civ2 scenario remaster, my Deadworld Reborn Civ2 scenario remaster, my Civ1 Graphics for Civ2 mod demaster, my ToT Graphics for Civ2MGE mod remaster, my Civ2 Playstation Graphics for Civ2MGE mod remaster, my Better Terrain Graphics for Civ2MGE mod, my Alpha Centauri Civ2 scenario remaster, my Attila's Conquest - Play as Barbarians in every Civ game scenario series, my old Star Wars Civ2 scenario, my new Master of Magic Enhanced Civ2ToT scenario, and my Civ1 Soundtrack Overhaul mod. I'm also the creator of the popular Star Trek TNG GZDoom and Quest For Glory IV 3D Hexen GZDoom mods.