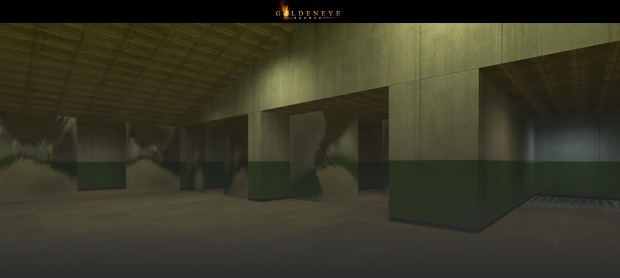 This update is the first in a myriad of media to be rolling out over this month, eventually culminating in the release of the next GoldenEye: Source version. You saw what the community was up to this year, now it's time for the developers to show you what has been happening! Strap in for this first update and we appreciate your support, fine people.


GoldenEye: Source has always been about bringing the classic N64 experience to your PC with stunning new graphics, music, and gameplay. We are also very keen on bringing new technology and expanding the scope of the gameplay to provide a larger and more varied experience for everyone.
We have long decided that in order to eventually provide a Single Player experience we would have to dive into the realm of AI. The first port-of-call was to create multiplayer bots.


Whilst the Half-Life 2 AI system is quite robust, it is also hard coded and VERY cumbersome. This led to an easy decision to link our existing Python system for game modes and extend it to the existing Half-Life 2 AI framework. The result is completely customizable AI! This is not just function calls; you can define Schedules, Tasks, and Conditions and control how the underlying HL2 AI uses them; Allowing you to create a completely Python driven NPC if you choose. The bots can be fully customized by coders in Python.
Server admins can easily tune how many bots can be present at any one time with a command to auto-fill a server with a specific number of bots, removing bots as more players join. Never play alone again!


Our Quality Assurance team reports that our Bots are not only difficult, but ruthless and cunning. They will literally LEARN the map as they play. Their memory system stores the locations of weapons, ammo, and armor that they come across which they will later retrieve from memory. In other words they will go back for that Rocket Launcher again after they die.
Bots in GoldenEye: Source are are also tailored to suit each individual game mode so that LTK (License to Kill) and MWGG (Man With The Golden Gun) bots behave quite differently from Deathmatch bots. Prioritizing different objectives, targets and actions based on the mode they are playing. As a result, our Bots are virtually indistinguishable from actual players of a variety of different skill levels and play styles.
They do not cheat. Unlike many other games where the AI have their very own set of limits to either nerf or buff them, our bots obey the same constraints and rules that normal players are limited by. They don't have perfect lock-on accuracy, they can run out of ammo and have to reload just like players do, and they won't "see" you coming if the radar is turned off and you are sneaking up on them.
Bots use predefined difficulty levels that will tweak the parameters affecting the bot's reaction time, aiming proficiency, and other factors. Bots have four difficulties: Agent, Secret Agent, 00 Agent and 007. These difficulty levels translate very accurately to the abilities of real players. Bots on Agent difficulty very closely mimic the play style of novice players. Whilst on 007 difficulty they even prove to be on par with our community's veteran players.
Click for larger image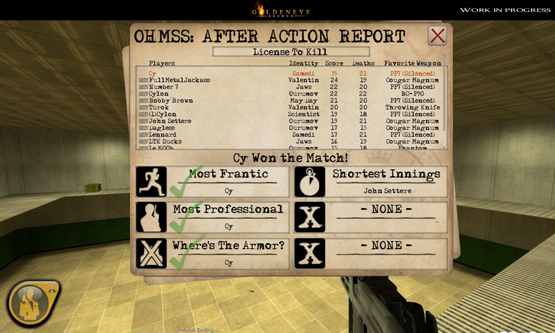 The extremely popular map Library Classic, and it's subsequent child-maps Stack and Basement have had a makeover for 4.2. Thanks to the dedicated veteran Fourtecks. The lighting and textures have been completely redone and it is not only now highly detailed but much more faithful to the original map and weapon-balance has been revised.
Here's some screenshots of it in action: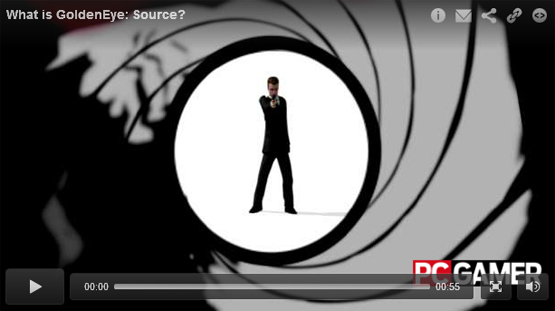 Quote from: mithrot 08:02pm January 17 2012

This game was around as far as I can remember HL2 modding. It really shows one of the true strengths of the PC platform not only as a gaming system, but as a development tool AND a dev-social tool, seeing how PCG is promoting the content that the GE:S devs spent years working on.

This is why I still game on my PC.
One would bet when writing that testimony, Mithrot wouldn't have guessed it would be quoted in a piece of media by GoldenEye: Source. It heartens us with all the positive things that we see out and about! Inspires us to persevere, pushing out implementations like bots, classic map improvements, and more you will be seeing in the foreseeable future.
We really enjoyed playing v4.1 with the folks at PCGamer at the end of last year. This exposure was initially available in their paid application and has since been published for free so we gladly relay it on to our fans in case you missed it the first time around. Wonder what kind of goodies they will cook up with us for when bots hit the GE:S gaming community? PCgamer vs Bots maybe? We can't wait.
---
As always, you can follow us more closely at our community hubs! We love your contributions, and excitement. Continue to give your opinions, and get involved!
With dedication comes reward, in a game that is always evolving and improving. Made by the fans for the fans. Lastly, we are currently taking applications for our open positions, and Community Manager. Mature and dedicated folk head Here to Apply
Sincerely,
Team GoldenEye: Source.