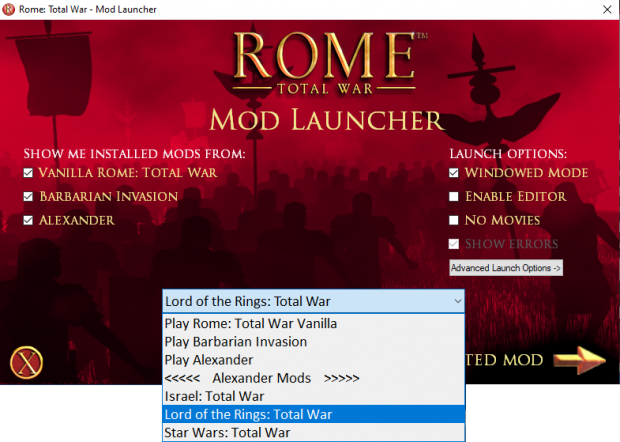 A new patch with a bugfix has been released from the Mod Launcher. This greatly built tool using .NET Framework 3.5 helps a lot of players and modders to play their installed mods quickly.

Although it was clear that patch 1.2 was the greatest patch that helps modders out creating sprites for their created units, patch 1.3 only solved a minor logging bug that occurred anytime the log was filled. Dagovax got himself a new build pc and changing to Intel Core showed him this error, so he fixed it.
Patch 1.4 adds the random mod select button. Just roll the dices and the Launcher will select a mod for you to play. Also fixed the issue where the launcher gave a startup error on Alexander installs only.
This Rome: Total War Mod Launcher let you select which Rome: Total War mod and what mode you want to play! All possible parameters can be selected. If you have a lot of mods installed, you can filter for vanilla, alexander, or barbarian invasion mods. Another great thing about this launcher is that it comes with a built-in system to play certain mods that need the DLC engine only. Using the launcher will provide you the easiest way possible to play any mods.
In the picture above you can see an example of how the launcher looks: you select your mod from the dropdown section, and just hit the play button.


If you are a modder and you are always struggling with creating sprites, the launcher helps you a lot. The only thing you need to do is making the preparation of which units to sprite, and let the launcher create the sprites itself! It not only uses the perfect preference file, but it also converts the result into .dds format, which is a step as well.
This video provides a quick view of how to install, use, and create sprites with the launcher:
And below some images showing the smooth work of the launcher: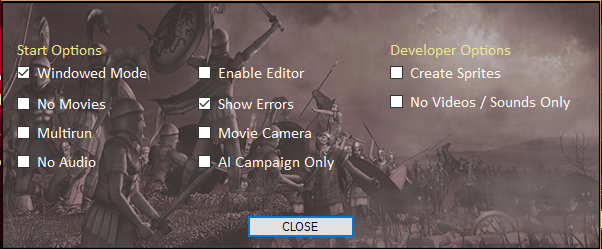 All advanced startup parameters can be selected and will be saved for the next start!
One exception: Creating Sprites will disable it so that you can test it right away without changing the settings.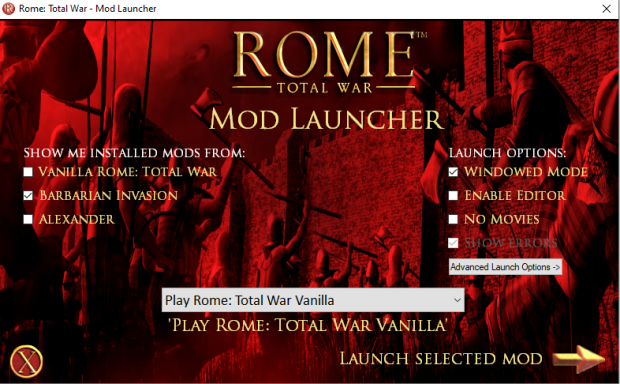 Filtering of Barbarian Invasion mods (or engine) gives you a new background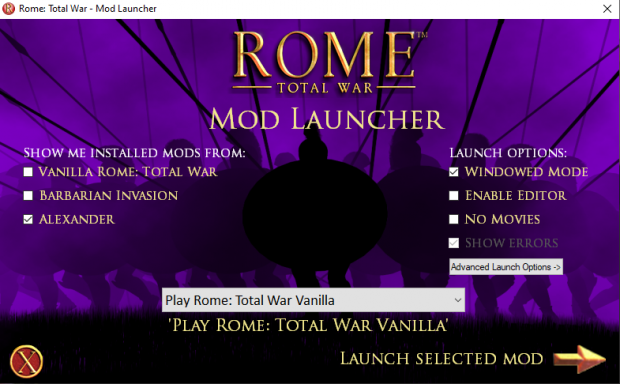 Filtering Alexander mods only gives you a different background!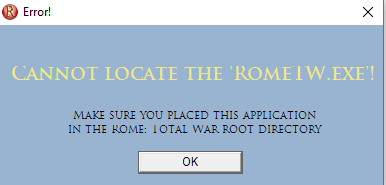 The launcher searched for the needed executable by itself!