We previously covered the new content and gameplay changes of DTA 1.16, which will be released on December 1st. In addition to those, DTA 1.16 includes several improvements to the game engine and client. We'll cover the most significant of those in this news post.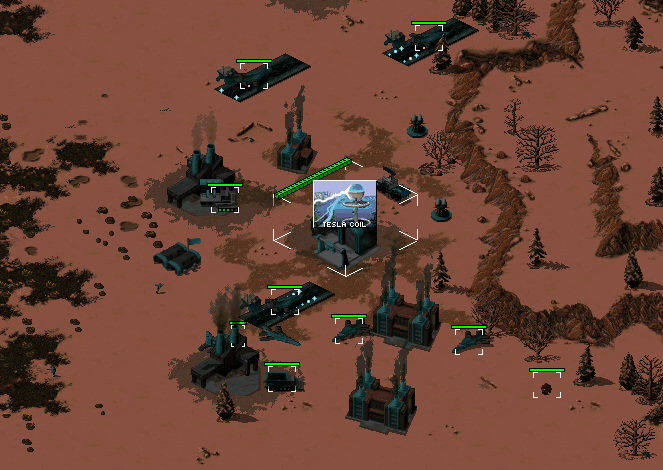 Some of these convenient features might already be familiar to you from Red Alert 2:
The health bar of units and structures is now displayed when you hover the mouse cursor over them
You can now set factory rally points without needing to hold Alt

Because the deployed GDI Aircraft Carrier also functions as a factory, you now need to hold Alt to undeploy it instead

You can now double-tap a team's number to center the camera on the team
It is now possible to create waypoint loops without needing to hold Shift

You now also have the option of making units undeployable only by holding Alt. This is useful if you find yourself accidentally undeploying your Cruisers or Termites with accidental move orders.
Multiplayer games have received multiple improvements:
For chat messages, you can make their background black instead of transparent to increase their readability.
Spectators can now drag a box to select multiple units of any player, they see the units' action lines and they also see each player's indicators for power, storage, passengers, ammo and so on.
If a synchronization error happened, games used to halt entirely. In DTA 1.16, only the player that is actually out of sync with other players is removed from the game, and the rest of the players can continue in the same game. If there's only 2 players, then the game stops as usual though.
Most importantly, multiplayer games can now be saved automatically, and these saves can be used as a fail-safe against synchronization errors. They can naturally also be used for beating those nasty co-op missions without always having to start from the beginning after a loss. We created a video to demonstrate the ease of use of multiplayer saves in DTA 1.16:
Multiplayer saves have actually been available since late 2015, but they weren't created automatically. To increase their usefulness, the client has also had multiple bug-fixes for them in both CnCNet and LAN multiplayer. In LAN mode multiplayer saves actually didn't function properly at all in previous versions.
For other client updates, the client code has seen a lot of work that makes the client UI smoother and more convenient to use and various features, particularly the CnCNet and LAN lobbies, more reliable.

An extra renderer was added to the client's display settings menu, which in addition to showing very good performance in our tests even turns out to work well on several systems that had issues with all of the other renderers. So if you feel like your performance has somehow been sub-optmial, you should definitely try out the DDrawCompat renderer.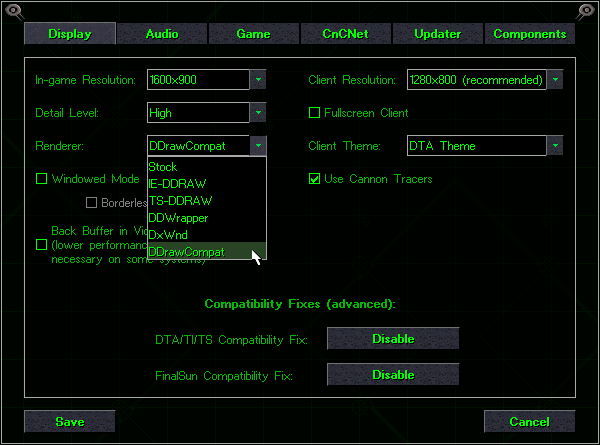 Finally there's also the new hotkey configuration menu that can be accessed directly from the client, as well as the new "Place Building" and "Repeat Last Building" key commands (with their default hotkeys visible in the screenshot below).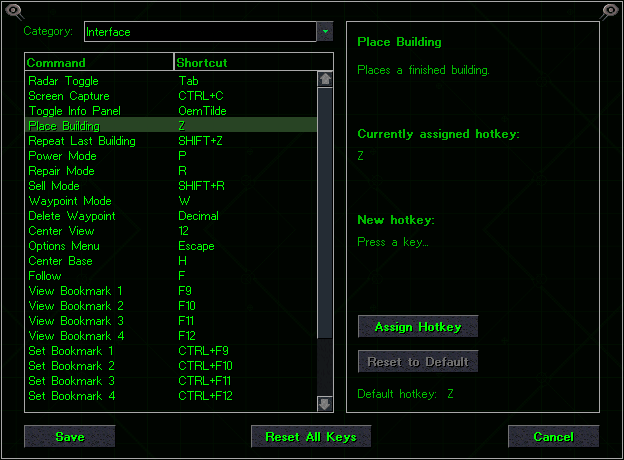 You'll get to experience all of these features, our new content, as well as the gameplay additions on December 1st, when DTA 1.16 will be released. We're excited and hope to see you on the battlefield in great numbers then!