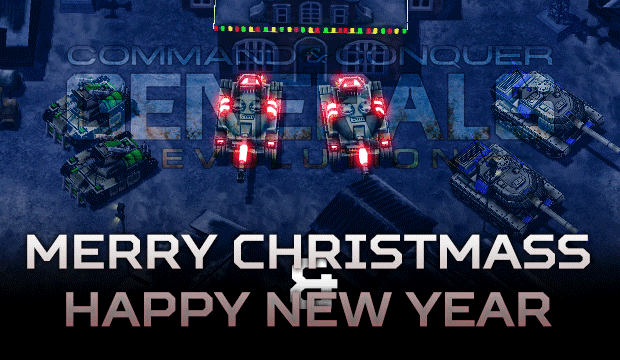 C&C Generals Evolution, New Year - New Beginning!



Hey guys, it's me again, a year after last update, heh. It's been a while, so let's break it down.
Why no updates in a year?
Well, most of 2016 I've spent drifting from one job to another. No time for anything but work really, Sgor00 was busy with his university stuff, I didn't even bothered him knowing how hard it is to study. At the middle of fall I was "hired" temporary by a dude ( not by a company ) to work on private indie game as VFX Artist, and it took even more of my time, but at least it was decent. It was beneficial for both me and GenEvo, I had a chance to finally do what i like for a living and acquire a lot of cool stock footage which I can use for GenEvo. And recently i finally got time for some rest, but I've decided to devote my short holiday break towards GenEvo.
What was the plan?
Initially Sgor00 and Me planned to release a successor of Crysis Coast map-mod, called Dragon's Nightmare, after Sgor00 proposed me that idea, i decided to expand it into something better, a pre-rc2 Spec-Ops only. By that I thougth of packing up Dragon's Nightmare and remaster of Crysis Coast into one package, not map, but a mod with all the current RC2 stuff you've seen on media. We planned to release it at December 31st and call it Zero Hour : Aftermath. It's supposed to be a cut down version of RC2 with just units and 2-3 missions, no skirmish, just Spec Ops. It was the best idea for the time and we really wanted to treat you all. Sadly we faced few problems while bringing this idea into reality and eventually changed our minds.
We started working on Zero Hour : Aftermath 12 days ago, I needed to redo/port all code, scripts and completely redo resource sctructure from scratch, i've also wanted to bring more classic stuff into it. We've been using a lot of random sounds, VFX style never felt classic, and in the end it never felt just right ??.
So, what did you do?
While Sgor00 was working on Dragon's Nightmare, I've been working on pretty much everything else, every day till 6-8am. Porting a lot of code from GenEvo, while clearing it out from trash, rewriting a lot of code, remaking all the sound work, even some VFX. Sadly, 12 days is not enough, even though i almost ported everything. I've come to realization, that there's not enough of polish and everything feels rushed and incomplete. Sgor00 wasn't done with the map yet, we didn't even tested it once. I haven't done enough tests for my side too. Even the idea of releasing whole C&C Generals ZH unit set cut down from abilities, structures and special powers felt kinda odd in a long run, no skirmish too.
So, what're you planning to do?
I've had a talk with Sgor00, and we decided to give FULL attention towards GenEvo in 2017, even though my holiday season is coming to an end and there's not much left of my job, I'll devote a lot more time to GenEvo. It's been very busy year for me and I'm glad to be back!
So, what're we getting from this?
We still have something to show you off, but not all at once, right now Sgor00 prepared few previews of GenEvo maps, check them out :
Here's a sneak peek into layout of Dragon's Nightmare map, Sgor put a lot of thought and effort in to this, we'll have more into in the future.
This week we're planning to show off even more stuff, maybe I can even do few videos about how new vehicle destruction system works, or just show off all of our units, just tell me what you'll like to see.
Anything else?
I'd really love to mention everyone who helped us thus far :
Ad Rian - Absolutely brilliant man, genuine, caring and extremely friendly. Thank you so much for your continuous support privately and through Patreon, you've been here with us before i've even opened my patreon account, you cannot imagine how much you've helped us, thank you so much!
Madin - One of the coolest dudes I ever worked with, not only he is extremely talented, dedicated and very genuine, but he's also has heart of pure gold, despite having his own problems he decided to support me and my work instead, that's a kind of a person I'd love to met in real life and share few beers, thank you for everything! Stay awesome!
orvis25 - A fantastic friend and a great person, helped me a LOT when i was in a dire need of help, he's also a handyman and a great friend, check out his YouTube channel, he's doing reviews on neat stuff!
warby - This dude is a living legend, friendly and generous person i ever met, not only he's made all of the structures for us, but he also continued to support us on patreon for quite a while, I do really lack words in my vocabulary to express how grateful we are.
_RedStar_ - Simply an amazing person, i've yet to met someone who cared about me as much as he did, he's been with me through a lot of bad stuff and always cheered me up, while simultaneously helping physically. Much love, my good friend!
Motecer - Thank you a lot for sticking with us for a long while on Patreon, even though we never speak heart to heart I still believe that you're an amazing person, you've helped us a lot, and both of us really appreciate it!
Gerhard_Rueger - Thank you for your support and care, friend, you're awesome!
Frederick Angelo Cristian - Thank you for sticking with us on Patreon, for almost or more than a year you've continued to support us, we really appreciate it!
Kittopian Creator - My old friend which i knew for several years, we have worked together on several occasions and he's one of the most nicest person i've ever met, not only that, but he's pretty damn creative and smart, thank you for your support on Patreon and outside of it, my old good friend!
Ralf Martin - Thank you a lot for helping me privately, we really appreciate that!
Andre Franco - Thank you a lot for sticking with us for a while on Patreon!
Kalen Yukich - Thank you so much for sticking with us for a while on Patreon!
Just going through this list alone, made me realize how much you all mean to me, you've not only helped this project to stay on its legs, but actual people behind it. Not only you've helped me to battle the consequences of war and economical crisis in my country, but potentially saved my own and my mothers life, she has been suffering from tumorous growth in her head, which was slowly eating away it's way into her skull and later into her brain, but with your support you were able to treat her condition in the capital of the country, since there's no more decent hospitals around where i live. I, myself, had a bad case of stomach infection, possibly from eating instant ramen noodles for half of the year, but I was able to overcome it with your help. It's just something I've never experienced in my life before, i never though that people through the power of the internet can do that much to another person. All of you, just stay awesome, and thank you again for everything you've made to me and project i love and care about.
I'd also love to mention these amazing folks :
Zeke_Dlyoung - This dude is just plain amazing, talented, creative, and very generous, most of the units you see in GenEvo are ported from one of his projects called Generals X, he gave me a permission to use them for GenEvo, which was something I never expected from anyone, thank you so much. Please, be a good lad and check out his Profile and his Mods. Member of No Life Studios.

Eagle-Dan - Such a jokester and a very kind guy, you just can't help yourself but appreciate this dude, he's the one who gave me a permission to use few of his own models from his mod/personal archives, check out his Mod!

VectorIV - He's the one who's responsible for a Katyusha model, thanks dude! Check out his Mod.

St4lk3r - Another creative and kind person and again a member of No Life Studios. He gave us a permission to use few of his models into our project, thank you! Please, check out his work!

D-ce ( dcesarec ) - I still feel like I'm in his debt, he is a great dude, he helped us with infantry and gave us premission ( through Creator ) to use airplane models from Contra, as well as Quad Tank, thank you dude, you are amazing, i just wish I didn't had horrible memory.
Super Special Thanks
And of course, I gotta thank Sgor00 for all the crap he's been through with me, I can bet VERY rough sometimes, or can be a huge asshole ( most of the time ), but this dude is made of metal, best kind of metal. Whatever happend between us - he never gave up on me and just shrug any arguments off, either offering a decent solution or just letting me to cool off. I simply cannot imagine GenEvo without his work, he's that essential to both me and GenEvo. Much respect my friend, we have a long road ahead of us.
In Conclusion
That's all I have to say right now, i've spent my New Year's writing this article and I don't even regret it at all. Here's a special message from Sgor00 himself :
Guys, 2k16 was freaking annoying year for both of us, but this crap year has gone and there is new year - 2k17. This year will be really great, for all of us, cause this evolution year, this is year of Generals Evolution, year when you will play greatest C&C mod ever!!!! So I wish Happy New GenEvo year, let evolution be for all of us!!!
If you ever wish to support our work, then please check out my patreon page, I share my patreon earnings with Sgor00 when I'm not in a huge need. Thanks again, Happy New Year everyone!