Here we have a re-releasing of an old ASI story, that was previously just relegated to the forums. This piece inspired multiple concepts of the Conscripted unit.
The settled model is seen for reference.
---
By General Jist
4-27-12
Revision by War Wolf 1 (Added quotation marks)
6-2-12
The Conscripter- Free Will Lives Forever
ASIM had sent forth his minions onto the world to bring them Salvation, those who accepted were never heard from again, those who refused lived in constant fear of what the future would bring. The war waged against humanity by both the natural and unnatural was reaching its climax;
GDI had quarantined themselves from the rest of the world, not able to face the truth that they feared for so long, that they had failed humanity.
The Brotherhood of Nod had become complacent with their unchallenged influence over the world's population, yet as the new dependent of the populous, they seemed ill prepared for the challenge of global governance.
A new order is rising from the ashes of war and the depths of history, and although it's not what was expected, it may be what was necessary.
Within Yellow Zone 34: The City of Saladin 2080/ 3 AK (After Kane)

It had been a long night, the conscripter shook its head, he couldn't understand it. He, or what used to be a he, felt for the inhabitants of Saladin. And yet they were afraid, hell, just a few weeks ago he was like them, afraid, hungry, and sickly. He couldn't fault their caution or skepticism, yet it made his job so much harder. He couldn't understand why they didn't come for Salvation.
He had gotten into the city hours ago, and within the first hour already he was the talk of the entire city, he knew, he could tune into any transmission, and detect any voice within 50 meters. It was no easy task getting into the city, the way he saw it, wasted time was wasted lives, and the city watch had made him wait for hours before they processed him in, they were afraid, he knew, not just of what he might do, but what he represented. It's considered a high honor to be selected for Salvation, everyone in Saladin knew it, from the city council to the Tiberium croppers, they knew.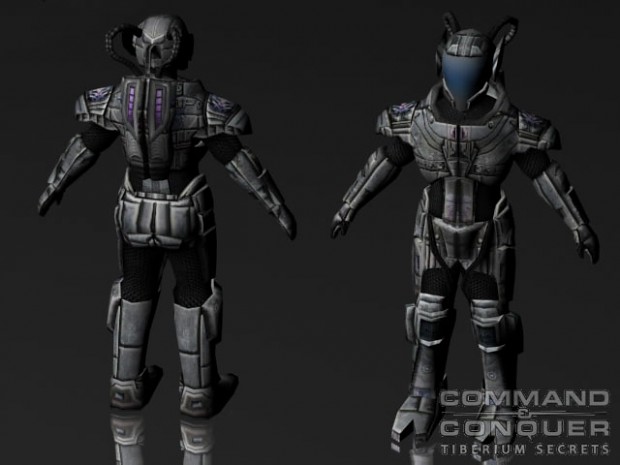 The Conscripter had stood perfectly still in his black and cyan cloak, as the city watch debated with the City council via uplink, what to do. The rising sun glinted off his immaculately polished limbs made of pure metallic frame, and cast a large menacing looking shadow on the ground. He was disgusted by the orange glint off a Tiberium vein hole 10 meters away, which had been cropped over and over, what now looked like a bleeding gooey mass of worms.
The only sign of intelligence he gave during the time was brief brightening and dimming of his ice blue scanner orbs, he was particularly intrigued when one of the guard mentioned how he was the 1st he had seen in person:
City Guardsman- "I have heard reports, and rumors from the other zones, how they came... how they left, and how these Scripters always came back. (he whispered to the council, through the suit transmitter). They came, they took, they conquered.... What are we to do? I hear they come back every month, and they take.... But how can we complain, we don't have the resources... hell, I get my share of the rations like yall do sirs, but I heard, once they come, they never leave.... My cousin said they cleared out Y 22 just last week, all the men , all the women, regardless of age, or creed, we don't know what becomes of them, but if they choose so, they go, ... understood sirs."
All this time the Guardsmen shifted nervously in his battered resonator armor, the Conscripter could tell the suit was built for a smaller person, but when it came to being comfortable and being alive, he knew the choice wasn't hard, hell, this was a yellow zone after all.
"You're cleared, Sir." Said the Guardsman. "The council has given you 5 days to conduct your business, if there are no takers, you and your kind will never return; those are the terms of access, sir."
Conscripter- "Fair enough, would you like to be the 1st?"
The Guardsmen visibly paled, and shook his head, but with less conviction then was expected.
Conscripter- "Well if you ever change your mind, just say so in your suit comm., and I'll find you."
The Guardsman eyes widened even more, and all he could was stutter a "no thanks."
After that he was in. He had set up in the west of the city hall, and now he waited, he knew that he didn't need to go to them, they always came to him, they always did, especially in the 1st few hours. In the beginning, they had gone door to door, what a waste that was...
There were always some curious onlookers, hoping to see him process people, but never brave enough to have themselves assimilated.
He set up his holo projector, and it cast the sign of his calling and the recruitment message:
"Live a life free of worry, free of pain, free of isolation and free of Tiberium."
"We do not take, but we shall receive."
"Live free or die hard."
The Conscripter waited...
Time passed...
A young child running and giggling ran into his back, and made a soft pop sound on his cloak, and fell on his butt, the boy picked himself up, and began to apologize, but as the consripter turned the child just stared at him, mouth ajar.
Before anything could be said, an older boy of 17 years ran in to get the child, the older youth said he was sorry for disturbing his work, but gasped when he realized who he was.
Conscripter- "What is your name boy?"
"Trathan," he said in a fearful voice, "but we're not here for your business sir."
The younger boy chimed in, "we're just looking for food."
Trathan- "Hush Ralph."
Ralph- "But we been hungry for days."
Trathan- "I know, but those Nod soldiers said they would be back with supply crates, we'll be fine, just you wait, now hush up, and lets go."
Ralph- "Isn't this a soldier? And that was weeks ago.. Can't you help us good sir?"
Trathan- "You don't understand little bro, it's not like us it's....... umm.... It's a Scripter..."
Conscripter- "Call me 9, that is who I am now, I'm what you would call an android little man. And although I would like to help, I can't, we have a code, your brother is too young Trathan, but you on the other hand... You may have heard rumors that we take of all ages, but that is false, we uphold the rights of children, it's hard coded. I can provide for him, and you, make sure he is taken care of, we would require an eternity of service, but that's a small price to pay for Salvation wouldn't you say? You shall never want for anything."
Trathan stiffened, and wrapped his arm around his brother's shoulder, his eyes were filled with clear conflict. 9 could tell now, the fear was burned away, no more were these the eyes of a starving and scared youth; they were the eyes of a calculating youth which had been on the edge.
Trathan- "You have to understand, it's terrible out here, the Tiberium.... we hear tales of how those rich GDI thugs live in their blue zones, how they don't have a care in the world, how they want to get rid of Tiberium, yet they can't, at least not fast enough. ..... we also hear of the Brotherhood, and how they live in lavish temples, and want to spread Tiberium and use it to improve themselves. The substance that we battle daily, which is destroying our livelihood, they use for medicine? .... We hear these things, and what do we care? Can they help us? Sure they have tried and made promises of making our lives better, how is this any different?
They are just words, and words are wind."
9- "You are indeed correct, we offer a world free of all that, as you well know."
His orbs rapidly pulsed, a soft cyan light played over their faces, which alarmed them, he had to close the deal or ASIM would not be pleased.... He knew the fate of all those who failed, he would not join the Archive....
"There is a reason why you were led here, tho you may not want what we have to offer, it may be your best option. You may not like it, but we are all stewards of the cosmos, let me help you, and we shall offer you security for eternity.
The choice is yours. And if we return, it may not be with an open palm next time."
For forum discussion: