The Elder Scrolls: Total War v 1.6 standalone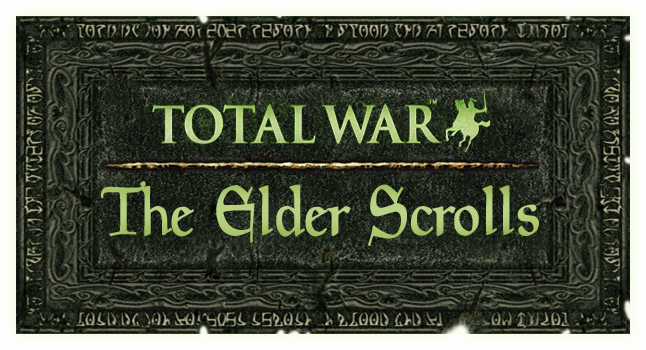 Installation step by step:
- Draw The_Elder_Scrolls folder from rar archive to your Medieval 2 Total War/mods folder
- Use TESTW Launcher to start mod (or The_Elder_Scrolls.bat if launcher doesn't work)
- If you want to disable ReallyBadAi - Click options in TESTW launcer and take a mark от Disable ReallyBadAi field, save.
- If you have problems with HUD, delete files battle.sd, shared.sd and strategy.sd from The_Elder_Scrolls_1.6\Data\UI
YOU NEED KINGDOMS.EXE IN YOUR MEDIEVAL 2 TOTAL WAR FOLDER. IF YOU HAVE A PROBLEM WITH IT WATCH THE VIDEO DOWN BELOW:

V 1.6 changes (Some changes may not be taken into account due to the chaotic nature of the work specifically on this version):
UNITS:
- New sprites for House Dagoth and Black Marsh
- All missed unit icons and info cards have been added
- New cavalry unit for Cyrodiil Empire
- Blades are available for hire in the Imperial City and Cloud Ruler Temple
- Some units of House Telvanni have been reskined
- Orsinium heavy infantry reskined
- Valenwood light infantry reskined
- Draugr units reskined
- Shadowscales of Black marsh reskined and rebalanced
- A lot of units have been rebalanced, including units of Great Houses and pikemen
- New models for Divayth Fyr, Dagoth Ur and Neloth. Sotha Sil has been reskined
TEXTS:
- Most of text bugs fixed
CAMPAIGN:
- New settlement models for Ashlanders
- New settlement models for House Telvanni
- New spy model for Black Marsh
- The terrain of Black Marsh is partially modified: dense forests have been added
- Aldmeri Dominion AI became more aggressive
- Cyrodiil Empire AI became more aggressive
- House Dagoth AI became less aggressive
- Reduced rebel garrison in some settlements
- New steward for New Ebonheart
- New resources have been added
ARCHITECTURE:
- New architecture for Orcs, it can be used in custom battles
- New architecture for Telvanni and Valenwood
SOME FIXED BUGS:
- Oblivion and Undead units crush has been fixed
- Skaal script for Telvanni has been fixed
- Ald'Ruhn collision has been fixed
Credits:
Mod development team - LoRdNazguL and DaedraWarrior
Sengoku - development of launcher
Special thanks:
- Forum "Imperial" team and personal - Dart Kovu Nazgul for help with organizing TESTW subforum
- Haktar - Imperial owner
- MWTW Team for their resources
- TESTW Unofficial Patch team for their resources
- Sengoku for creating launcher
- Gigantus for his Sprite Fix
- DarMut_mh and Starackbar for their balancing and advices
- Theodron, creator of "Blood of Numenor" mod, for trees strat models
- Cshelton for Daggerfall soundtrack compilation
- Fans from Imperial, TWCenter, VK, Twitter, YouTube and ModDB
- Bethesda Game Studios for creating best game series ever!
Report about errors in comments or to DaedraWarrior personaly.
Report form:
- Conditions then game crashed, on which turn
- Attach your autosave file
- Attach sytem.log from Medieval 2 Total War Kingdoms/logs
VOTE FOR US ON

2018 Mod of the Year Awards via Mod DB