Disclaimer: As the mod is still in early pre-alpha stage, all specific numbers are merely placeholders to test overall systems and not necessarily reflective of final plans or actual values
...Sins of a Research Department...
In the previous updates we've stressed two of the most important things we're hoping to accomplish in developing Ascendancy, being an attempt to make each faction feel unique, and giving the player the chance to make meaningful choices. This update is about another aspect of the mod in which we're trying to build on these ideas, the tech trees. The tech trees in Ascendancy will include a few pretty significant departures from the Sins trees in that not every tech is always going to be desirable and there's a bigger emphasis on the techs highlighting some of the philosophies which were prevalent in the playable factions, although there will be some areas where it will be the same. As you'd expect, one of the major components of the tech tree is unlocking new ship types. The only major difference between Sins and Ascendancy here is that you will not start with every capital ship unlocked in Ascendancy. Several of the core economic techs will be pretty familiar as well; research tech X to increase production of resource Y, etc. These techs are staying as is basically because they're important to letting the game scale up as time goes on, although they won't be quite as strong, since it's pretty common in Sins to easily get to the point where even a player who's losing by a large margin has no reason to worry about their economy, and that kind of ruins the point of a 4X game.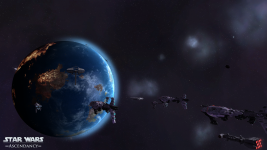 The other technologies in Sins, especially the military-related ones, are essentially being scrapped and replaced with what we feel to be more interesting options. A lot of the techs in Sins are slightly tweaked versions of the same flat bonuses between all the factions, with a little bit of shuffling. Ultimately they're meaningless unless you have an advantage over your enemy, because if everyone has a 10% damage boost and a 10% defense boost, you're right at square one and nothing has changed. There will be some flat bonus techs of that sort available, however what they do will be a lot more dependent on factions and situations; one example would be a tech which just flatly increases the firing rate of Hapan Battledragons and Nova Cruisers based on the technology shared by the NR, or a flat speed boost to the EotH units based on their focus on mobility.
Most techs in Ascendancy, however, do not fit within this system. Instead they are meant to allow the player to customize how they play a faction and emphasize certain aspects of it, if they so choose. These are techs which you will not want to buy every game. Some examples of this kind of tech are the Imperial Strength in Numbers and Forced Production research subjects. These are part of a branch for the Empire which highlights the "expendable" way in which many Imperial leaders treated their forces. (Values are Tier 1/Tier 2/Tier 3)
Strength in Numbers:
Fleet upkeep costs decrease by
5/10/15
at the expense of
3/6/9%
hull regen.
Forced Production:
Ship build times decrease by
5/10/15%
at the expense of
3/6/9%
total HP.
...Trimming Branches...
These two techs are present in the same branch as the tech to unlock the Final Hour (ramming) ability for the ISD. As you can probably imagine, this will often mean some techs will have bonuses conflicting with each other. Ultimately, it's up to the player to decide which aspects and playstyle they want to emphasize within a faction, somewhat similar to a Company of Heroes-style discipline tree while maintaining a lot of the core aspects of a traditional tech tree. A downside to this is that the AI will not necessarily be able to interact with the system that well, however this doesn't put them at a significant disadvantage so much as put them in a constant middle ground within the faction, which isn't too terrible.
As with everything, this is all very much a work in progress, so we're going to refrain from posting any full tech trees until we're closer to finished, however hopefully this gives you an idea of the kind of system we're going for, both with emphasizing faction identity and in trying to create what we hope will be an engaging gameplay experience.
We know there are some diehard fans of every faction within our community (especially the Imperials on our forums) so more than ever we'd like to ask for the community's help in suggesting possible techs and developing the identities for the Remnant, New Republic and Empire of the Hand. So, if you have any ideas please feel free to post them on our forums. We have a specific thread for it which you can get to by clicking here. If you don't have an account, guests are still able to post; just please post under a consistent nickname or it can get confusing.