Hello again! We've been hard at work on this latest patch the past few weeks. We have optimized and fixed quite a lot of issues that have been reported to us. In next few weeks we have planned some special things for community members and map makers so stay tuned for that!
Please note: We have edited/renamed/moved and modified quite a lot of files such that we won't be having a patch but only the standalone download. Sorry for the inconvenience please be sure to delete the previous installation if you are manually installing the mod. Also please INSTALL THE HOTFIX BELOW or else your game will not work.
Help us win mod of the year!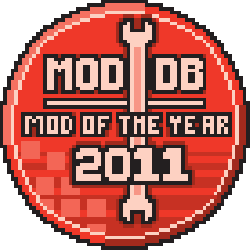 It doesn't end here! In ~10 days if nominated we will be within the top 100 games! From there we get the chance to be voted as mod of the year!
The real voting phase has started! Thank you all for nominating us! Now please help us and vote for the top 100!
Download Locations:
---
Hotfix 1.02b
Hotfix is required to go along with the above download. Please install hotfix after you have installed the 1.02 download.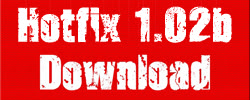 1.02 Change Log:
Code:
Objective glow outlines now display properly
Zombie pathfinding now uses nav meshes
cl_stickyironsight 1 bug fixed (this means you can fire while holding down your is key if ironsight mode is toggled)
Introduced new method of zombie spawning (more intelligent and gives more control to mappers)
The Sako 85 scope isn't as finicky now
Player collision reintroduced in response to accidental FF
Developers will now show up with (DEV) next to their name on the scoreboard in order to prevent players from imitating team members.
Tweaked stamina drain and regeneration rates
Max stamina is tied to player health
Shoving now costs more than what would regenerate in the cool down time
Players cannot throw props with the Use key (they'll just drop in place)
Fixed some crash issues
New graphical effect for Sako 85 Scope
Some network optimizations (still ongoing)
Fixed player list functionality in main menu
Sound:
Updated firearm sounds
Added new child zombie sounds
Added new runner zombie sounds
Added phalanx usage sound
Added maglite sound
Fixed bash sounds for pistols
Art:
Optimized textures and material
Added LODs to some zombie models
Added new child zombie model
Added flare gun ammo model
Maps:
nmo_broadway:
---
Updated spawn area
Tweaked ammo and weapon amounts
Removed the stair building objective and added a door key objective in its place
Optimization
Reduced number of gas tanks in fastex truck and made them non solid to players
Gun shop padlock workaround fixed
Fixed some areas where objective items can be thrown into out of reach places
Added color correction
nmo_cabin:
---
Updated spawn area
Tweaked ammo and weapon amounts
Added objective glows to the welder and the accompanying door that it's supposed to be used on
Readded planks to the cabin's front door
Fixed the boat not appearing in the boathouse
Fixed areas where objective items can be thrown into out of reach areas
Fixed area_portal error at the cabin's front door
Tweaked zombie amount in certain hallways
Added color correction
nmo_chinatown:
Tweaked ammo and weapon amounts
Slightly changed the path to the ladder button objective
---
1.02b Change Log:
Fixed broken objective on nmo_cabin
Game title should not show up as devbuild anymore
Fixed rifle's opaque scope
---
Misc Notes:
*As a temporary fix for if you start lagging in open areas, try changing the following console settings:
rate 60000
cl_cmdrate 30
cl_updaterate 30
Also we are aware of some issues with melee weapons and various other things. Thus we are still in beta and we ask for your patience
---