A long time ago in a galaxy far, far away...
The Empire has won a number of significant victories against the outlaw Rebel Alliance, crushing resistance wherever it has seen fit to raise its head. These opening battles of the Galactic Civil War have left the Rebellion's forces scattered and bruised, suffering heavy losses against seemingly insurmountable odds. Yet even after these severe blows to their cause, Rebel commanders are already regrouping, and redoubling their efforts to strike at the heart of the Imperial tyranny that threatens to leave the entire galaxy in darkness.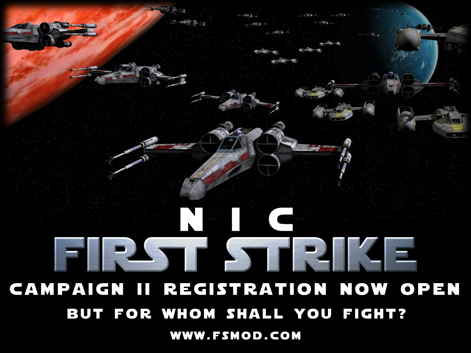 Finally the Nations In Conflict Second First Strike Campaign has arrived. With Leaders, Officers and admins selected, the full registration process can begin. Commencing immediately you will be able to register on Nations In Conflict's forums to be a new recruit for either the Imperial or Rebel factions. Once signed up you'll be eligible to participate in the first round of campaign battles which will commence on Sunday, October 9th.
If you want to experience First Strike as it was meant to be played then this is really the way to do it, you'll be under the command of First Strike veterans who'll show you the ropes and teach you valuable tactics which will lead you to victory. Teamwork and communication will be paramount. It will be the faction who works best together on the day who will succeed.
Register here today: Nations In Conflict First Strike Campaign 2 Registration
But for whom shall you fight?