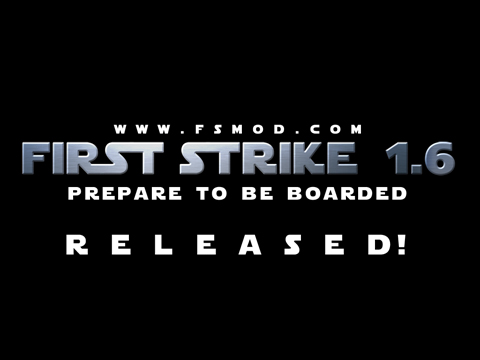 GREETINGS TROOPERS!
Well our first weekend with First Strike 1.6 is over, and it has been very successful indeed with a high volume of traffic on both our forums and ModDB, with the mod in fact becoming the No.1 most popular mod on ModDB over the weekend with our page peaking at well over 7 thousand hits at the high point. It is gratifying to see that all our hard work is appreciated.
Another thing we have noted from the feedback and comments over this weekend is that people who are not used to the mod are having issues getting the thing installed successfully. To help out with this FSDev Twigs has kindly gone to the effort of putting together a video to hopefully clear a few of these issues up and illustrate how simple the mod is to install.
In addition to this we will be looking at creating a full First Strike 1.6 installer which should be coming out at some point later this week. We hope this will also help people get into the mod easier and that this will translate into more players on-line. Also any clans out there or gaming community members, perhaps you could look at organizing an event night of some kind to help gather larger numbers of players together on-line at the same time, as that is when the mod can truly shine with high numbers of players in game for some epic battles.
Another thing we'd like to share with you today is this Livestream video from the opening weekend of First Strike 1.6, kindly put together by Bluedrake42 showing some healthy and much appreciated support for the mod. Even though it doesn't show a high volume of players it does show how fun to play the mod is, and showsTwigs being a bit of a demon player and stalking them all like the Predator. Also as these guys are new to the mod they're asking Twigs all the questions that new players might want answered, so it is quite informative as well as entertaining.
Once again thanks to Bluedrake42 for the support and the excellent video.
Lastly someone was asking whether there is a First Strike Facebook page, and the answer is. Yes there is, in fact there are two of them and here are the links below:
Until next time...
See you on the Battlefield Troopers!