Here it is! We did what we thought was impossible to do in a Generals game; create a cooperative mission for 2 people to play at once! This map is the first of its type for Contra, and will allow 2 players to battle alongside each other to complete an objective. Although this map is basic, it is because it was our first. This is only the beginning of co-op maps from Contra, so any/all bug reports or suggestions would be welcome. We have many other co-op maps planned for the future, ones such as "Armageddon" where 2 players are defending a Nuclear Storm from 2 other attacking players and "Siege" where 1-2 players must defend a tiered hill from the never-ending invading armies of 2-4 other players. The possibilities are endless, and this is only the beginning. So please, grab a friend, try out the map, and notify us of any/all bugs you notice.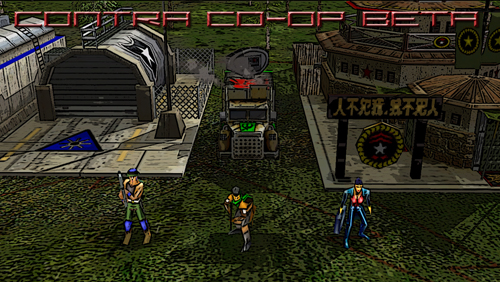 To install, simply extract the .ZIP file to your Maps folder (C:\----------\Documents\Command and Conquer Generals Zero Hour Data\Maps
1st player must be located in the bottom left corner
2nd player must be located in the bottom right corner
3rd player (AI) must be located in the top middle. He must also be a "Hard" difficulty.
You may chose ANY general you would like, and the map will adapt to the general you chose.
Have fun, and don't forget to comment any bugs or problems!