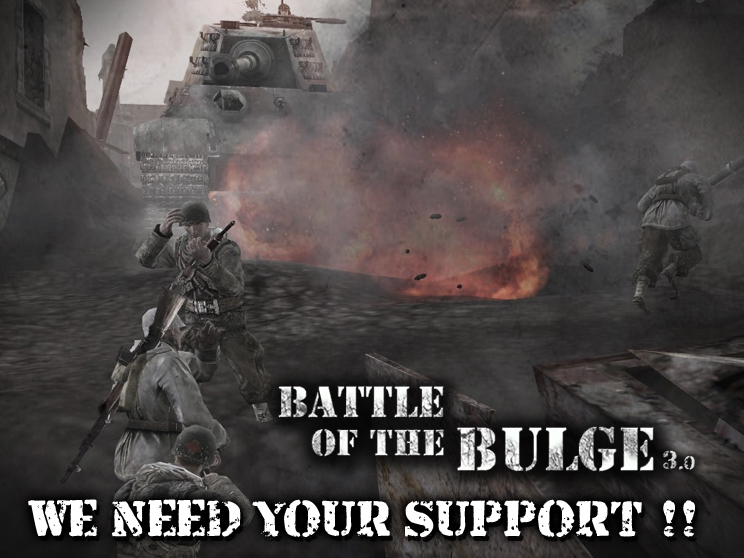 Good news everyone.
We have started to de-bug version 3.0, and most of the reported bugs have been fixed already.
To achieve the best result possible, we need your help.
Unfortunately our forum website is down because of yet unknown reasons.
Please report any bug you encounter in the mods forums section here on moddb.
Moddb.com
That would help us a lot and is much easier to handle for us.
Of course we cant promise to fix all bugs, but we will try our best.
We already fixed:
- victory points for german 5th Panzerarmy command tree
- Sturmpanzer IV gun damage
- projectile speed for US M18 Hellcat
- troops now can shoot out of the US Inf Doctrine Foxhole.
- US Infantry tree fast response upgrade
- "Grille" barrage text and missing "attack ground" command.
- "Sturmtiger" Rocket accuracy impproved
- wreck texture for "captured sherman"
- missing Panzerfaust upgrade on 6th PzArmy offmap SS-Panzergrenadier Squads
- overlapping abilities on Wespe and KG Peiper Kingtiger.

We are also searching for more translators!
Thanks to ptychu8, the next patch will also include a polish language version.
It would be awesome, if we had some more languages to add.
so if you are of either italian, russian, czech, japanese or korean origin, and want
to help us release a version in your mother language, please write me a pm
or apply here.