Today it has been 2 years since our mod has been released! And we are glad to see that people are still playing our mod and interested in our future projects. The fact that Paranoia have been downloaded more then 100 000 times is proving it.
Also we would like to present an exclusive DVD-cover designed by Red Slug. Grab it here!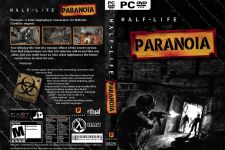 p.s. Fun stuff happens when people are trying to mod.
Thank you for your attention!
Cheers!