Freeplay Game Festival - 2010, Good Welcome Citizens
On the 14-15th of August those lucky enough to visit the Freeplay Independent Games Festival in Australia, Melbourne. Got the first public hands-on of Tiberian Sun Rising multilayer, the event was a blast! we got some fantastic feedback and some very interesting match's where played. So we took on board what we learned from watching people play to make TS:Rising even better! but the key thing we took back from the people who played TSR. Was that it was fun! it was a two-day event and we had people coming back from the first day to play more. Which I was delighted to witness, I David "Assassin" Thompson (Game Designer/Producer on TSRising) was on-site at the event. Here are some photo's from Freeplay! 2010, if you were there dont be a stranger and post in some comments here on our ModDb! This is probably our single largest update to date so please enjoy!
One Vision, One Purpose. David? - Interview
The crew over at MakingStuffIsFun.com took some time to interview me regarding Tiberian Sun Rising, which covers our origins and how we got to where we are today an informative interview for those curious about the people behind Tiberian Sun Rising!
The Tiberian Sun has Risen!
Next up, we get a good look at the Snow Camouflage of the GDI, and also how the Brotherhood of Nod will appear on the Snow maps in TS:Rising. The Temple of Nod modelled by Halfie and textured by Xiras also makes an appearance. We got some new PostFX you may notice giving our maps a more environmental look (thankyou Asuka) and for the maps I thank General Aurum. Theres a number of new additions/changes shown in this update I haven't mentioned see if you can figure out what they are :).
The Technology of Peace!
Lastly concept art has become a regular thing here at TS:Rising and as a big fan of concept art I present to you the Nod Subterranean Mobile Construction Vehicle! Concepted by Drift you may have seen earlier versions of this vehicle before this is the final result.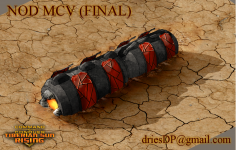 Thankyou!
I'd also like to thank our Australian wing of TS:Rising Joshua, Luke, Jamie and Mark who appeared at the event and were on hand to help run the TS Rising stand thankyou guys! made the weekend alot easier. I'd also like to give a shout out to Golan and Asuka from the German wing of the TSRising team for joining me in some very late nights working on TS:Rising leading up to the event. And of course a big thank you to every single member of the TS:Rising team for their hard work and commitment leading up to Freeplay and beyond. I'd also like to give a special thankyou to Paul Callaghan and team at Freeplay for organising such a fantastic event and allowing us to partake in it. Lastly thanks the fans for sticking around and supporting TS Rising throughout its long development cycle up to this point we've reached significant milestone.