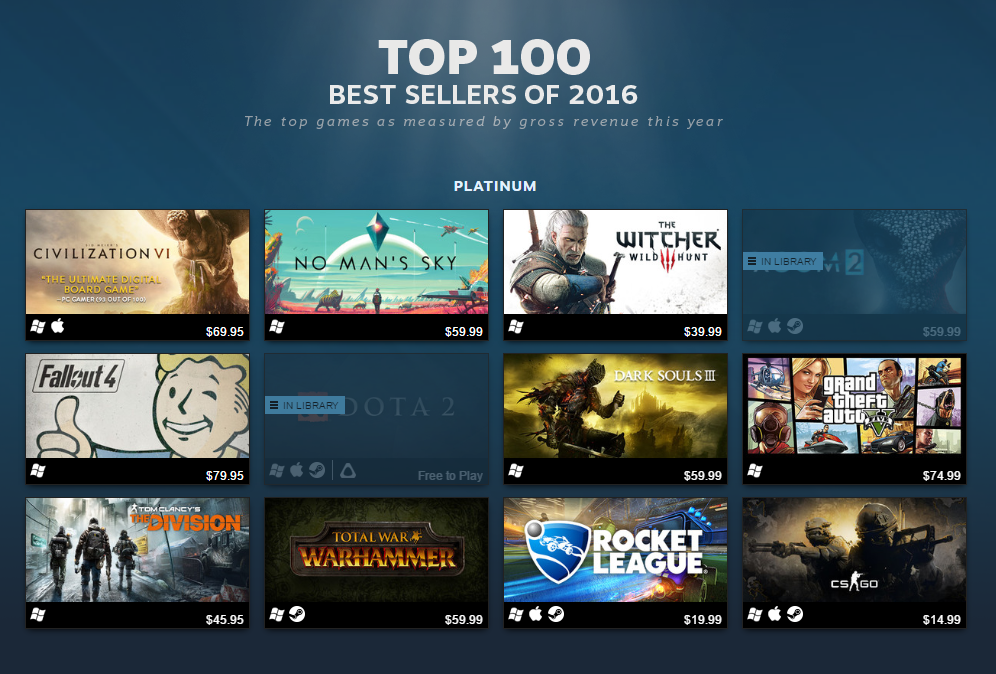 As its huge Winter Sale comes to an end, Steam has revealed the Top 100 best-selling games of 2016 on the digital distribution platform. The games are ranked by gross revenue generated, and divided into four tiers: platinum, gold, silver, and bronze.
What's noticeable is the strong distribution of indie games across all tiers, including the top platinum tier. While big-budget triple-A titles like Fallout 4, Dark Souls III, and Grand Theft Auto V are included in the tier, so too are indie titles like Rocket League and No Man's Sky. The latter is most surprising, given its critical reception.

Moving down to the gold tier, more surprise indie hits can be found. Dead by Daylight and Stardew Valley have found a prominent audience, and sit alongside shooters such as Doom, Rainbow Six: Siege, and Call of Duty: Black Ops III.
The silver tier sees popular Steam Early Access titles enter the mix, with the likes of Subnautica, Rust, and Planet Coaster. These unfinished games are butting heads with triple-A open world games like Watch Dogs 2, The Elder Scrolls V: Skyrim Special Edition, and Far Cry: Primal.

The final bronze tier sees the largest indie representation. 7 Days to Die, Garry's Mod, Factorio, Starbound, Darkest Dungeon, Terraria, Grim Dawn, RimWorld, Endless Legend, Firewatch, and Undertale are just a few of the notable indie games on the list. On the bronze triple-A side, the likes of Call of Duty: Infinite Warfare, Hitman, Mafia III, Just Cause 3, and Far Cry 4 share the same status.
What this list shows is just how little barrier is left between indie and triple-A adoption – at least for PC gamers buying their games digitally. With more and more indie games releasing on Steam each year, it will be interesting to see how the ratio changes at the end of 2017, and what the year's surprise indie megahits will be.