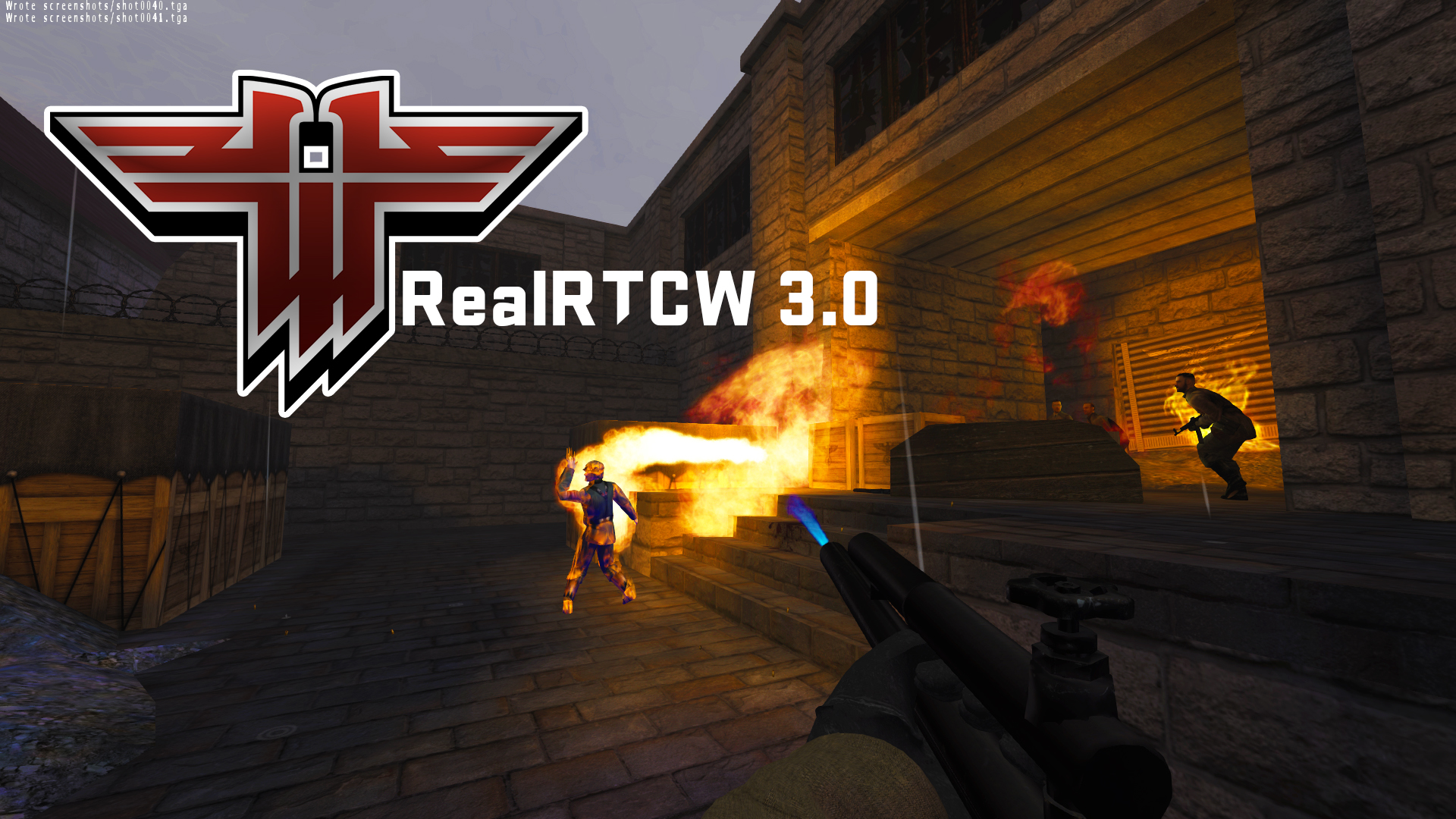 RealRTCW 3.0 (includes 2 HD packs and all addons):

Alternative download links:
Source code available at:
If you are willing to support the further mod development, I accept the donations via Paypal
How to install the mod?
Installation process is quite simple now, thanks to the new automated installer.Just follow the installer instructions and install the mod into your Return to Castle Wolfenstein directory. Just as it were working in the previous versions of the mod - you must own legit Return to Castle Wolfenstein copy to play the mod. If it crashes on startup, there might be something wrong with your RTCW installation - it is either not legit or broken.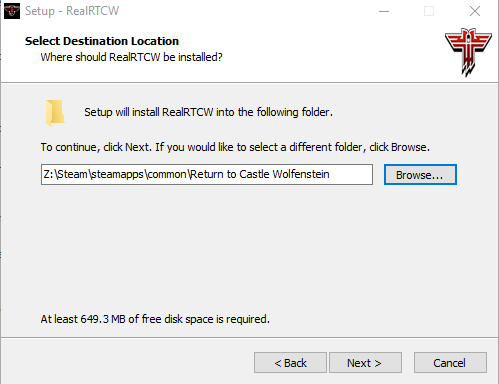 You can also choose between two different HD textures packs:
RTCWHQ pack - vanilla textures upscaled by AI. This is for those who prefer original style and atmosphere of the game.
Splatterladder RtCW HD Pack - an amazing pack with true HD textures made by WolfRTCW.
After that you can choose addons you want to be installed. You don't need to download each addon manually now.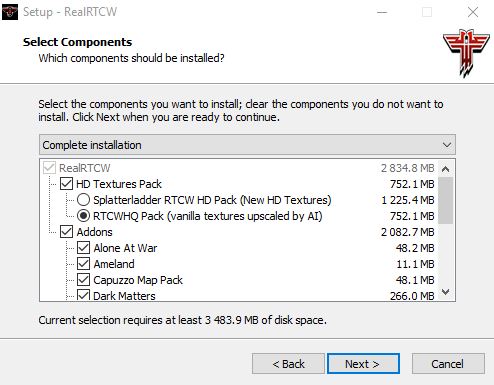 FAQ
Q: I was using RealRTCW 2.2 before, and it was working fine, but now my game is crashing on startup.
A: Delete RealRTCW folder in My documents. This will delete old .cfg file and saves.
Q:Can I install Venom Mod on RealRTCW?
A:You can but its not recommended. Mods are replacing the same content, so there probably gonna be some content overlap.
Q:RealRTCW compatible with RTCW Coop or RTCW MP?
A:No
Q:How to use cheats?
A:Open the console in usual way or by using SHIFT+ESC. Now you need to load the map of your choice in the dev mode. Type /spdevmap escape1 in console. This will load first map with activated cheats.
Q: Copy console log to clipboard error on startup?
A: That means your RTCW copy is not legit. pak0.pk3 failed to pass checksum. Use Steam, GOG or legit retail copy.
Q: pak0.pk3 is missing.
A: You installed it wrong. You probably installed it like "return to castle wolfenstein/return to castle wolfenstein". So the mod is installed in the separate directory. Copy all mod content in the root RTCW directory. It should be installed like this: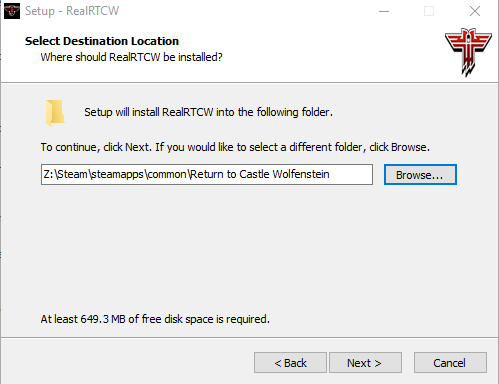 New high-poly weapons models. This is the major highlight of this update. Almost every weapon model aside from really rare ones (like tesla,venom and snooper) were replaced with the new high poly model. Most of the models were taken from Day of Infamy. So all credits are going to the New World Interactive.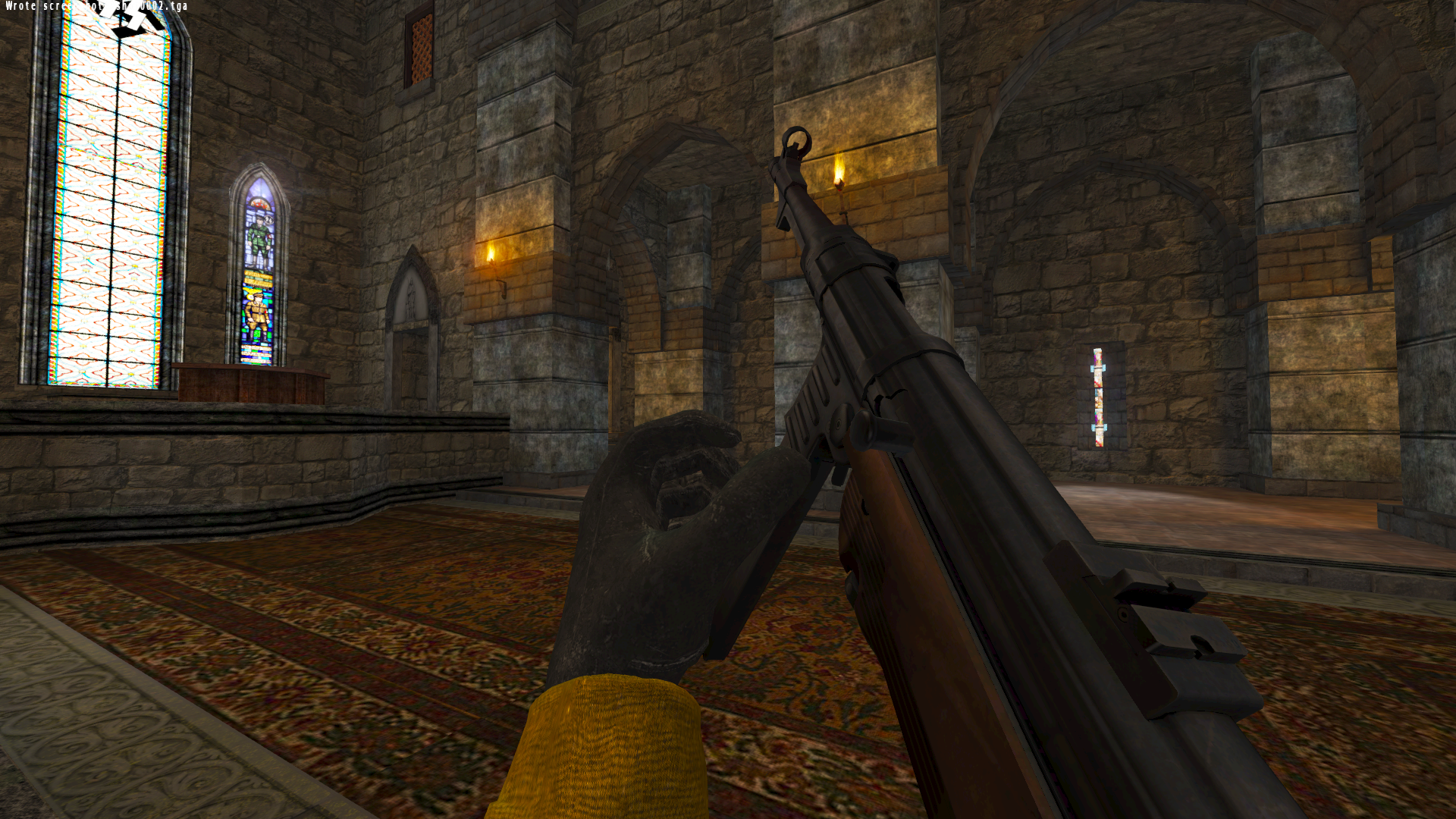 New high-poly BJ's hands models. I was working on porting the new weapon models, with the close thought of replacing hands as well. Because it would be bad kind of contrast to see high poly weapons in the low-poly hands. Thanks to the good friend of my - Maksim Gordeev, we were able to corectly pose the hands for each weapon in the game. It was tough but result is worth it.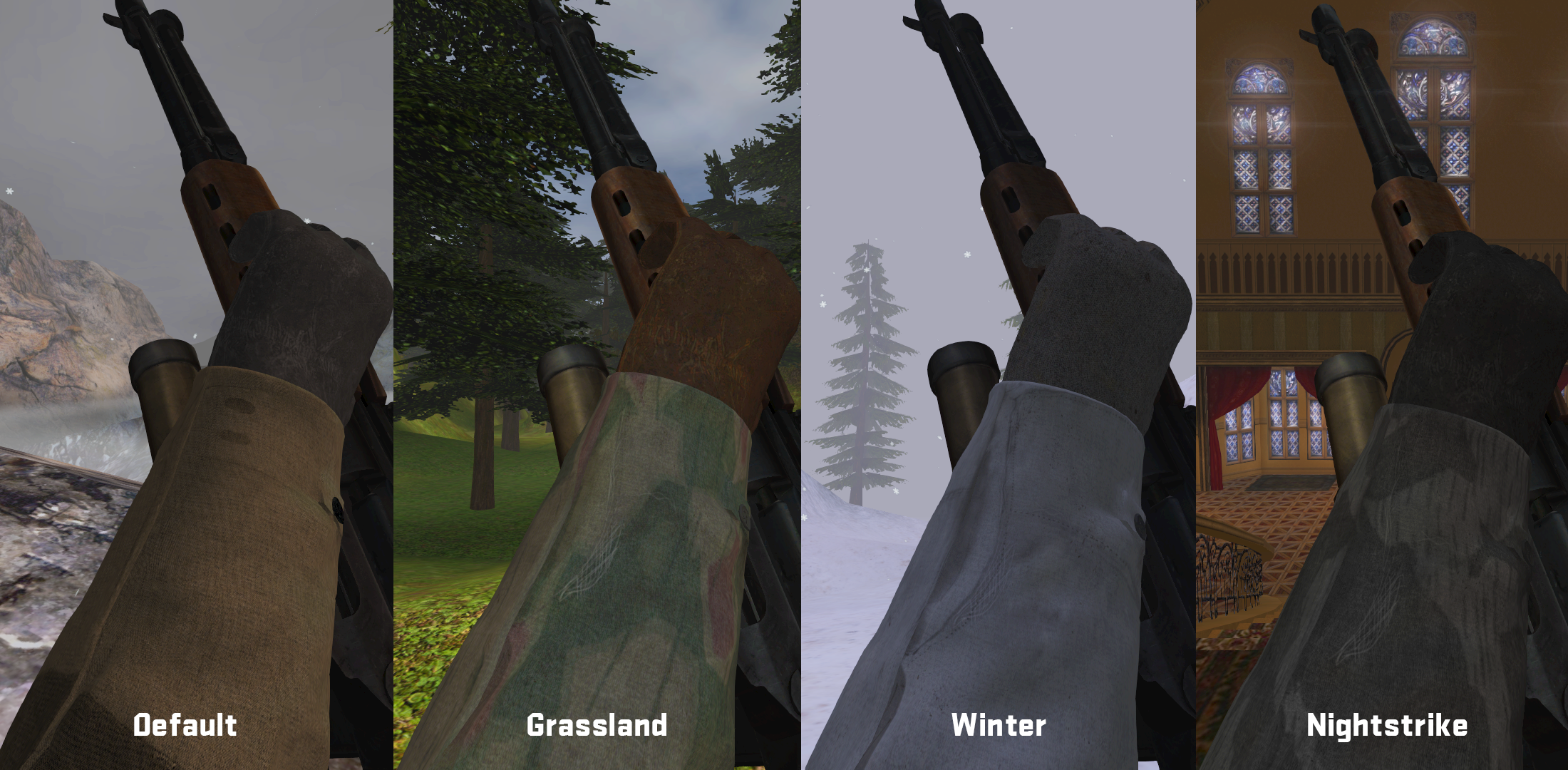 Atmospheric effects (rain & snow). Thanks to Berserker, who shared his code, we now have atmospheric effects support in RealRTCW. This is something the community been asking about since the release of 2.0. Atmospheric effects were successfully implemented in vanilla maps. Mappers and modders are free to use them in their maps\mods now.
Real recoil mechanic. This feature was ported from Enemy Territory code. In ET this mechanic applied only to pistols and Mobile MG42. In RealRTCW 3.0 this mechanic with some tuning and adjustments were apllied to all weapons. Its not something, that will ruin the game, recoil here is not something you could see in military simulators, it's pretty low, but still helps you to really feel your gun. It's not just recoilless piece of plastic anymore.
New difficulty level - Realism mode. I must say, I had bigger plans for this mode. But it ended up like Death Incarnate mode with no manual saves. There is only autosave on the start of every level. So if you die (and you probably will) go back to the start of the map. Also I lowered the player sprint value, and increased moving speed of some NPCs.
New holdable items - Adrenaline and Bandages. This items were created as something to compensate for 50 HP cap on Death Incarnate. Bandages acts as health pack you can carry with yourself. While adrenaline will overheal you to the 125 HP and provides additional stamina. Bandages can be found on any difficulty levels, while Adrenaline is something for higher difficulty levels.
New map - Training Day. The idea of the firing range level was haunting me since the release of RealRTCW 2.0. But I never got the time to create something worth a release. But now thanks to Yo$hik - a very talented mapper from Wolfmap.ru community, we have a Training Day map. Here you can freely test all the new and old weapons.
New addons. Yep, addons list were updated with Ameland, Dark Matters, Alone at War and Mages Skulls. Old addons were adapted for RealRTCW 3.0 as well. Now there are 13 custom addons for you to play.
RealRTCW updated to the current iortcw engine. All credits are going to MAN-AT-ARMS, creator of iortcw engine. Almost 2000 code files were changed. Oof.

In conclusion, I must say that this is probably my biggest release yet. It was an amazing joy to work on this one. And thanks to amazing RTCW and ET mod communities I was able to complete this journey. I said complete? Well, RealRTCW 3.0 were developed as a final release for this mod. I'm not sure if there are gonna be any new versions. But 3.0 defines almost everything what I wanted RTCW to be. There is nothing to add, and nothing to take from it. But, everything can change, I thought 2.2 are gonna be final release, and here I am.
Anyway, I want to thank you guys for all of your support and advices. And now...
Go ahead and RETURN TO CASTLE WOLFENSTEIN.
Enjoy!
-WolfETPlayer