Hi! How's going?

As you may know already, I'm still offline and under quarantine, so for the moment I can't keep you all updated about this mod as frequently as I would like.
That being said, i've worked the past months on a new Doosk update, which will feature zandronum/multiplayer compatibility.

This update was originally planned for early June, but it was delayed to late july. Both because of no internet service and some feedback i've got last minute, which was important to fix. (more info below)
So, allow me to make a quick list of some of the changes i've done for this mod:
* Dooskworld option added on main menu. Some parts of the menu were modified as well.
* Added custom bot's with chatfiles specially designed for this mod. Some of these bots are cameos.
Let's see if you recognise them all! =P
* Mod is now partially compatible with QCDE mappack.
* Singleplayer Game mutators were locked on multiplayer to prevent exploits.
* Added two exclusive multiplayer mutators: Supa sniper and Supa shotty. (Player spawns with instagib sniper rifle or supershotgun)
* Player now can select a particular song to be played endlessly.
* Barrels now have a random chance to explode upon monster impact.
* Heavily improved achievements medal scripts: You no longer have to wait 6 seconds to obtain all medals. The script can show several medals at once.
* Added an optional "Quake 3 Arena" announcer for multiplayer.
* Ripped dynamic casings from Dusk. It no longer uses placeholder sprites.
* Dusk-like blood rips added to the mod.
* Fastfire totem now can be stacked! You can fire up to 4x faster! (Double the double)
* Custom fonts were made for the mod. That way, fonts now looks akin to Dusk. (Made by Michaelis)
* Improved dusk movement mechanics and tweaked blistering heat scripts. (Made by Ivory Duke)
Plus, several bugfixes based on feedback given by people the past months:
* Blood no longer respawns while underwater, solving a great framerate drop on certain areas with deepwater sectors.
* Some hanging decorations are no longer solid. It was an oversight of mine when added an old version of nashgore to the mod.
* Added an experimental mutator to tweak the amount of damage weapons does to monsters. (singleplayer only)
* Added pistol pickup replacement for certain mappacks which used zdoom's pistol pickup.
* Added the Mighty sickles option to quick switch into sickles.
* Added a "single shotgun/ssg" switch button for those who are really that oldschool.
* Weapon switch priorities when run out of ammo were tweaked. Not it goes "Bullets/Shells/Rockets/Cell" instead of "Cells/Bullets/Shells/Rockets".
* Deleted a Titlemap leftover which prompted an error messages on later versions of gzdoom.
* As requested by a bunch of people, an alternate version of the mod will be uploaded with "only files", so you can freely drag these files directly into the sourceport or load it without batch files.

And more stuff...
So, this is the list of some of the changes dooskworld update will feature.
Then, what? Is the mod done after that? Nope, there's more things to come later...
This is the current plan: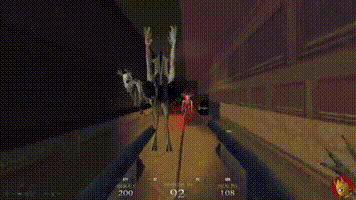 For v0.9, There's a monster pack planned for the mod.
Dusk SDK has just released some monster models, so I'm planning on working with those models and rip them for the mod, right after dooskworld update is released.
Currently, I've only worked on the wendigo and the rat, for experimental purposes.
There's not an estimated release date for that update, as I haven't even started working on monsters yet and not all models were released properly yet.
I want to find a way to let players select between normal Doom or new Doosk monsters, but don't know how to do that yet. I know qcde and d4t does that, so I know it's doable on old sourceports.
The monsters rips will be sprites only, but there's a minor chance it might include actual models converted into md3. That way players would had the option to choose between sprites and models.
This last part is not confirmed yet. Sprites is a must. Models are a perhaps.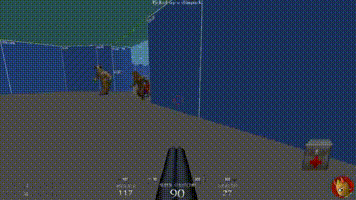 And for v1.0, I'm planning a mappack with at least one episode with 5 maps (eventually I would add more episodes/maps, or find some people to make better maps than me)
I'm not that good at making highly detailed looking maps, but I guess that would kinda help to preserve/achieve the classic 90's maps aestethics i'm looking for.
If you want to contribute to the mapping project, feel free to sent me a message and I might sent you the texture pack, so you can start work early on the project.
I'm aiming for something simple, so I'm NOT expecting level of details like "elementalism" or "hunter's moon", which should help the speed of the mapping and take away some pressure from the mapper themselves.
Then, after 1.0, I imagine the mod would enter manteinance mode. Solving whatever bugfixes i've got reported, adding more maps, perhaps adding more monster themes if i'm in the mood to do so, like wrath and quake 1?
Idk, future is uncertain, so everything after V1.0 is subject to change.
Current plans are making monster rips and add some custom maps for the mod. Then, who knows?
That's everything for now, but before I go, I would like to thank you all, for playing the mod, spreading the word about it and giving me some vital feedback, which was really helpful to improve the project and making the mod even better than it is now.

I don't know if i'll ever get any cacoward for any of my projects, but at least, I can say, I've tried to do my damn best on it, glad to see the project evolved so much in the past months, I must say, I didn't though the mod was going to reach this level of quality in such short timespan.
Also, cool thanks to Michaelis and Ivory duke for additional code improvements done to the mod. And thanks to NewBlood for being cool with the mod. I doubt the mod would had reached this far without Ivory, Michaelis and NewBlood support.
That's it for now. Enjoy the mod as much as I've enjoyed making it, AlphaEnt2.
PS1: If you like Doosk, then you might enjoy some of my other projects, go check my other stuff =P
PS2: Remember to check out these optional 360p and 720p sprites, to enhance the way weapons look =P