Happy birthday too you, happy birthday too you, happy birthday Deus Ex the best game of our generation that is a perfect mix of RPG and FPS, happy birthday too you. 10 cheers for our birthday boy!
HIP HIP!!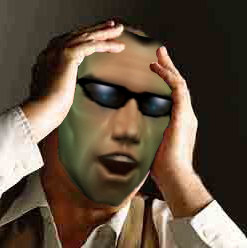 Birthday Surprise
Ok you get it now, Deus Ex is now 10 years old and its still one of the best PC games ever made. I bet right now someone out there who is reading this is re-installing it. That is what normally happens when you think of good old Deus Ex, the memories come back, wearing sunglass at night time, sneaking around, stealing stuff. Oh boy.
But age is something that can sometimes cripple games, and in the case of Deus Ex it is still going strong save a few nagging errors due to modern day hardware. So to help with the inevitable re-installation of your and my favorite game here is a list of recommend mods in no real particular order.
Custom Launcher
Coding.hanfling.de
This is a much needed fix for the game, if you are like me and have more then one CPU slugging it out in your PC this will fix the game so your not running it 4 times faster then it should be. Simple yet it works.
Modern Day Graphical Updates
In DX9 and DX10 flavors
You may have your great PC yet Deus Ex will still look like giant cubes flying towards you, oh my how you have aged Deus Ex. Not to fear there are some great fixes out there that are not really made for Deus Ex but for Unreal Tournament that will work fine for both.
Multiplayer Bots
Moddb.com
Who needs friends right? Since I have never personally played Deus Ex for the multiplayer I am sure there are a few of you in the same boat as me, bots seem like a good way to play considering finding a live match nowadays might be hard to do.
Mods
Hell if you have played Deus Ex to death like some of us might have already, it could be time to look at Total Conversions and Mods. Here are a few I think are well worth your time.
The Nameless Mod Moddb.com
Do you like fun? You should play this TC at leased once in your life it was good enough to grab the Best Singleplayer Mod of 2009 as chosen by the ModDB staff and 8th place in the MOTY award as chosen by our community. If you need to read more check out my preview.
Hardcore DX Moddb.com
The name implies it all, a user created hardcore modification for the vanilla Deus Ex that should make the game that much harder.
Redsun 2020 Moddb.com
A new singleplayer experience that follows the trend set by the original with multiple ways of completing objectives.
These where just a few of the many mods out there but it should get you started on Deus Ex again. You can also have a look at this thread made over at the Offtopic Production forum which will give you guys a few more user made experiences to help celebrate this day.
Happy gaming!