After the release of Ali's Brutal Doom v0.7, I started a private discord server with hopes in getting quality feedback on the mod and it is safe to say that many enhancements have been made.
---
The major changes to the mod include adding many new options to the pause menu, removing difficulties below Ultra-Violence, and solving 3 awful glitches that have plagued the mod since January 28th, 2018. Those glitches included getting crushed by doors, invulnerable monster states, and the absence of armor on lower difficulties.
The new options include more specific performance options (disabling flares, smoke, and tracing projectiles), novice difficulty adjustments (slower enemy soldiers/imps), and aesthetic options (disabling screen-flashes). The reasons for removing the lower difficulties include the pointlessness of them existing in this mod and the presence of the new difficulty options rendered them obsolete. Now, the main difference between Ultra-Violence and Brutalized Brutality is the speed of enemy projectiles and enemy health.
---
The item shop has totally been improved too. New controls allow for selecting previous and next items (before, the player could only right click to go to the next item), grenades were finally added to the shop and the overall look and feel of the shop is superior.
Some minor changes include sprite enhancements, adding tertiary fire to the rocket launcher, and adding a quick-fire to the revenant launchers (so that they can be used with another weapon).
To conclude, I'm excited to finally announce a release date for the mod: June 28, 2019.
These are a few new sprites:




---
This is the new item store: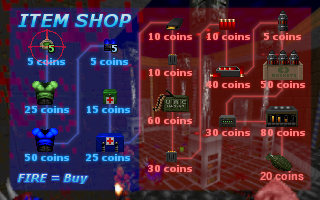 Here is the Trailer showing what it looks like so far:
---
Testing team: Moa_Dixon™, olzhas1one, StormyBlue3044, Angelloproduct, The Dual Pistol Main, KGB Agent Phillip, Your local drug dealer, RichardoTomislav, TootsyBowl, Derek The Blue-White Squirrel, A Fucking Cheshire Cat...