RealRTCW version reveal - remastered territory
Today, we might celebrate the 18th anniversary of Wolfenstein: Enemy Territory, but later this year, we will be celebrating another, very symbolic one: the 20th anniversary of Return To Castle Wolfenstein! The game has come a long way since its release on November 19, 2001, and RealRTCW is probably the best example of that. That's why I absolutely wanted this year's update to feature the RealRTCW version of the mod. For those who might not know, RealRTCW is THE remaster of the original Return To Castle Wolfenstein, granted with better graphics and new features, some of those powered by the much-popular iortcw. It became an even bigger phenomenon when it was released on Steam, last year. For two years, I've never ceased to confirm that Wolfenstein: Enemy Territory Single-Player would be coming to RealRTCW, albeit later than the vanilla version. Well, not only is this time to finally remove the lid on that much-awaited iteration, but I can also confirm that this version will not be released later than the vanilla version of the mod, but at the same time! It will improve on almost all aspects of the experience you might have with the vanilla version. Anyways, take a look at the thing in action. Please enjoy!
---
Release date announcement and explanation
As you might have discovered in the showcase above, the release date has finally been revealed. Wolfenstein: Enemy Territory Single-Player will be released on November 19, 2021 on Mod DB, and November 30, 2021 on Steam. If the first date sounds familiar, it's because it's happening exactly 20 years after Return To Castle Wolfenstein's release date, which I mentioned previously.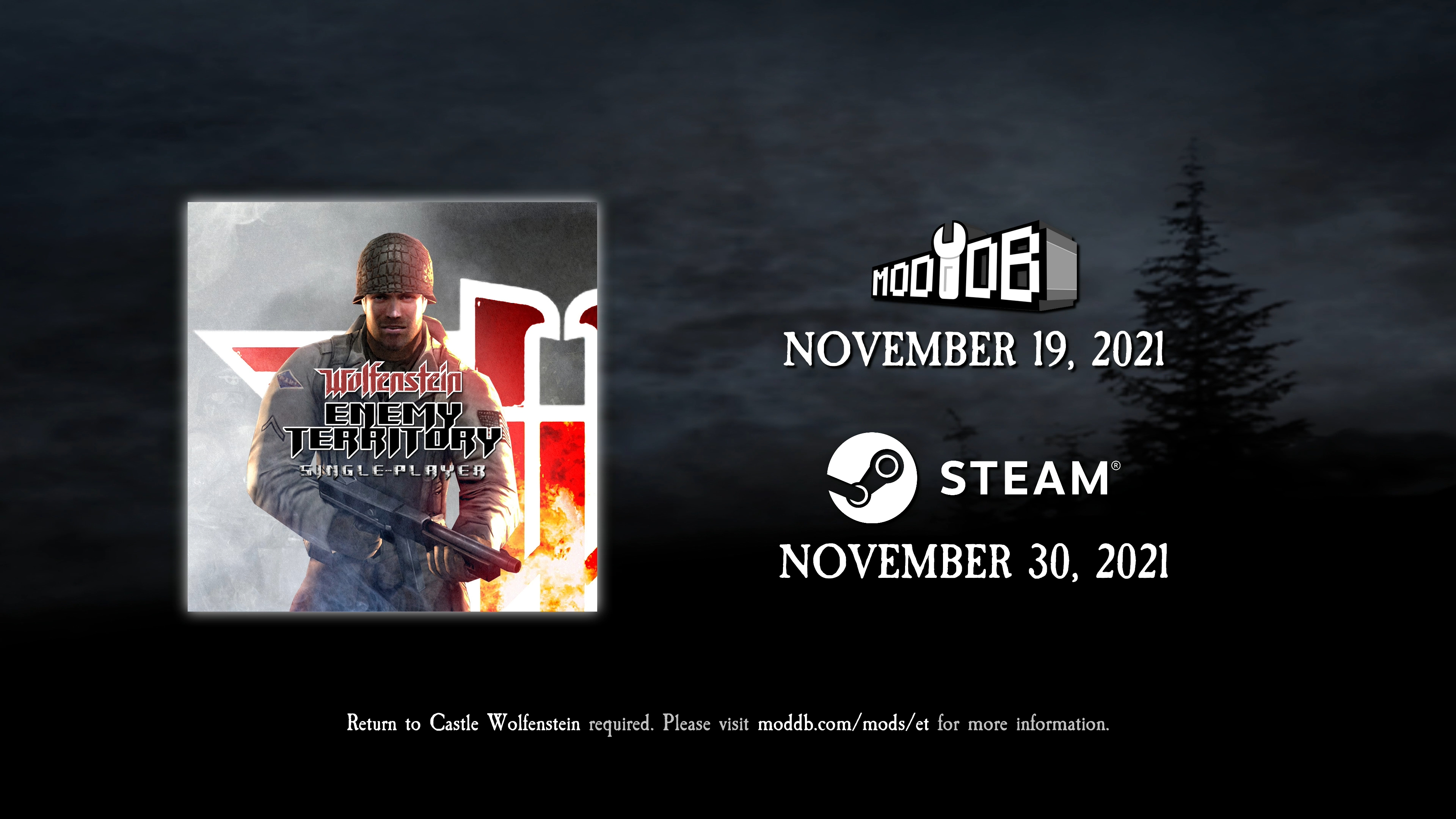 Those who have solved the sort of enigmatic teaser image, which I posted on social networks prior to the livestream, might have already known about it. On said teaser image you could read "Lunar Saros 126", which refers to a series of lunar eclipses in astronomy that occur at the moon's ascending node each 18 years 11 and 1/3 days (almost Wolfenstein: Enemy Territory's age). The latest eclipse of this series, Member 44, happened in 2003 (Wolfenstein: Enemy Territory's release year). The next one, Member 45, is happening on November 19, 2021 (20th anniversary of Return To Castle Wolfenstein; release date of Wolfenstein: Enemy Territory Single-Player).
---
Compatibility details - a multi-platform experience
Along with the release date, more information regarding the supported platforms has been shared. Wolfenstein: Enemy Territory Single-Player will be compatible with: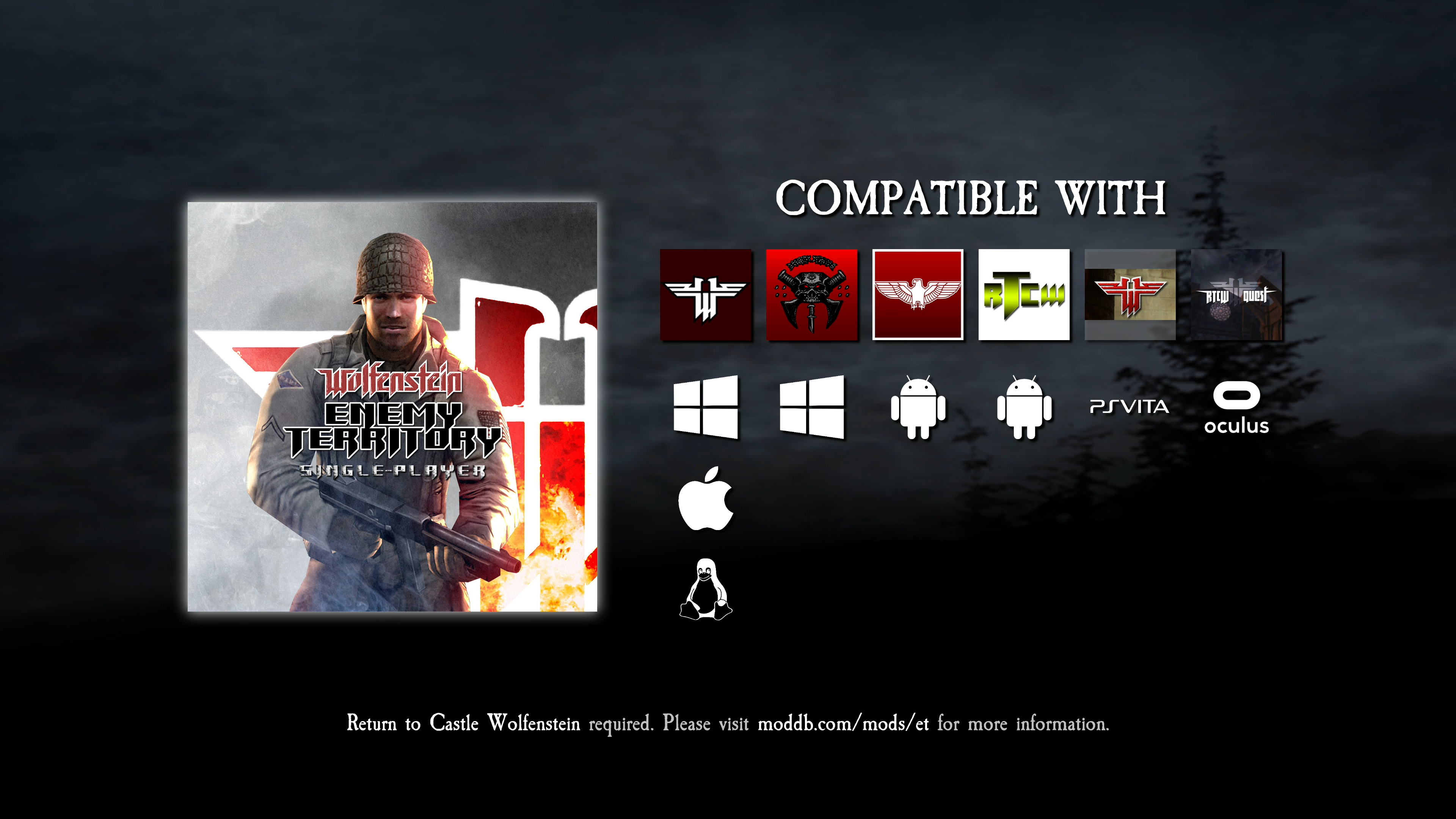 ---
One mod, one package for all compatible ports
Only one package of Wolfenstein: Enemy Territory Single-Player will be released for download, and it will be working with all compatible ports. How's this possible? Well, from the very start, this mod was built with multi-compatibility in mind. That's why I've set some items in the maps, events in the scripts, options in the interface... to be displayed only if specific variables of any port on which the mod is running on are detected. For example, if you run the mod on the vanilla Return To Castle Wolfenstein game, all iortcw and RealRTCW settings will just be grayed out. The same "one mod, one package" multi-compatibility will apply to addons, which I will talk about below. But before I do, just so you know, note that RealRTCW will require a small additional file to run the mod - or any addon for the mod - in the best conditions. Hopefully, said file will be included along any mod/addon package in a folder called "RealRTCW additional file(s)", and all you'll need to do is move it into the mod folder. But I guess it's too early to talk about this anyways.
---
Addons announcement
Yes, Wolfenstein: Enemy Territory Single-Player will have addons. I have plans for this mod lasting way beyond its initial release. Not only is it going to receive a proper coop treatment (Wolfenstein: Enemy Territory Cooperative), but I plan to convert more maps (among the sea of available custom maps, with permission of the authors), and expand the adventure in a variety of ways. And it will even have addons at launch. These won't be maps though - since it's way too early for me to even be able to work on converting one - but rather texture packs, sound packs, etc... some of which were initially released for Wolfenstein: Enemy Territory. Let me show you some of these.
More addons might be worked upon and released, that's for sure. And I will be listening to any suggestion, so if you have an intelligent idea, feel free to hit me up.
---
Voiceover auditions starting next month
It's an important stage of the development, and it will fully start next month. As you might have noticed in the latest gameplay footage of the mod, Karl Villigut, a returning character of Return To Castle Wolfenstein, is among the allies you can recruit and fight along at some point, besides your squad. And any ally in this mod can talk, informing the player of what's happening or what to do, as the story progresses. Cody Fleming has just recently reprised his role as Villigut from The Dark Army: Uprising (another mod of mine), prior to the recording of the latest gameplay, so I could feature at least one voiced companion in the presentation, so you could in turn see how voiced companions can really change the atmosphere of the action.
And as such, starting next month, voiceover auditions will be open to anyone. Provided you have high-quality equipment, and think you possess (or can emulate) the voice/tone I seek for the character that you're auditioning for, just go ahead. I'm not hard to convince - after all, we are talking about what would basically be an unpaid job. The mod is free, and no money is spent through the development whatsoever. So even if I'm seeking quality voices, just know that I won't be asking for more than what a volunteer can (or is willing to) do.
---
Patreon - become my patron, starting now
As I said above, my works are free. Yet, some of you have been kind enough to donate some money to me via PayPal. Thank-you. That really means a lot. Now, I wish I could return the favor - that's why I'm opening a Patreon, and as such, it comes with benefits for any donator. Nothing too pricy. Each of the three available tiers is below 5.00 EUR, and you can get some privileges here and there, such as early access to full versions, demos... and exclusive Discord roles and channel access.
---
Wolfenstein: Enemy Territory Single-Player is coming November 19, 2021 on Mod DB, and November 30, 2021 on Steam, for Return to Castle Wolfenstein/iortcw (Windows, Mac and Linux), RealRTCW (Windows), RTCW4A/RTCW-Touch (Android), vitaRTCW (PlayStation Vita) and RTCWQuest (VR).
---