For the past eight years ModDB has celebrated modding culture in style with the always popular Mod of the Year Awards. Developers, gamers and enthusiasts come together to vote of their favorite mods and indie games, giving something back to the developers who created the experience they enjoyed so much. ModDB, with its heavy focus on community leaves it in your hands to select the winners, and for the past 7 years you have not disappointed with some great titles taking out the grand prize.
With the latest spot in the Hall of Fame and a couple of prizes up for grabs, mod and indie game developers have a lot to compete for. This year the MOTY awards will follow a similar pattern to the very successful 2008 event with 5000+ candidates being widdled down to the final few over the course of 30 days (15 days for phase 1 and 2). To help you get your project noticed, we have put together some promotional tools which you are free to post on your website, as you encourage your fans to vote.
Whether you're new to the community or a long time member, voting for your top choices of the year is easy. Both members and non-members of ModDB can vote by navigating to a mod or indie game's profile and clicking the vote button located just underneath the summary section (see below). Member votes are more valued so be sure to register if you want your voice to be heard! While you're at it, have a look at some of the other mods on the site, there's an endless amount of free entertainment to be had on a variety of game engines, platforms and genres.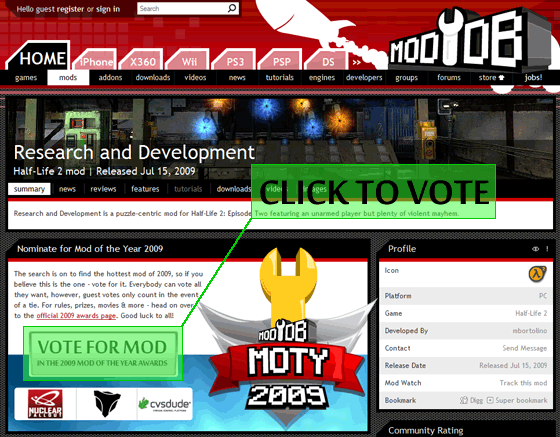 From all the staff here at ModDB, we wish all entrants the best of luck and thank you for creating new gameplay experiences that entertain gamers all over the world. For full details on voting and contest rules, check out the 2009 Mod of the Year profile. Keep on modding!