The long-awaited singleplayer update is finally here! Not only does it include the Toxic Diversion campaign from 1.11, it also includes 4 completely new single player missions for you to enjoy. Let me detail all the singleplayer content along with their difficulty levels, included with this update for DTA:
GDI Campaign: The Toxic Diversion - The same well-received 4-mission campaign with 4 different ending missions as it used to be in DTA 1.11, with some bugfixes and small improvements. Which ending mission you get depends on your actions in the first 3 missions of the campaign. The first 3 missions are more or less easy, but be ready for a challenge in the last mission.
GDI Mission: Under Siege II - Free your base from Nod's siege, get some tiberium and drive over Nod with Mammoth tanks. A remake of Nod: Under Siege from Tiberian Dawn. A fairly slow-paced and relaxing mission, but you need to be decent at micromanaging. This mission was also included in DTA 1.11.
Nod Mission: Reunification - Break through GDI's encirclement with your fleet and reunify it with the rest of Nod's forces. The easiest mission of the set. Anyone should be able to beat this and have fun with some attempt.
Nod Mission: Eradicating the Red - Eliminate a massive Soviet production facility as Nod after cutting off the Reds' support from GDI. An extremely difficult, long and epic mission. Think you're one of the better C&C players in the world? You can prove your skills by beating this mission, even on lower difficulties. For those who want to beat it on Hard: good luck, suckers!
Soviet Mission: Red Paradise - Take control of a Soviet base after freeing it from Allies' siege and destroy an Allied base. Scales very well with the difficulty slider; if you pick Easy, the mission is fairly easy, and if you pick Hard, the mission will give you a challenge.
Allied Mission: Desperate Grip - Defend your base against Nod until reinforcements arrive. Not a hard mission, although players who can't perform many actions per minute might need to lower the game speed.
Note that our difficulty scale is generally higher than Tiberian Sun's. When the TS Hard AI could've attacked you with 4 minigunners, in DTA you should expect 20 minigunners.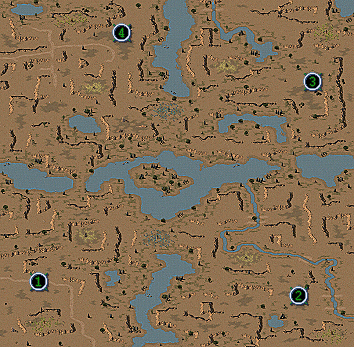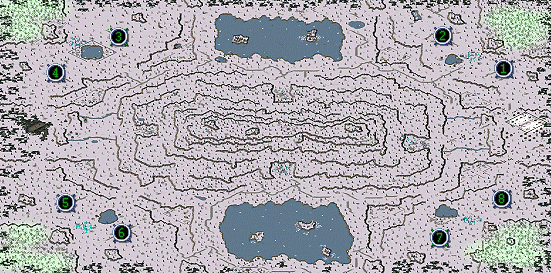 This update also includes a lot of other changes in addition to the single player missions. A lot of bugs have been squished and balance improvements and additions made. Some highlights:
Two new maps, Hectic Oasis and Alpine Assault (both shown above), have been added.
The V2 is now better balanced, with a higher cost and a higher minimum range.
Ship combat has been improved; Cruisers and Sea Shadows are now much weaker against other ships.
The AI now fires nuclear missiles again.
Custom maps are now supported. Place them into Maps\Custom\ and you'll find them under the Custom game mode.
The CnCNet lobby is now far more reliable.
The Renderer option has been added, along with TS-DDRAW which drastically improves performance for Windows 8 users.
To see the full changelog, head on to our changelog page.
Last but not least, don't forget to update your shortcuts! With this update, we've renamed DTA_Launcher.exe to DTA.exe. Once again, we're sorry for any trouble this might cause to you.
Either let the launcher automatically update DTA to the latest version or grab the files from the download page so you can enjoy getting your units and bases blown to pieces in the new singleplayer missions and in improved skirmish/online games!