Version 4 of TemplarGFX's ACM Overhaul is here! V4 has had an earlier release than planned so that the new installer can be used by everyone to fix their installation problems!
Jonny Thunder has continued to work on the installer to add several key features. It now checks for and removes read-only config files from the My Documents folder before attempting to replacing them. This should fix the installation problems people were having! Not only that, but there are now multiple backup options and a progress bar so you can see how the install is going!
A new startup splash-screen by MattFiler looks great and helps to show that the mod is working, I have also moved the mod intro video by MattFiler to be first when it starts. This stops Master Effects causing the Fox logo to stutter.
Before I get into listing the new features of version 4, here's the teaser for the new update!
So what's changed?
Xenomorph AI has had further balancing tweaks to reduce the difficulty more for the default setup. What was the "slower" setting before is now set as default, and was default before is now the "faster" setting. In more detail, speed and acceleration have been decreased while limits on surface changing have been reduced. They are slower, but more likely (again) to use walls/objects/ceilings to mix up their approach. This really helps to make them unpredictable in the way they attack you, instead of just running at you!
Soldier health has been lowered again so they are easier to kill with acid damage being tweaked to compensate! Some of the timings of things like switching from stalk to attack, or wait to stalk, along with reaction to being shot has been changed to help give you a better chance against them. If you deal a lot of damage to a xenomorph, it may pause for a moment giving you a chance to attack further. The soldier's instant-kill ability has also been further reduced.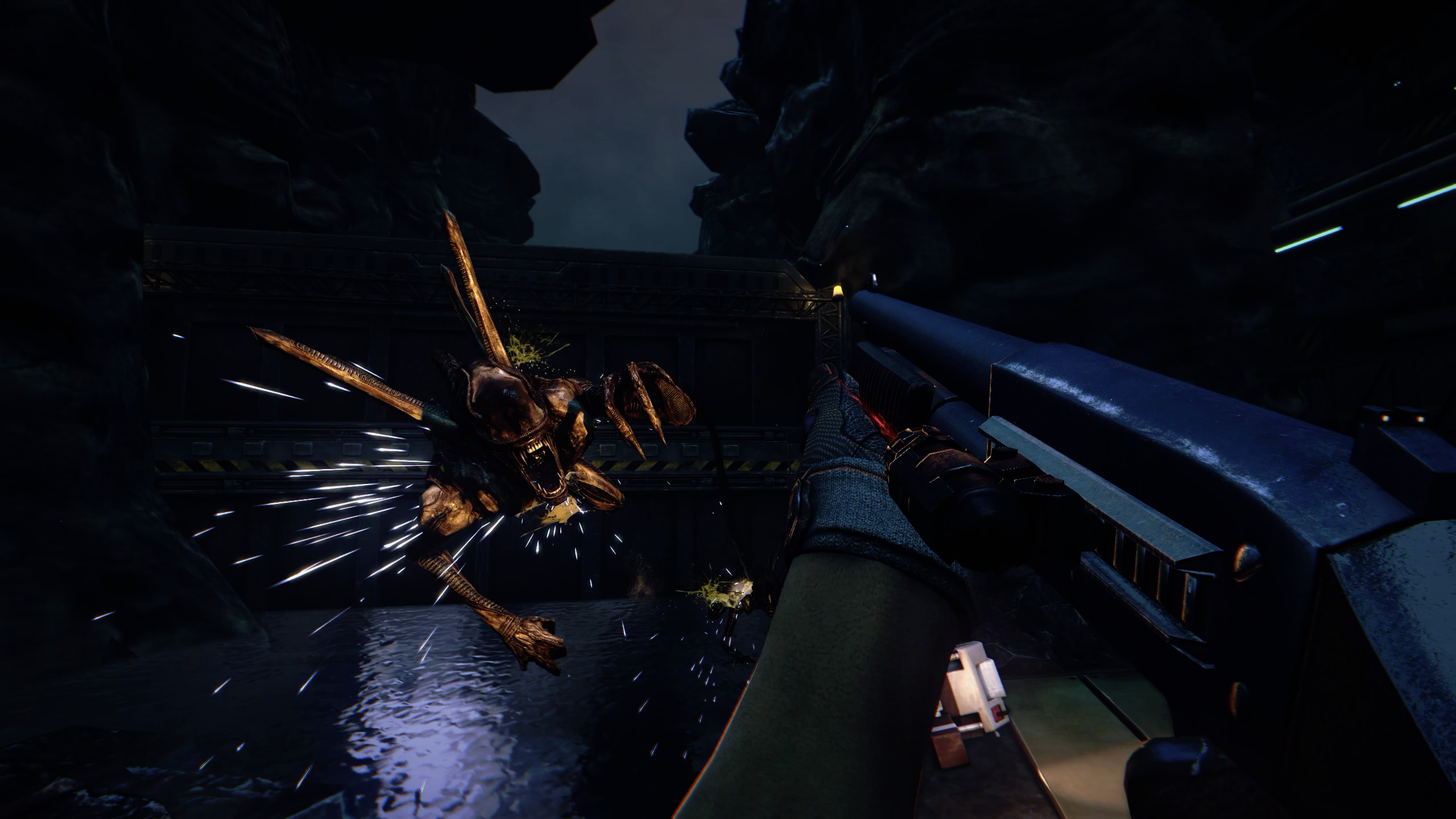 Facehugger encounters have been made easier. Its still hard to win (and its supposed to be) but it is possible! I'm still looking into balancing and tweaking the settings for this however so it may not be perfect yet. Leave your feedback in the comments!
Due to previous feedback from the community on the weapon balancing, another balance pass and a slight rework has been done. First and foremost is the focus on "legendary weapons" being truly "legendary" while keeping the regular weapons more balanced for MP play.
The Pulse Rifle begins its return to the game, but this is still heavily a work in progress however (its a complex process via hex). The intention is to make the MK2 more like 5.56 AR and Hudson's Classic a 7.62 AR. It is setup this way now. The MK2 is lighter and more precise, with less recoil but less damage. Hudson's Pulse Rifle is now full auto, and setup as it is in the movie. Its damage is boosted a little, along with its vertical recoil and the max ammo reduced to ensure you can't always use it.
The Combat and Auto shotgun damages have been reduced slightly so make them less OP. Hick's Shotgun now uses special 12 pellet ammo that does furious amounts of damage, but only has limited ammunition. All under-slung shotguns use this ammo too, but hold only 4 shots!
Smart Gun recoil and firing mechanics have been reworked, some of the blue tint from its HUD has also been removed. Now that you get it 5 times during the campaign, it really needs to be fun, but balanced!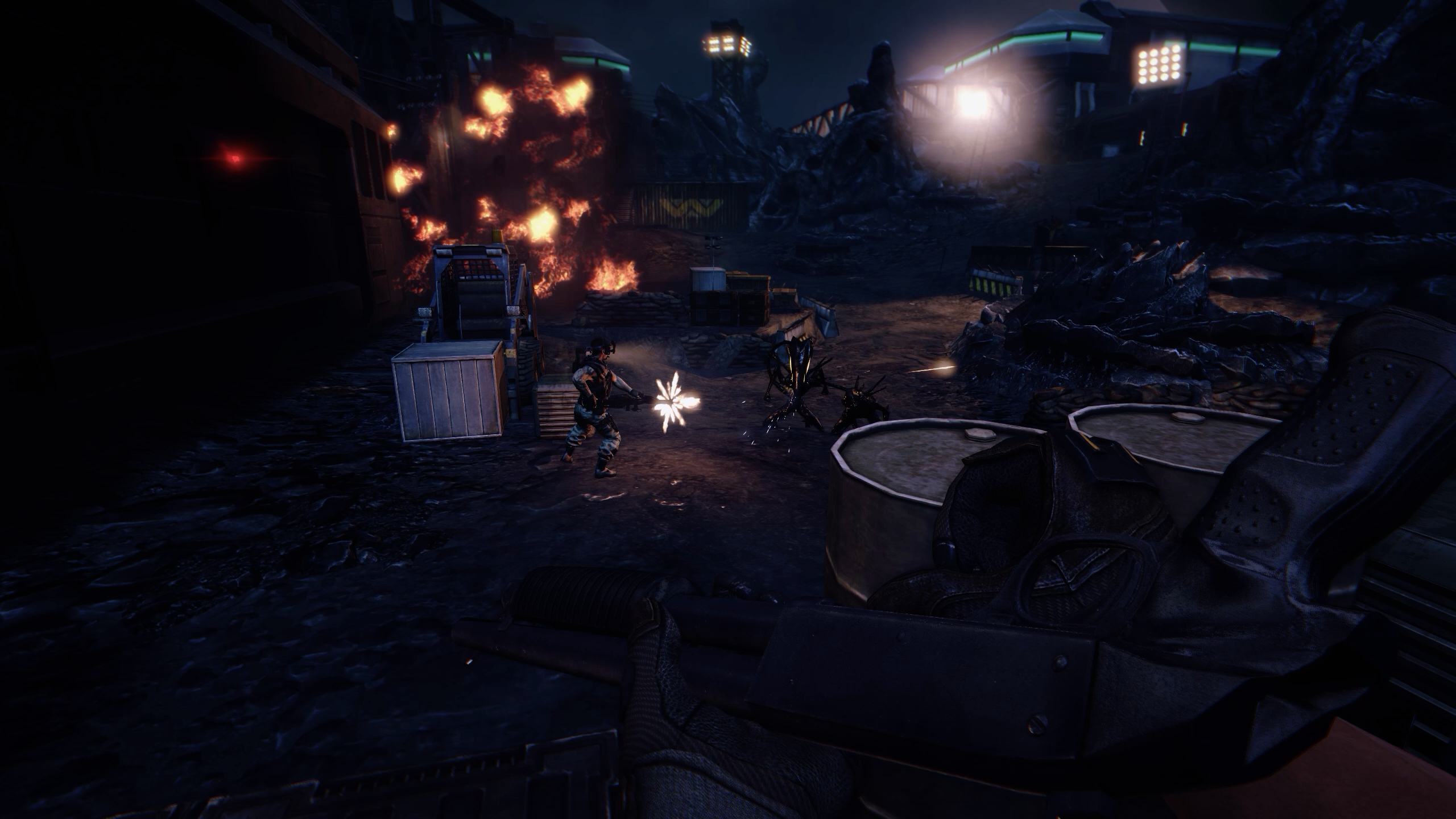 Fire and incendiary based ammunition has been made more lethal. This is also still a work in progress, but slowly getting better.
O'Neil's core setup and a few locations have had the smart-gun reconfigured to be more powerful. There are unfortunately about 20 versions of O'Neil in-game so getting them all will take a while. This should help with the swarm scenes as he is always there. Finally he will actually be of some use!
Hadley's Hope has had a bit of love. The atmosphere inside is so thick you could cut it! Custom object materials and shaders along with particle effects and cinematic effects have had the overhaul for the primary complex. The changes here span the entire Hadley's Hope section of the campaign, but only the first 2 missions are fully done! There's lots to do.
Master Effects (new performance settings, more reliance on game engine)
NOW DEFAULTS OFF! - Press F7 to enable or disable your choice in game!.
Ultra Quality.... : SMAA, SSGI (Max Quality), DOF (Max Quality)
High Quality..... : SMAA, SSGI (High Quality), DOF (Max Quality)
Medium Quality. : SMAA, SSGI (Low Quality), DOF (High Quality)
Low Quality...... : SSGI (Low Quality), DOF (Medium Quality)
Lowest Quality.. : DOF (Medium Quality)

SMAA - Sub-Pixel Morphological Anti-Aliasing is an advanced AA technique that uses distance to improve quality and performance of AA on complex scenes.
SSGI - Screen Space Global Illumination is the simulation of light bouncing off surfaces to light things nearby. Adds incredible depth to the entire game. HIGHLY recommended!
DOF - Depth of Field is a constant effect that blurs near or far object according to what you are aiming at.
I highly recommend you play on at least the 'low' setting. SSGI really really adds to this dark game and these settings are quite cheap on system resources. I use 'medium' and play at 1366x768 instead of 'lowest' at 1920x1080 because of how much better SSGI makes the game. This works fine for me running on an Nvidia GTX660. That said, Master Effects is completely optional and does not need to be used, however you may need to adjust in-game brightness to compensate without it.
Difficulty Options (Easiest to Hardest)
Weaker Soldiers........... - Much lower health
Slower Soldiers............ - Much slower movement
Slower Tougher Soldiers - Much slower movement, a lot more health
Default Mod................. - Fast movement with good health
Faster Soldiers............. - Extremely fast movement with good health
Tougher Soldiers.......... - Fast movement with a lot more health
Faster Tougher Soldiers. - Extremely fast movement with a lot more health
Please bear in mind that these difficulty options have not been tested. These will improve over time with player feedback and further play tests.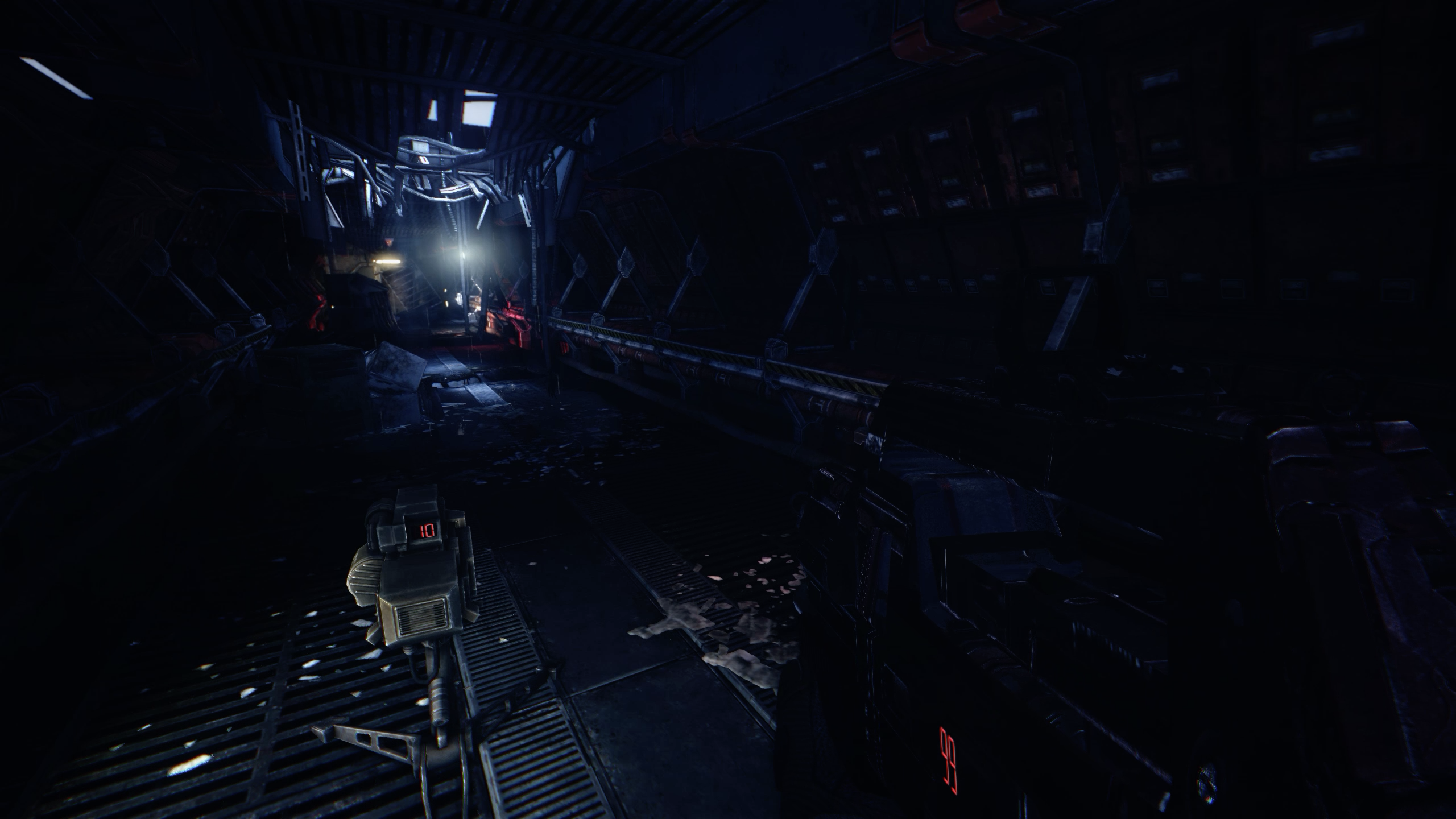 Let me know what you think of the difficulty now, and what version you feel is best! As this mod is still a work in progress I'm heavily relying on user feedback to shape the experience. All feedback is welcome!