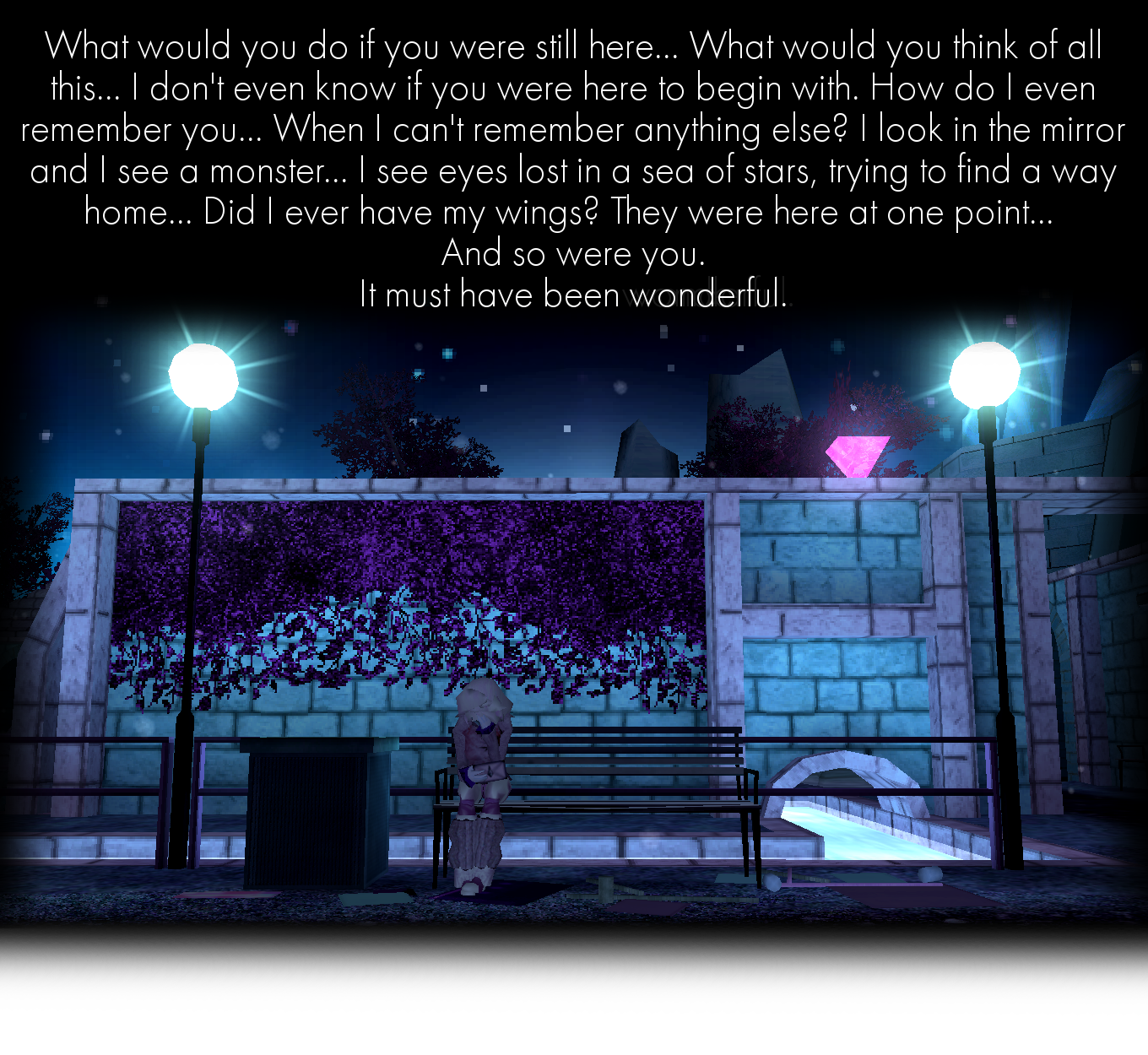 ---
Its been a year since the last article. I think everyone is due for an update on things.
Development on Starlight throughout 2019 has been constant, with new content, maps, models, and textures steadily being created for the project.

In this article, I'll showcase several maps, models, and some absolutely stunning artwork created for the project.
---
MAPS
STARVIEW GARDENS
In the first video, I'll showcase a small segment of gameplay in one of the maps taking place on the outskirts of Crossing. The player will be required to solve many puzzles in this chapter to progress, and exploration will be rewarded for those who take the time to look around. The maps featured in this video have gone through many, many changes since they began in 2017. The park in particular has been completely redone twice, and the stream area before it has been overhauled heavily since its previous iteration. Thanks to Happyfaceman91 for composing the intro song, and the Null Moon cover! Him & _kps have been doing an absolute banger of a job composing music for the project.
---
COUNTRYSIDE/OUTSKIRTS
In this second video, I'll showcase one of the more exploration heavy locations. One of the many stretches of land on the outskirts of Prospera's capital. I created this map over the course of three weeks, and have been gradually detailing it more & more in the following months. It was inspired heavily by the countryside near where I live, the powerlines in particular were based off of a photo I took back in 2018.
This is just a small sample of the levels that have been created for the project. These are only small parts of a single chapter. High-res versions of these screenshots have been uploaded individually to the page.
---
MODELS
In addition to the countless prop models I've made, I've also been overhauling the weapons recently. I completed the model for the SMG, and courtesy of MTB Animations, the shotgun is more brutal than ever thanks to his animations!
You'll notice that theres a new page background. That amazing artwork is courtesy of Danila Senko, who drew this nearly a year ago for the project, and its my pleasure to finally get to feature it. You can check Danila out on tumblr here, seriously you hit it out of the park with this drawing, and I've wanted to feature it for a loooong time now. Amazing job, and thank you once again!
As I said, progress has been constant. And with the recent new codebase, I'm certain I can tie together something for a demo EVENTUALLY. I won't set any deadlines, or give any spoilers, but know that completing a demo & releasing it is a very, very high priority of mine. I want you all to play this thing, and above that I want you all to enjoy it & have fun playing it aswell. Its gonna take some time to make that a reality. I'm one person, and I'm the only full time developer on the project at that, but one of these days I hope I can deliver on a demo, and eventually a complete game!
First focus of the new year, I'm getting a new computer. I've had it with this one, seriously. I was about to punch a hole in the wall over this thing. I've developed all of Starlight and RainFall on the same budget, abomination of a laptop, and its about to cough up a ghost I think. 5 years of constant use haven't been kind to it. So I'm definitely going to remedy that in the new year.
I want to thank all of you for all your support, comments, and feedback in 2019! Heres to a productive 2020!
You can join the Starlight Community discord server down below, get access to WIP media in the development channel & see updates as I create them, aswell as a plethora of other behind the scenes media & information. Interact with other fans of the project & show off your own artwork, modding, and creations. Theres even a wholesome channel.