Greetings all,
While we are nearing completion of a new 3.1 graphical update patch for Interregnum, you may have noticed the mod hasn't been getting that many official updates recently (the community of course has more than made up for it with their screenshots). Well there is a good reason for that. Two weeks or so ago, I was busy building my first PC! (And then spending a week or more getting everything I used to have installed on the new rig.) So I thought I'd use the occasion to briefly go off topic and highlight just what sort of hardware E4X and Interregnum were made on, what I'll be using now, and what types of programs we use to bring these mods to life.
But before we get to the new rig, here's what I was working with until this point. My trusty (and still functioning) 5+ year old laptop! It was a low tier gaming laptop back in the day, and ideal for college since having a roommate means sometimes your dorm is not a good place for gaming and/or modding. But with only 4 GB of RAM and a 2.33 Ghz dual core I-5 processor, well I'm certain the vast majority if you were getting better performance on the mod than I was. The 1366x766 or so maximum resolution was also annoying for making the HUDs for larger monitors, since I could not say test them on the more common 1920x1080. I was even running out of space on the 580GB harddrive, and its battery life is now 30 minutes at most.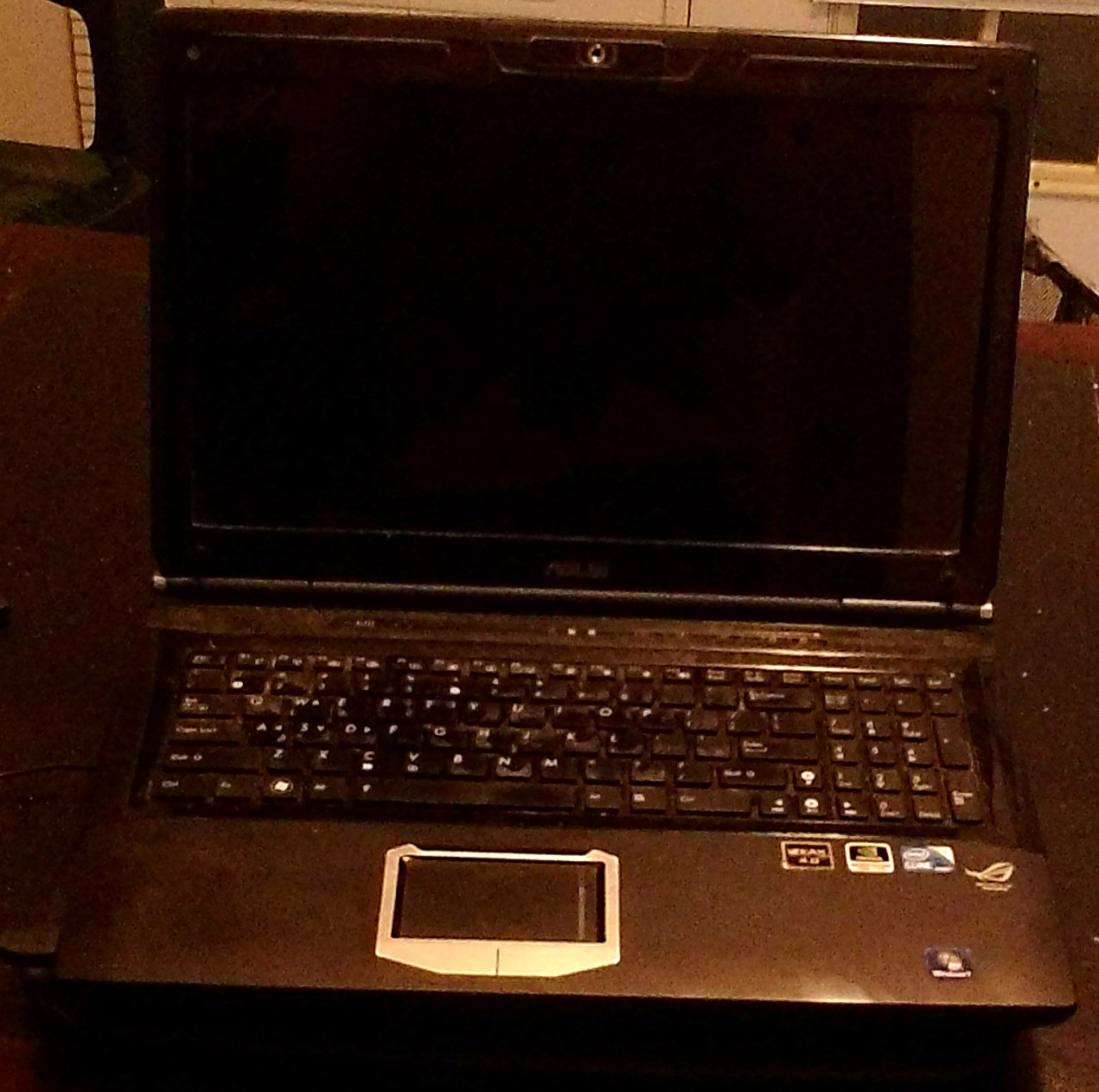 Despite that, basically everything done on Enhanced 4X and Interregnum up to Alpha 3 was done on this laptop. May your last years be good to you old friend, enjoy your modding retirement!
Well, out with the old, in with the new. With only some minor damage to my sanity, I built the new rig and it is performing great.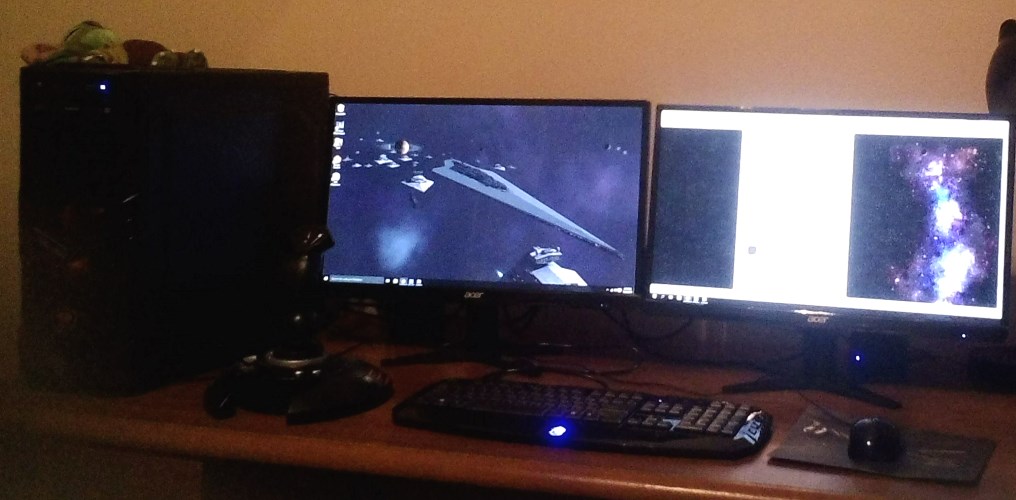 With four 4.0 Ghz CPU cores, 16 GB of RAM, a 2 TB harddrive and an SSD, my new desktop is 2-4x better than the laptop in every way. But truly the biggest improvement is having dual monitors on my workstation back home. Sins is one of the few games were mod changes can be loaded into the game while its running. Having a second monitor allows me to be working on Sins on one screen while keep text/image/3D model editors open at the same time. Before I would lose several seconds by having to alt+tab to these programs. On heavy modding days, that could happen a few hundred times easily. Now I can see a model in game while having its texture open at the same time.
This is of course very good news for anyone following my projects, since this productivity improvement should hopefully go a long ways to combating the dreaded effect of not having as much time to mod anymore. :-p Curse ye real life...
And since I'm already off topic, did you know that 99% of the work done on Interregnum has been done on open source or otherwise free programs? Granted, many of the ship models were done by other people who likely used programs like 3DS Max heavily. However, I myself stick to using these free tools for the most part.
Eclipse IDE - If you don't know what an IDE (Integrated Development Environment) is, think of it as a text editor on steroids with extra support for managing large software project. Basically all the coding for the mod happens in here. Ideal for Sins thanks to ZombiesRus' special plugin for it, which allows it to catch many mistakes as you make them!
Git - Version control software that documents the project and makes sure we can always go back to earlier versions of files in case we really [insert preferred profanity here] something up.
Paint.NET - In an industry dominated by photoshop, you might be surprised to learn all the UI work for the mod any many graphical things was done entirely in Paint.NET. This free program gives you a lot of image editing power while being fairly light weight, so I find it ideal for general graphics work.
GIMP - For image editing tasks that require something more advanced, like ship bump maps, I use the also free GIMP program. It is also the preferred editor of ERock72, our new graphics leader, and you'll seeing a ton of his craftmanship in 3.1.
Softimage XSI Modding tool - While softimage XSI is now officially dead, it is none the less still one of the better 3D modeling tools available to modders for free. More importantly for us, all Sins models need to be sent through XSI before we can get them in game, so for Sins mod makers you really have no choice but to use this program at least a little bit
Audacity - Open source sound editor to handle the occasional audio edits we have to do, including Interregnum's opening theme mash up.
So if there's a point to this post, I suppose it is that while having nice expensive mod making tools is a good thing, you can make a very well done mod with fairly modest equipment. As long as you don't factor in all the time you waste doing it... because if time really is money, and you like money, stay well away from this hobby! :p
-GoaFan77