Christmas Update! Yey!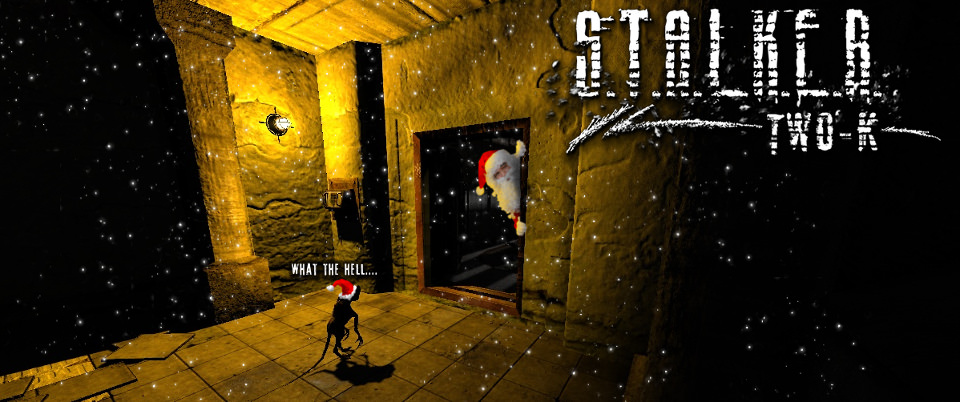 I didnt forget about that mod, I actually made update for "Tiny Little" version some time ago, but of course Moddb didint update site so no one noticed that. It update it and notify everyone when I post image, but it dont give a flying pig if I update/upload files... Well life is brutal in the zone...
But we are here not not complaining, I dont have mood for it today, so lets focus on update...
I decided to release two versions: original one and "players edition". Original is of course standard mode with all its glory of hi-res textures. Player Edition, that will take place of old "Tiny Little", will be reduced in size and resolution version. But because I like name "Tiny Little" it will be called like that(""Player Ediszyn"" sound like some EA DLC pack)
As for content it self, sadly I had to ditch all decals textures that I made because Stalker not only dont use full transparency in them, it stretch them so much that even 4096px size textures look blurred :/ I could of course reduce it to DXT1 but Im not happy with it so it need to wait.
But I managed to squeeze about 30 new textures(I have chaos in folders, so I dont remember with I made now and with where made before but not used...). I also remade few bumpmaps because they where to "bumpy".
But most changes are in "Tiny Little" version. I made it with heavily moded games in mind. It was tested on Call of Chernobyl with so much mods that I dont even think its Stalker anymore.
Stalker is still waiting for proper 64bit versions, so when you try to put inside lots of HD stuff like models and textures, you will get lots of OOM crashes.
It really doesnt matter if you have 16GB of RAM. Stalker is 32bit grandpa, it will grab only 3.5GB of your RAM and because heavy moded games use lots of scripts and new stuff, putting on top of that big pack of textures like Stalker Two-K will just kick it in the balls so hard that it just hit the ground...
I always tell people that not amount is important but speed. Whats matter when playing games like Stalker is speed of your RAM, speed of memory in your Graphic Card and speed of your Hard Drive. That last one is VERY important, and people after all those years STILL DONT GET IT. If you love stalker and play it often, do what I did: get cheapest small SSD, I have friciking 64GB SDD plugged to USB 3.0 and I have better performances than on my main HDD. This tell you a lot. Stalker is really dependent on drive speed, even defragmentation after every bigger mod installation can speed up game and make it more stable. So you know, remember that spending 30 euro on small SSD can save you lots of pain, and its not only good for stalker, its good for any game you play...
But enough about that!

Because I had in mid those heavy moded games, "Tiny Little" version have lots of changes to help get better performances with it but in the same time keeping good look.
Most of Diffuse texture where kept intact, only those less visible where reduced to 1024px
90% of bumps maps where reduced to 1024px
90% of parallax maps where reduced to 512px
There is lots of changes in thm files, disabled parallax, reduced detail map etc.
But most important is unification of some textures. Some of you, who tinker in Stalker will know that Stalker have LOTS of duplicated textures, especially from "crete" and "stone" folders. I modify most of them to use one copy of bumpmaps instead of two identical that where just in different folders. This should help a lot in reducing memory consumption... but also reduce compatibility a bit. Why? Because some mods can use those duplicated files in their own textures, its not big problem but if you play anything else than CoP/CoC you can sometimes encounter texture with wrong bumps or mix of old blurred textures with different new ones... As far as your game dont touch too much textures, you should be good, but 99.9% of compatibility I give just for CoC and CoP.
As I said I tested it on heavy moded CoC and I just got 3 crashes related to memory and Im not even sure if its because of my mod or HD models... So It should be ok for most of people.

On the side note, Other devs who would like to use Stalker Two-K textures: dont focus too much on "Tiny Little" version, I still would recommend grabbing original version and optimize it by yourself to fit your game as much as possible. If you dont have any other texture mod, its ok, but if you dont want to play with thm files fixing compatibility bugs because lack of all those duplicated textures, better stick to normal version.
________________________________________

Stalker Two-K "Tiny Little" version
(For players with heavily modded game)
So, yeah, thats it. I know its not much, and my beloved original plan of finishing that mod before end of this year was like shooting tank with .22 blanks bullets but hey! Slowly we going there... With quick look of what I already did I can say that about 70-80% of textures where remade(I dont include actors/weapons for that there are other mods with new models) All what I need to do now is finish those few lonely concrete/wall/stone texture, decals rest of props and vehicles(just few of them, not all. Why? its topic for next time...)
And to annoy you: Remember that you can buy me a coffee or cookie :]
____________________________________________________________

____________________________________________________________
Donation is not related to this mod, coffee and cookies make me happy, and give me some energy to make stuff...