Im paranoid. Not because I believe that every facet of our society is the product of careful planning, global understanding and subsequent manipulation by the wealthy elite, that the reality of our existence is something so massive that our minds simpley could never comprehend it resulting in total mental and physical breakdowns on every level, or that the words justice, honour, mercy and equality are nothing more than ficticous buzzwords created to numb people to the fact that in a world as corrupt, ignorant, uneducated and ultimately selfish as this, no things can truly ever exist. No these are all purely coincidental.
I think I'm Paranoid because to a large extent the technological advances made in the gaming industry are causing a dilution of quality in the mod community. I'm paranoid that eventually more and more mods will fail to reach their potential, or truly express what they're capable of creatively because they're built on games which make it far too easy to produce decent results. I'm guessing 99.9% of you are now thinking "You wha?" so allow me to explain.
Open up the Source editor, create a basic map. Maybe a small room with a nice window complete with fancy shaders, a door which moves smoothly thanks to an advanced physics engine leading to an outdoor courtyard with a tree and NPC wandering round. Looks cool doesn't it? And it only took half an hour or so to build! Now open the original Half Life Hamer editor and see how long it takes for you to create something similar. Don't worry, the feature will still be here in a couple of months when you finish, I'll wait.
The point I'm making is that it's easier, or atleast quicker to create something which looks and plays good on modern tech than it is on older alternatives. No points for me on this one as it's pretty obvious, and to some extent a good thing, afterall why on earth would you want to waste 5 months working on something you could do to a better degree on a newer game?. The thing is that 5 months in most cases would encourage far more focus, technical understanding and creativity than the required 5 minutes on a better engine. It forces you into squeezing every available drop you can from the technology which (call me a jaded pessimist) I think a lot of current titles are missing. Of course there are exceptions, there always are and anyone found suggesting that the likes of Talon 1-5, The Dark Mod or Nightfall are playing it cheap in this respect would need a swift smack, but the general principle remains. But what good are these somewhat opinionated words without the goods to back them up? Give us some proof that working with older engines can have better results! Where's the evidence?
Well, it's Paranoia, and it's almost here.
---
I'll be honest, Paranoia has stunned me from the beginning. Built on a game nearing ten years old, each update and screenshot has screamed quality on every level, and as the project races towards the finish line optimism is running high for both the developers and fans of this upcoming mod based in the Russian Secret Service. But no amount of nostalgia, creativity and respect for older technology can save any mod if upon release it fails to work as a good game, which it essentially has to do. I know a great many people would be thoroughly disappointed if all they had to say afterwards was "hmm, it's ok for a Half Life Mod, would've been better on Source".
Recently though team leader BuZZer allowed me access to a 2 episode beta build, to see if such concerns are founded and whether it is likely to hold its own against a tidal wave of titles built on more recent engines.
Your character wakes up in his quarters within an army barracks not unlike that we found ourselves inside during the training mission on Half Life: Opposing Force. From the word go you have to find your own way throughout the Barracks before you receive your first objective, during which you'll come across a host of characters, rooms and details which really emphasise the concept of a living, breathing world. Approached incorrectly this style of design can have disasterous results, with the player becoming lost and dislocated form the game. Thankfully I never experienced this once during the two episodes, with just the correct balance of freedom and direction applied throughout.
The Army base for the most part serves as a training mission to get you to grips with your guns, and some features like the helmet and gasmask. It's the 'mandatory tutorial' stuff but the team have made use of a good opportunity to introduce the player to the general feel and atmosphere they're trying to create. It's after this point that things really started to kick off.
I can't give away any plot details, not because I'm a tease, but because the build is currently completely in Russian. While I'm assured the final version will ship in English, even without being able to read the messages or understand the dialogue it's still very immersive and easy to understand. You begin in the back of an army truck with a group of comrades, and eventually reach what turns out to be a trainyard.
Here I got my first glimpse at some of the more technical aspects the Paranoia team have been working on. If the AI hasn't been enhanced at its core, then at the very least they've done a remarkable job scripting it to behave in a more realistic manner. Your allies move and cover convincingly which is vital given the emphasis on team work as your progress through each section. A number of times I tried to test the AI by running way ahead of them in random directions, but at most the only issue faced was that they took a little longer to catch up. Unfortunately there are some aspects of the engine that just can't be masked, and the inability to run and shoot at the same time does become strikingly obvious. It doesn't really damage the gameplay as I found the best approach was to make use of cover and shoot form static positions anyway, but it does look odd to have teammates run up to enemies, stare at eachother for a brief moment then shoot. But for the most part the AI is flawlessly integrated with the level design.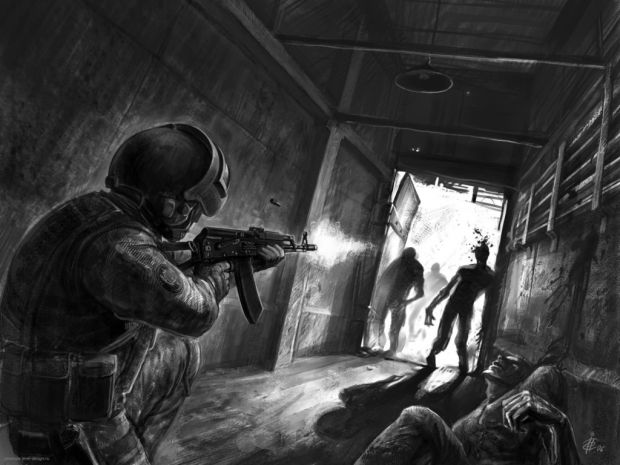 ---
Speaking of which the level design itself can be described as a disturbing cross breed of Half Life, S.T.A.L.K.E.R. and F.E.A.R (well, the good parts anyway). It's a very bleak, dilapidated but extremely detailed take on urban environments and while I assume that the title Paranoia will have more in relation to the plot details, it suits the artistic style down to the ground as well. During this build nothing ever really happened to make me jump out of my seat or scream with fear, but I never managed to shift the feeling that something could. It's atmosphere is thick and allows the design to do the talking, and when it's as believable, intensely cold and powerful as what little I saw during this build you don't need any of the more conventional horror tactics to scare the living crap out of someone.
The care and attention to detail in the design doesn't just aid it artistically, it plays a big part in creating action sequences which are varied, keep you on your toes and feel very natural. You basically have three elements to Paranoia, you have your storytelling moments, your narrow corridor action moments, and your big open space action moments. It's a crude way of looking at things but it's an analogy you can apply to most FPS titles, but where Paranoia really shines is in it's ability to make the whole thing feel like one seamless, well told story.
Given that this is only a beta build there are elements which are in severe need of polishing, such as item placement and general balancing. The pace of the mod is so far excellent, and I never felt short on ammo, but there were times where enemies made mince meat of me in a matter of seconds even on easy with full armor and health. I like my games to be hard (which is a good thing because to a large extent I do suck) but theres the world of difference between a game which is hard because your enemies are smart and organized, and a game which is hard because they've simpley got much bigger guns than you.
But this is something I expect will receive a lot of attention over the coming months and if the team can raise it to the standard they've set with all other aspects of the mod, we'll be looking at something which can easily hold its own against anything with the source prefix.
Pros
Unnerving, realistic, extremely detailed and consistant atmosphere
Good adaptation of Half Life AI
Familiar, but fresh and varied gameplay
Organic narrative style
Cons
Yet to experience any of the more 'horror' style levels mentioned by the team
Balancing needs severe attention